A happy New Year to you! Thank you for being such an important part of my past year. It's been one of the best and challenging so far.
I hope you had some great New Year's Eve. I don't really care about the celebrations but I love New Year for this feeling of a fresh start and new adventures. Isn't it fantastic to think that you can restart. Leave your past behind and start new?
With my holidays and the break from work and the blog it forced on me, I had time to rethink what I want to do and luckily I can report: more of the same. You can expect the same kind of tutorials and some new series this year. My bigger goal is to be efficient and to do more cooperations which allows me to spend more time on this blog.
One of the perks of a new year is the look back. Do you love that too? I love reviews to recap what happened. I always end up gushing: What? That happened too this past year?
Doing this with the blog makes me really proud of all the tutorials I created, blogposts I've written and recipes I've shared. There goes a lot of work and love into it. But enough of this, let's see what were your favorite posts in 2015.
1 | Nail Art Sign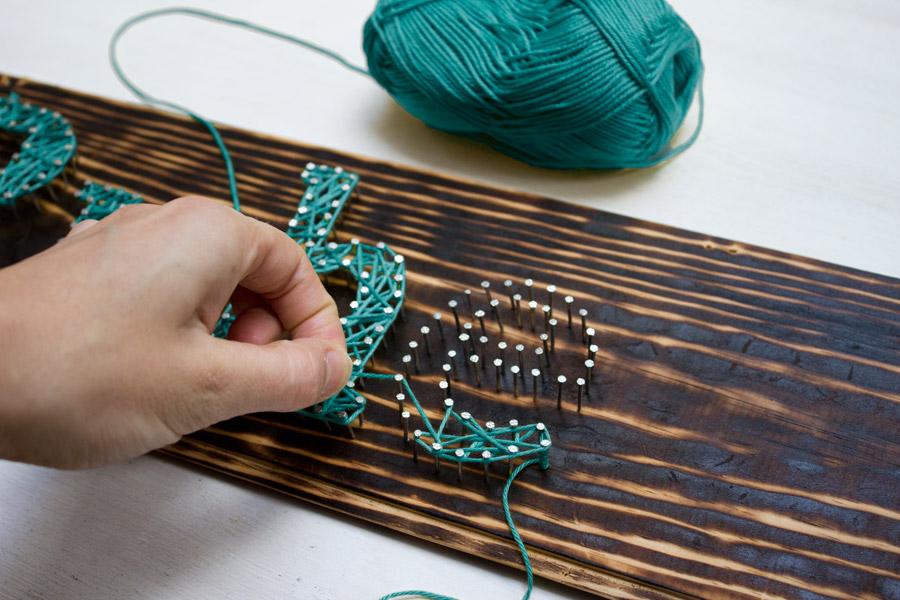 An all year favorite was this pasta storage tins I made to mark my reading spot. I still remember sitting on the floor and hammering all the nails into the board and because the nails weren't that strong quite a few bent. I can imagine making this with names as well – wouldn't that look cute?!
2 |  DIY Pasta Storage Tins

This is quite an "old" post – being from 2013 but it's still so popular: on the blog as well as in my kitchen. So if you're wondering if this pasta storage tins last, yes, they do!
3 | Glass Cement Stand

This cement stand from a broken wine glass lives many lifes as I use it as cupcake stand and as succulent plant holder and to display my favorite jewelry.
4 | Embroidered IKEA stand
 
That wood can be embroidered was an epiphany for me and this IKEA hack was only the beginning of many more DIY projects (and some more in the making).
5 | Cement Copper Lamp
 
How proud I am of this cement and copper lamp! Is it weird to be in love with a lamp? Hm. I didn't think so.
6 | Refashioned Blouse
 
The success of this refashioned blouse is probably owned to my sister taking these pictures. Would have buzzfeed featured the DIY without them?! I didn't think so!
7 | Geometrical Concrete Planters
 
2015 was the year of concrete – at least on my blog. But look at this cute geometrical planters! How could I not love this material?! I even did a workshop with the lovely girls from We Love Handmade and showed the art of stirring cement to the eager pupils. I loved giving the workshop and I might do that again in 2016.
8 | DIY Cage Bra
 
Sex sells. Or you just like to look at how uncomfortable I feel just wearing a bra in public. However the DIY cage bra made it all worth it. I love to wear it under sheer tops.
9 | Chevron Friendship Bracelet
 
Since it was titled "the easiest friendship bracelet tutorial yet" on Pinterest this post has been a huge success. Thank you, dear Pinners!
10 | Tea shelf
 
Last but not least for all the tea lovers out there: this upcycled tea shelf is more than full in my kitchen. Do you know that problem?! I might have to make a new one.
What was your favorite post in 2015? Anything that you'd like to see more of in 2016?
Now. Carry on!