Do you know that feeling when you have a specific thing in your head which you really, really want. You might have seen it somewhere or just had a certain idea in your mind and then: you can't find it. You looked everywhere, you visited every shop that could possible have it but nay! Well that happens to me a lot. With online shopping this has been a little diminished but still. This happened again with a cage bra that I wanted. I saw it at H&M and tried it on and it was just not my size. So I went to another shop down the street and to another and then online. But it seemed like this bra has never existed. Was it all a dream? If so it's been a mighty good one and a great inspiration. Because it turns out: cage bra DIY is a thing. And you can make it for cheap. Really cheap. Almost as cheap as I look in this picture. Just kidding. I'm confident and strong!
Another good thing was that I was home at my parents the last weekend until now to be exact. Why's that good, you ask? Well, my dad has really good photo equipment and I had a photographer. No wonder I look almost like a model! (This is really me not another sister of mine…)
But now let's get down to business or "how to make a cage bra in no time"!
All you need is:
– a bandeau bra (I bought these two ironically for € 5 at H&M)
– elastic band
– pins
– needle and thread
Now the tricky part is to get the straps right. I pinned the back like I wanted it to and put it on (careful! the pins can hurt!) and adjusted the front to the point where I thought that it looks nice. For the black bra there goes one strap from my left boob (ha, I wrote boob on my blog!) over my neck to the right boob. In the back there is one straight strap up from the neck down to the bra strap. Then I added two little straps on every side in the front to make a triangle.
For the white bra, I took 2 long stripes of elastic bands and crossed them over in the back and added 2 additional small stripes to every side. This is how it looked like once I pinned them together: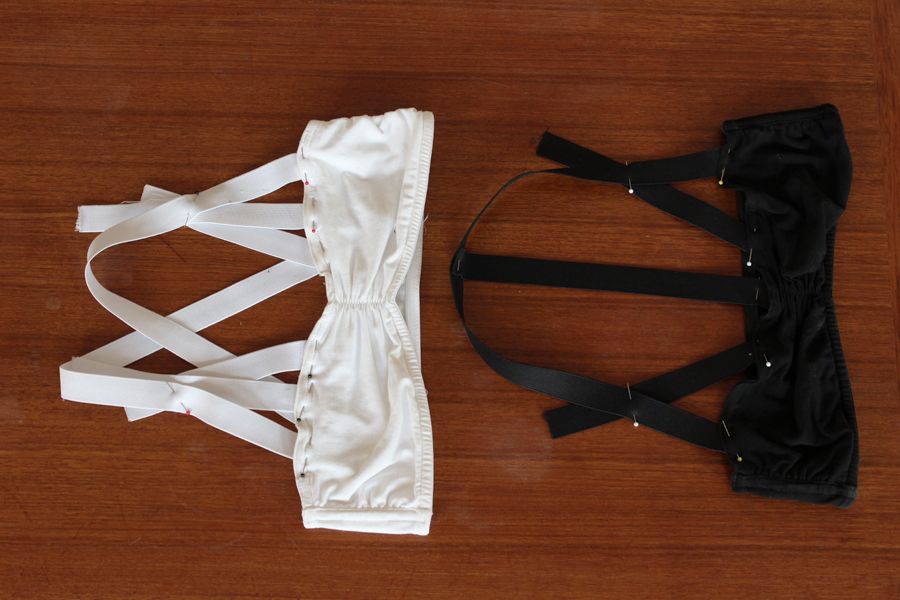 That was basically all. You just need to sew everywhere were pins are (duh!) and now look what I made: a rocker cage bra.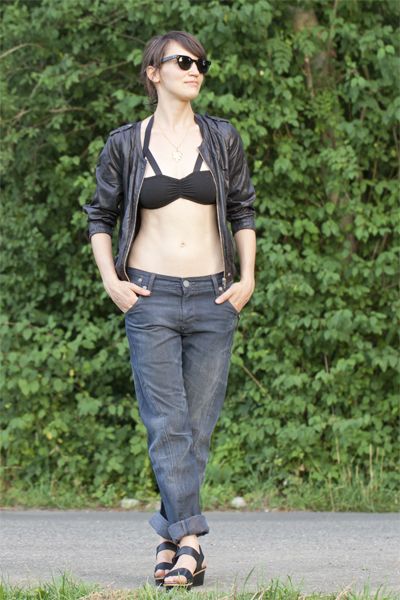 This is the back. I know: funny. My back and the back of the bra. I'm hilarious.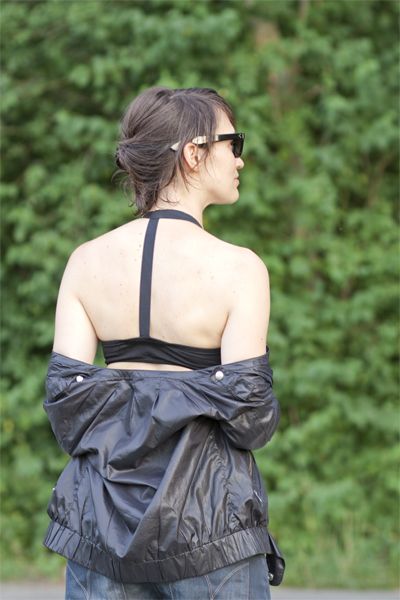 It's perfect for all semi-see-through tops and blouses. I – of course – don't walk around with only a bra. Although I look like I do – casually leaning on the street lamp like I own the place! With a new bra comes new confidence, would you agree?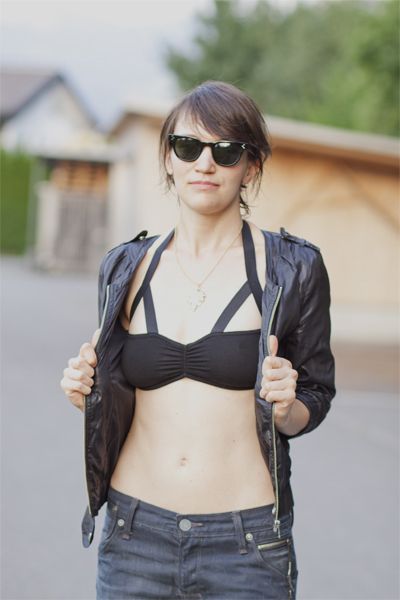 Now. Carry on!