The other day I didn't feel like doing anything that was on my to do list. And my to do list unfortunately didn't look like that – go figure. So, I just started with a DIY that was in the back of my mind for quite some time: embroidering a t-shirt.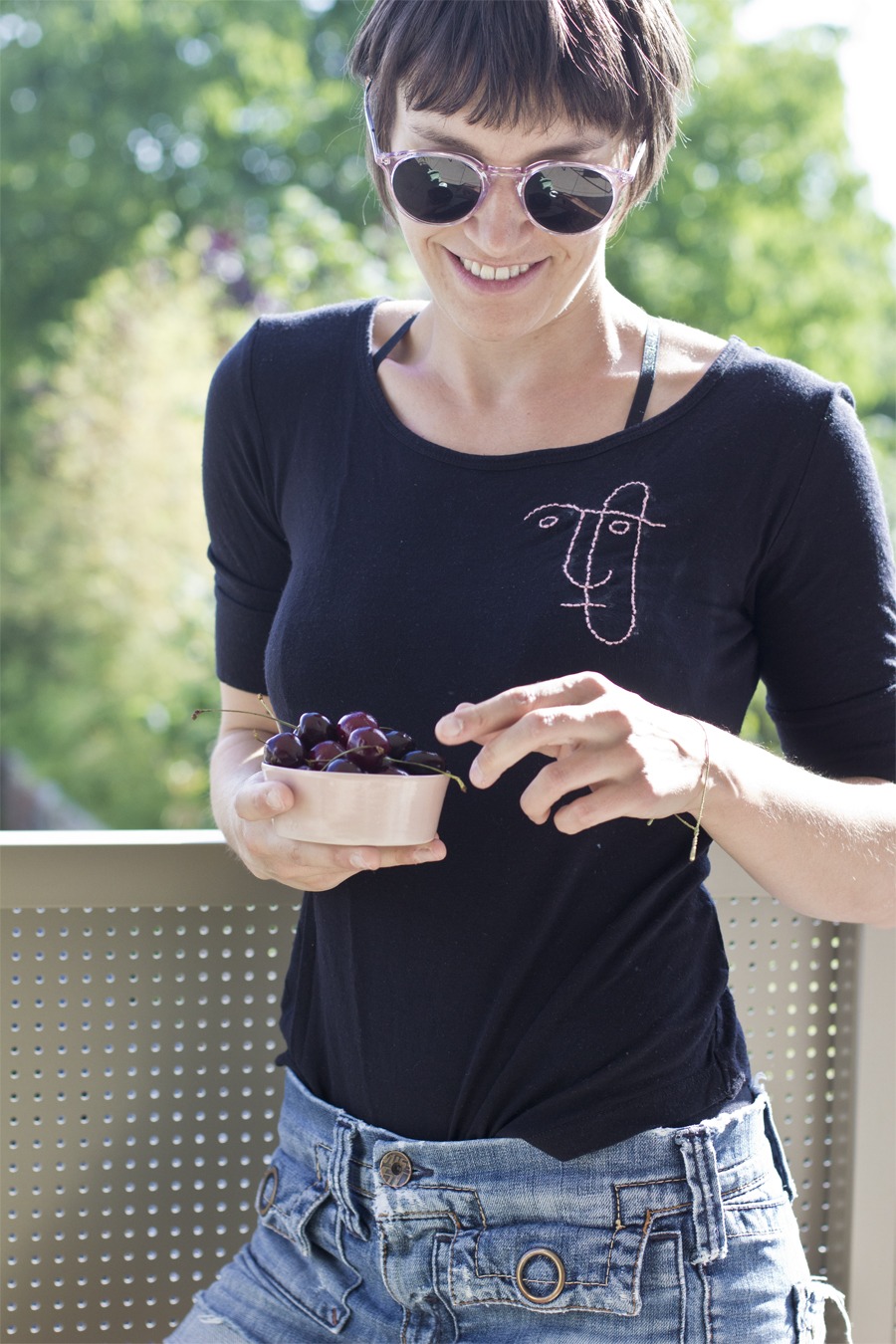 The difficult thing about upcycling a t-shirt is: I never know what I want to do with it. I'm very indecisive. Not this time though! In February I found a graffiti in Vienna that I just loved so much that I knew, I wanted to put it on a T-shirt. I took a good enough picture which was sitting on my phone ever since.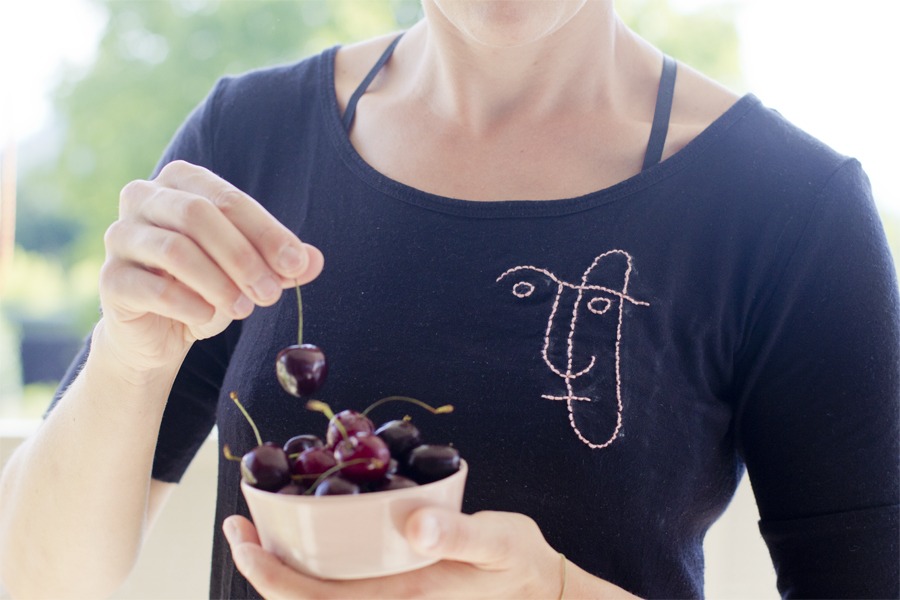 How to make an embroidered T-shirt DIY
What you need for upcycling a T-shirt with embroidery:
a(n old) T-shirt
embroidery yarn
embroidery needle
chalk marker
a picture of your inspiration
How do you like this minimalistic face drawing?! Do you love it as well?
The DIY instruction for the embroidered T-shirt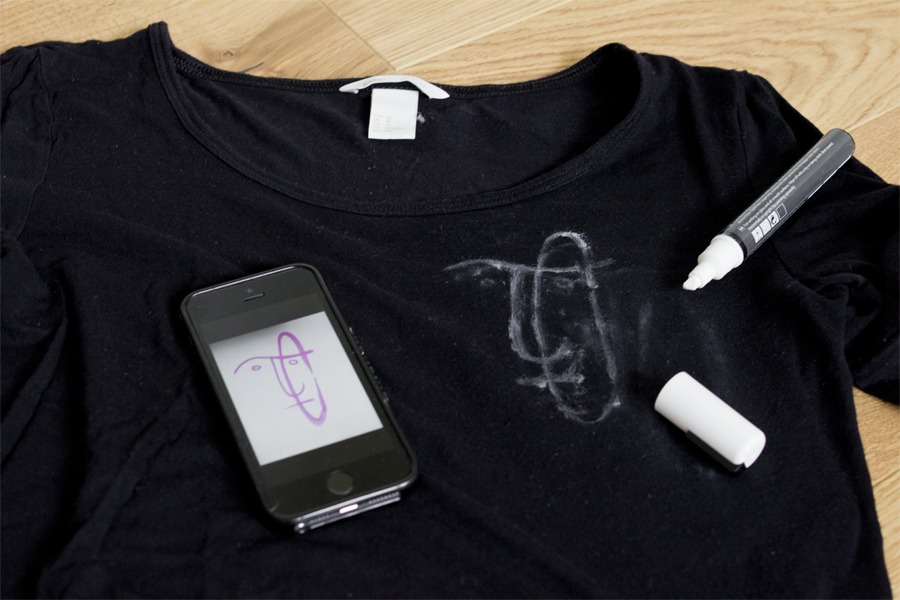 First draw the outline of your embroidery on the T-shirt with the chalk marker. The chalk makes it easy to clean wobbly or wrong lines and draw new ones until your satisfied with the result.
Pro Tip: Now slip into the T-shirt once more and check if the embroidery is in the right place.
Mine wasn't, so I had to re-draw it but it came out much better that way.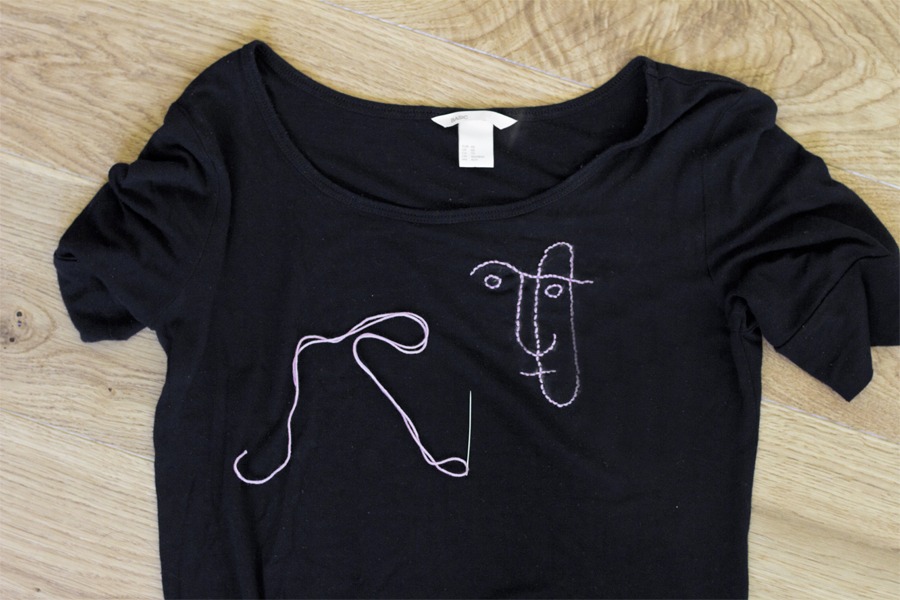 Now all there is to do: follow the lines in an easy stitching. Once you're done, you can wash off the rest of the chalk marker and voilá! You're done.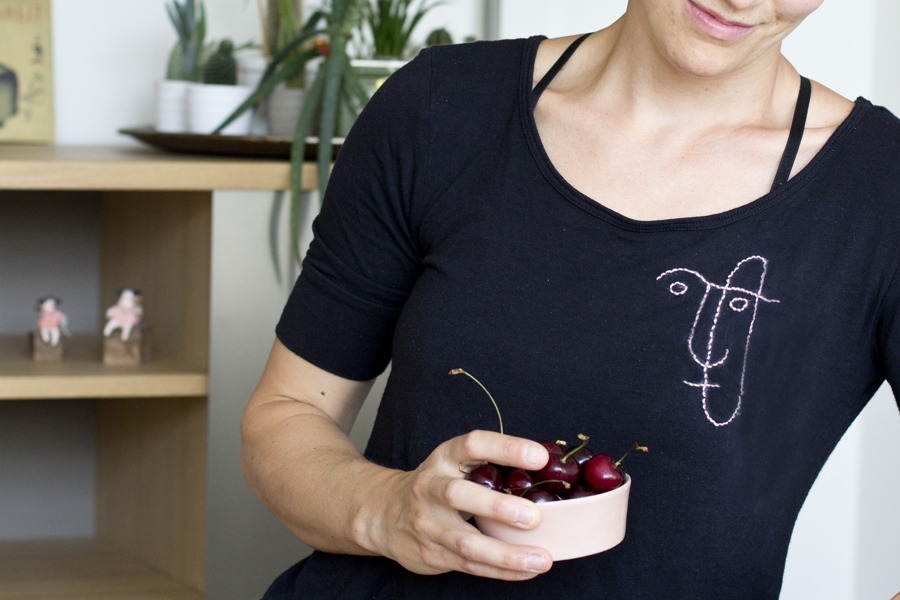 Only took me 1 1/2 hours and after that I felt so accomplished that I started with the tasks that were actually on my to do list. Well, until the afternoon, when I made an impromptu photoshooting with my new t-shirt.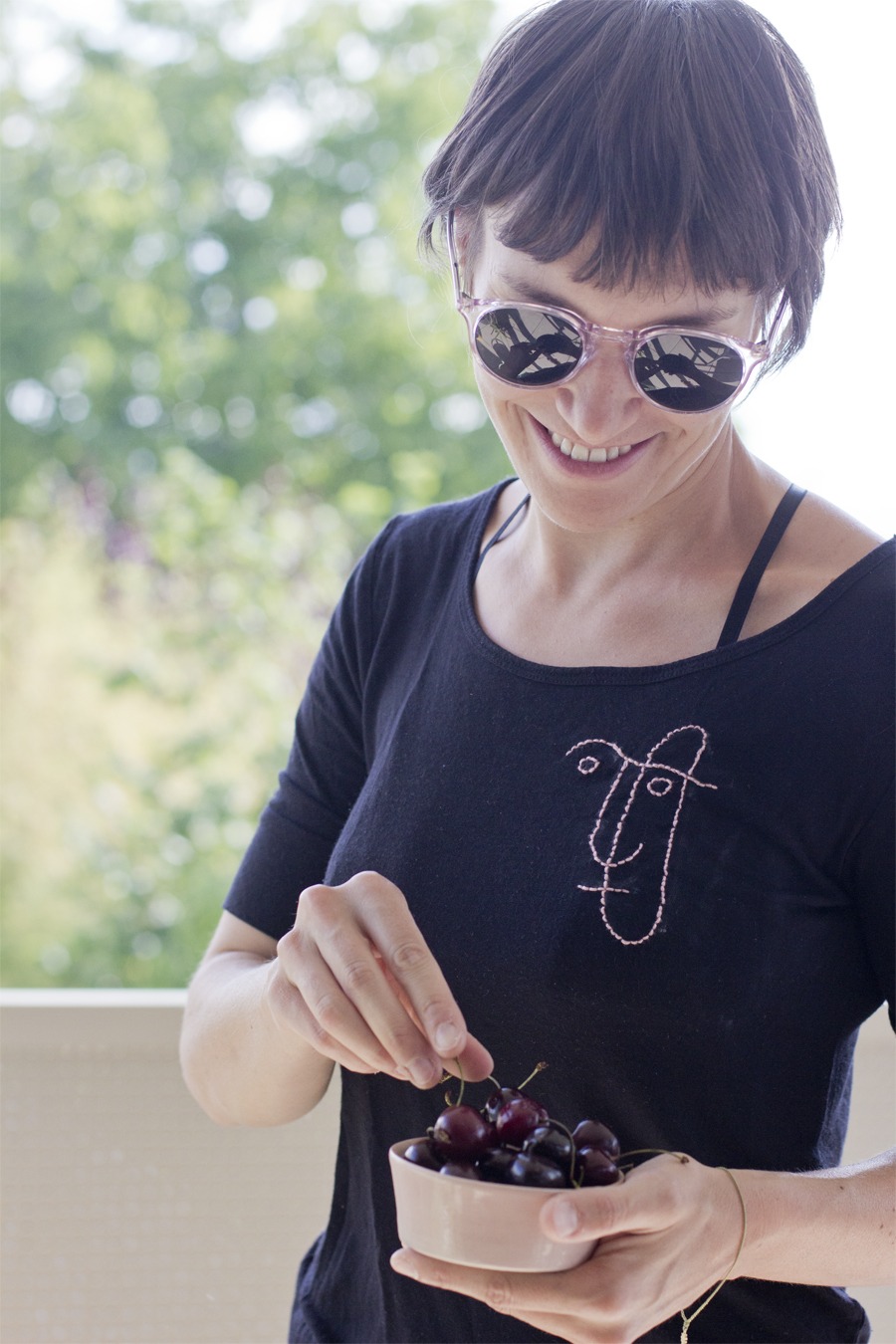 Featured in the picture is also a bowl of cherries which I love as summer snack so much! Unfortunately it feels like I finish them all up in one afternoon and the next day there are non left.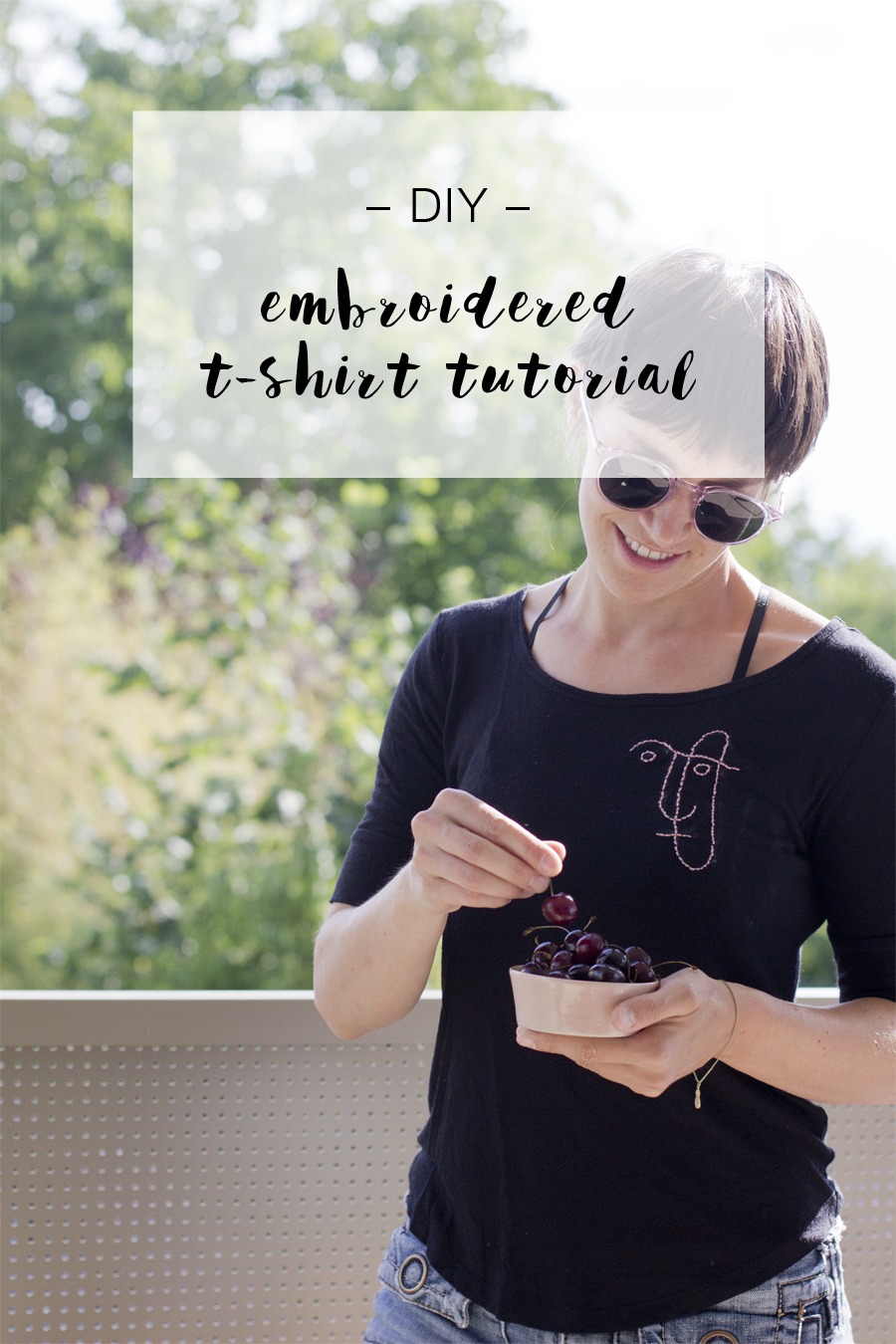 I even have this recipe for a cherry cake stuck in the back of my mind but I never get around to making it because there are no cherries left. Self-control at its weakest, I guess. Well, we'll see. Maybe there will come a cherry recipe pretty soon, otherwise, you have to be happy with past ones like this recipe for espresso muffins filled with cherries or this cherry and chocolate muffin recipe or this vanilla and cherry cream recipe. Ok, I guess, there's a theme for every summer.
Now. Carry on!