This is one of my all time favorite cupcake recipe. Not only because it combines cherries and chocolate (a favorite combination as you know) but it is also moist and delicious and easy to make. What else can you wish for in a cupcake? If it could only talk and compliment me, I would marry it. But, boyfriend, don't fear. It can't. But that's surely it's only drawback.
All you need is:
– 75 g dark chocolate
– 1 tsp lemon juice
– 4 Tbsp milk
– 150 g flour
– 1 1/2 tsp baking powder
– 1 Tbsp cacao powder
– 2 eggs
– 60 g butter at room temperature
– 125 brown sugar
– 4 Tbsp potted cherries (cut into pieces)
– 3 Tbsp cherry juice
– 150 g cream (beaten with 1 Tbsp Vanilla sugar for decoration)
Preheat the oven to 180 ° C and line a muffin baking tray with muffin cups. Put the chocolate into a bowl and melt it over a water bath (make sure that it doesn't get hotter than 30 ° C). Put the lemon juice together with the milk into a cup and let it rest for 10 mins. The milk will flocculate but that's what we want. Beat the butter with the sugar until very soft and smooth and add the eggs. Beat for another 5 mins and add the milk lemon mixture and chocolate. Sieve half of the combined dry ingredients – flour, cacao powder and baking powder. Into the bowl and add the 3 Tbsp of cherry juice. Add the other half with the bits of cherries and combine well. Put the mixture into the muffin tin and bake for 25 mins.
Let them cool down and pipe the beaten cream on top.
For some extra decoration I melted some more dark chocolate and put it into a small handmade piping bag. Then you can pipe all kinds of shapes and letters and words onto baking paper. Let it cool and voilá! Easy and unique decoration. And chocolate. What else do you need? I might show you how to make this step by step on one of the next days. Would you be interested?
The picture in the background is actually a framed card that I got from my sister who visited Berlin.
The cupcakes look so cute that I had to take a lot of pictures. But I'm sure you won't mind. Do you?
And this is the last one with my fancy nail polish that went so well with my cupcakes. That's real style. Food that goes with your styling. Ha!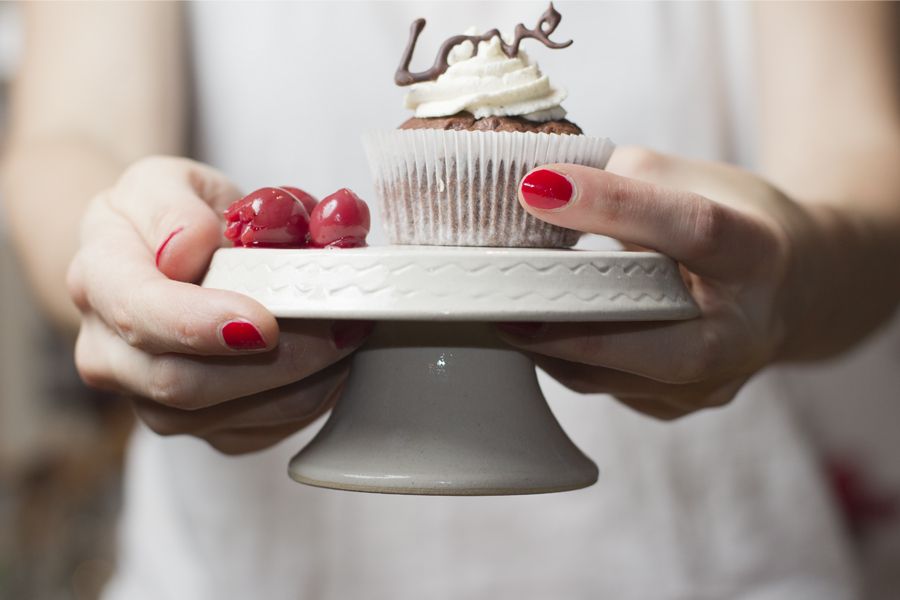 Now. Carry on!