Are you getting ready for Easter yet? This year I feel quite inspired to play with food and crafts for funny Easter decoration. Normally Easter is one of my favorite holidays – there's so much chocolate involved and not much stress about organizing presents. I also admit that it was one of the most fun holidays when I was growing up. My parents always made special scavenger hunts for us when we were little. So finding our Easter bags was always a challenge. One day they spun threads through the whole house and we had to follow the colors. One day we only got a hint on a cassette and had to solve a riddle to finally find them back in our rooms under our beds. One Easter we got written notes from the Easter bunny with the hint to the hiding place written in Wingdings font.
Did you ever make something special for your family or did they make something for you?
So before I get all sentimental, let's focus on today's post. I made carrot and poppy seeds cupcakes with cream cheese frosting and I decorated them like Easter nests. I guess I'm all about nests this year.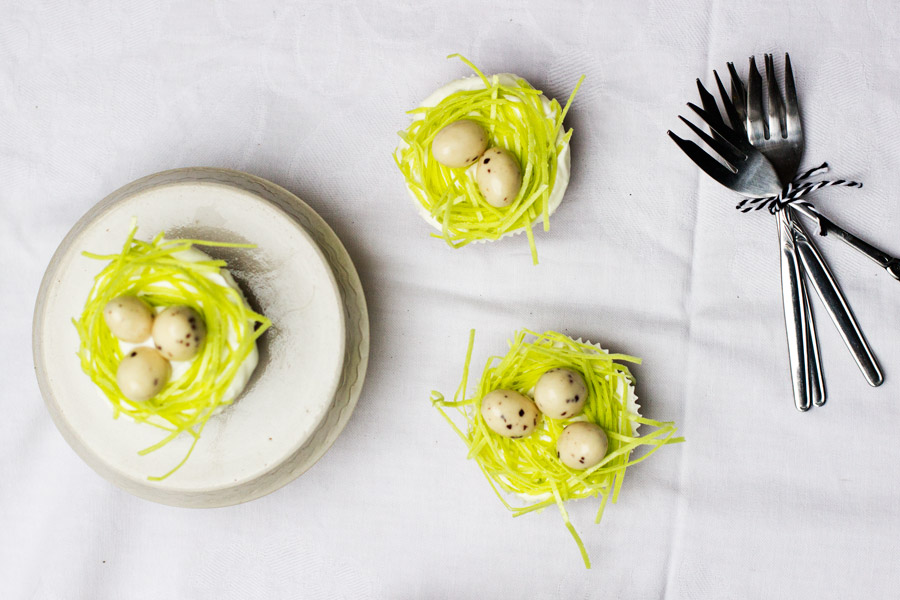 All you need is:
– 175 g carrots
– 75 g butter (at room temperature)
– 85 g sugar
– 1 pinch of salt
– 2 eggs
– 50 g poppy seeds
– 75 g grated hazelnuts
– 50 g flour
– 1 tsp baking powder
Preheat the oven to 180 ° C. Grate the carrots finely. Separate the eggs. Beat the egg whites with a Tbsp of sugar and the salt until stiff. Afterwards mix the butter with the rest of the sugar well until very soft. Add the egg yolks one at a time and beat well. Fold in the poppy seeds, carrots and hazelnuts into the butter mixture. Combine with the egg whites and flour and baking powder. Line a muffin tray with paper cups and divide the dough between them. Bake the dough for about 15 to 20 mins.
For the cream:
– 200 g cream cheese
– 1 tsp of lemon juice
– 1 Tbsp of sugar
Combine all and mix well. Wait until the muffins are cooled down and top them off with one tablespoon of cream.
For decoration:
– eatable easter grass
– chocolate eggs
Take the eatable grass and drape them in a circle. Place it on the cupcakes and top it off with the chocolate eggs.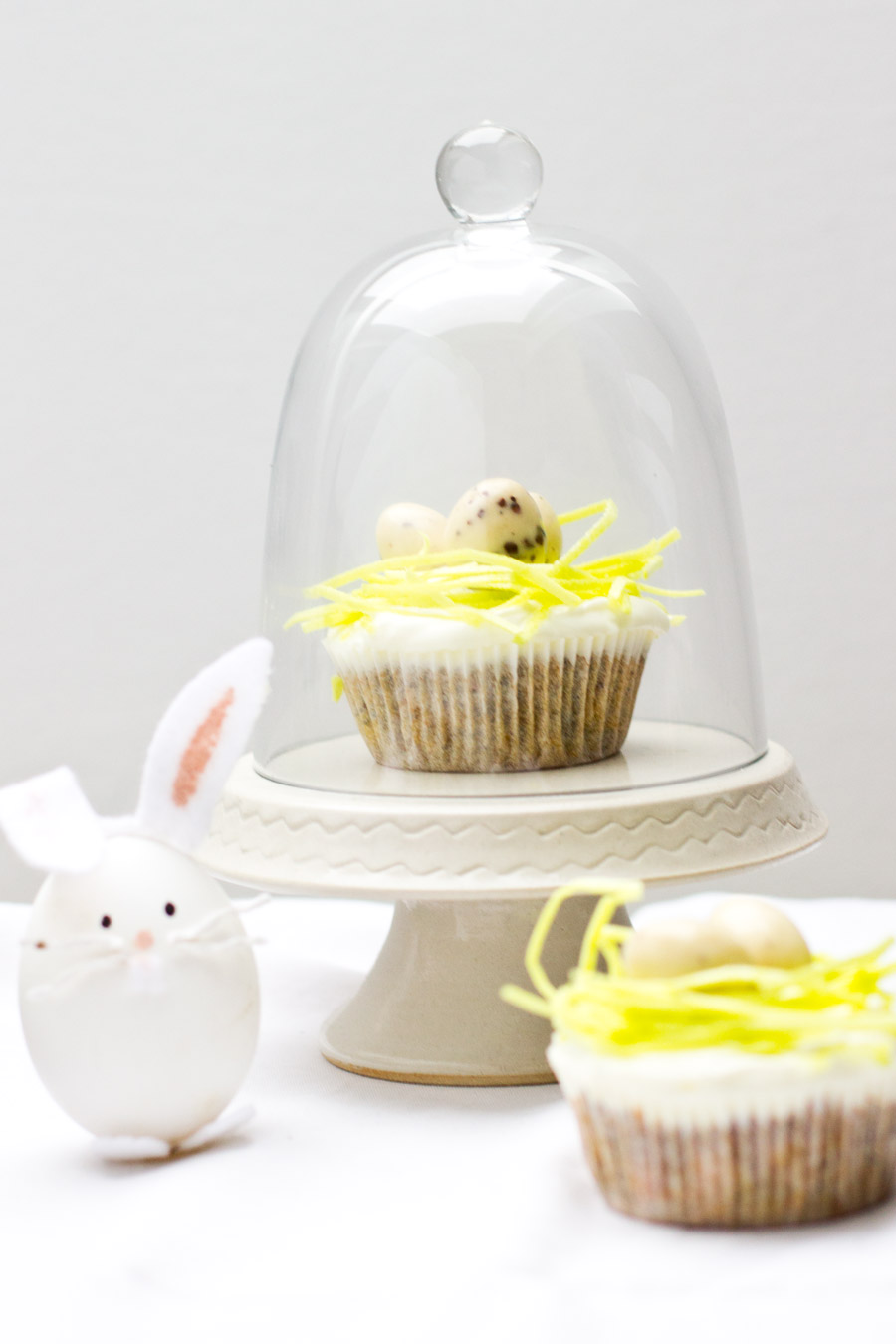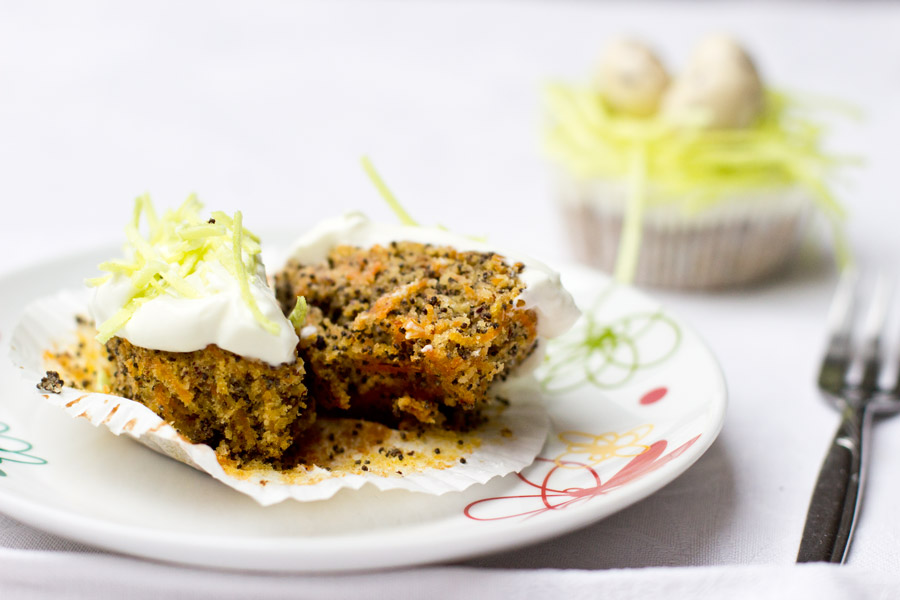 The eatable grass is a little more yellow and not enough green to my taste but they look kind of pop-themed which is ok again. Together with the bunny out of an egg shell, they make a cute decoration. Almost too cute to eat. Almost.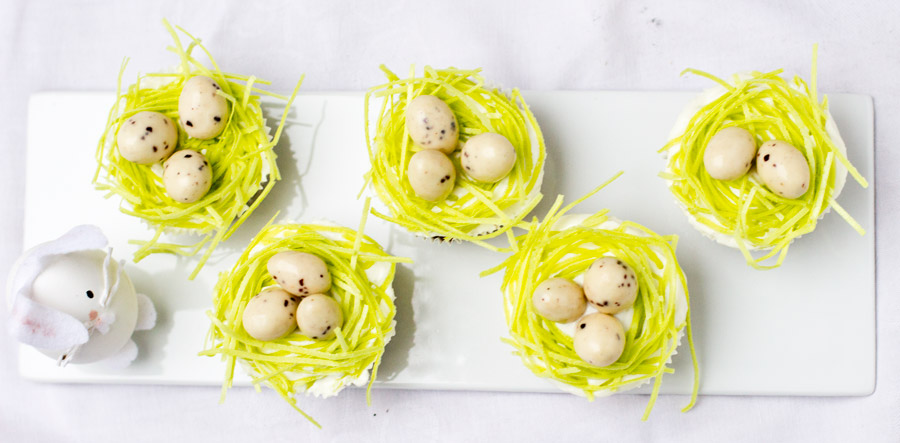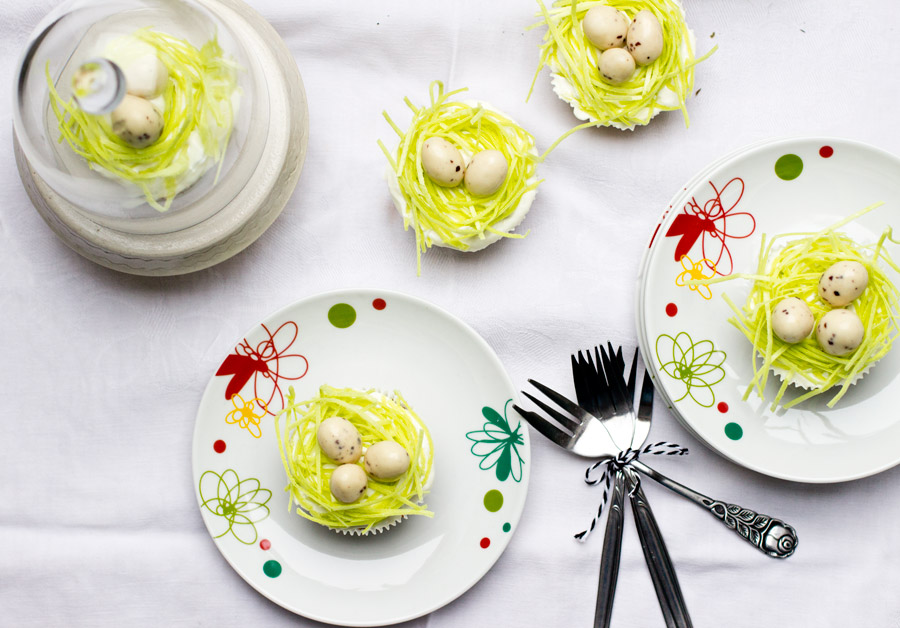 I invited over my sisters to watch a thriller on TV on Sunday and lured them with a picture of this cupcakes. Like the one you see below. One of my sister didn't even recognized it as a cupcake. I take it as a compliment.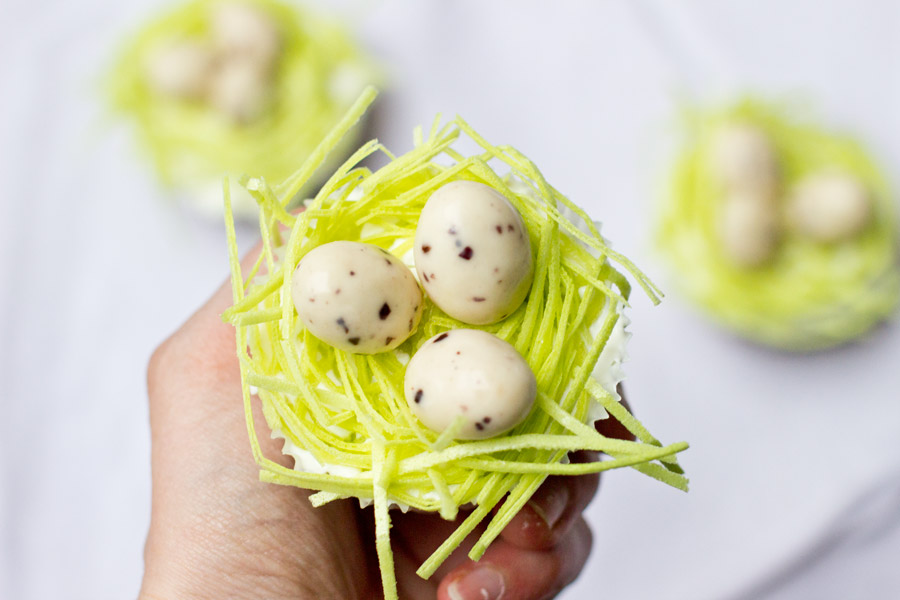 What are your plans for Easter? Any old traditions you follow?
Now. Carry on!