Do you know that feeling that the weather is dictating your diet? At least that's for me. When it's cloudy (it doesn't necessarily have to be cold too) I crave tea and chocolate and cake and soup and when it's sunny I love salads and fresh fruits. Now being it November you'd think I'm curled up in a blanket drinking tea and eating chocolate cake. Well that's what I would like to have done yesterday. The whole day was cloudy and cold and called for staying in bed. But did I do this? No! But I promised myself to make a cake the next day and have some tea. But when I woke up this morning it was sunny and warm. What is this sorcery? Are you kidding me, weather?! (Imagine me throwing my fist in the air and cursing like an old sailor.)
So I had all this ingredients for this nougat and pear sheet cake at home and this idea in my head and did the weather stop me? No! I wanted to make another pear cake since I made this one. Which is now over a year ago! So, weather, you can't stop me!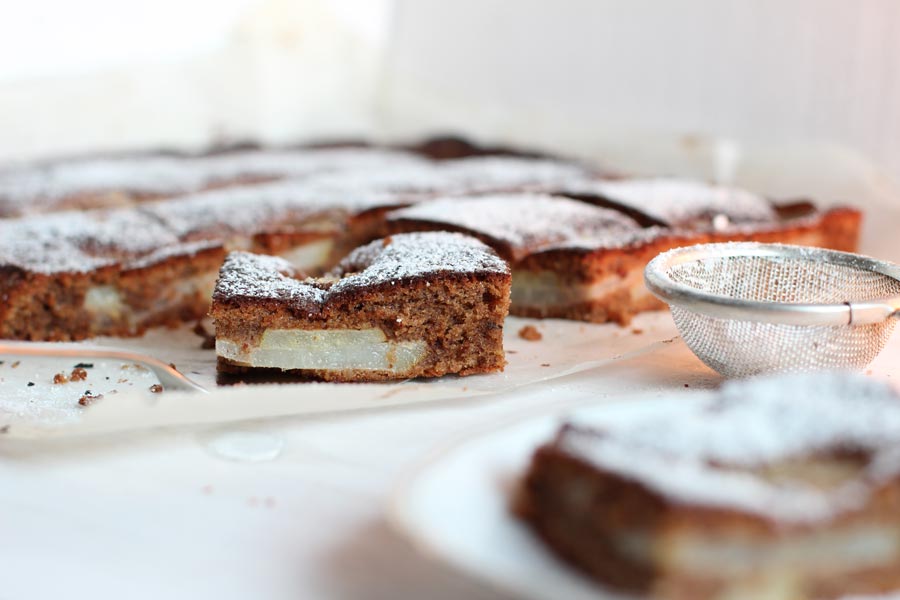 I guess now cold, foggy weather is for working and sunny days are for cake. Can't complain.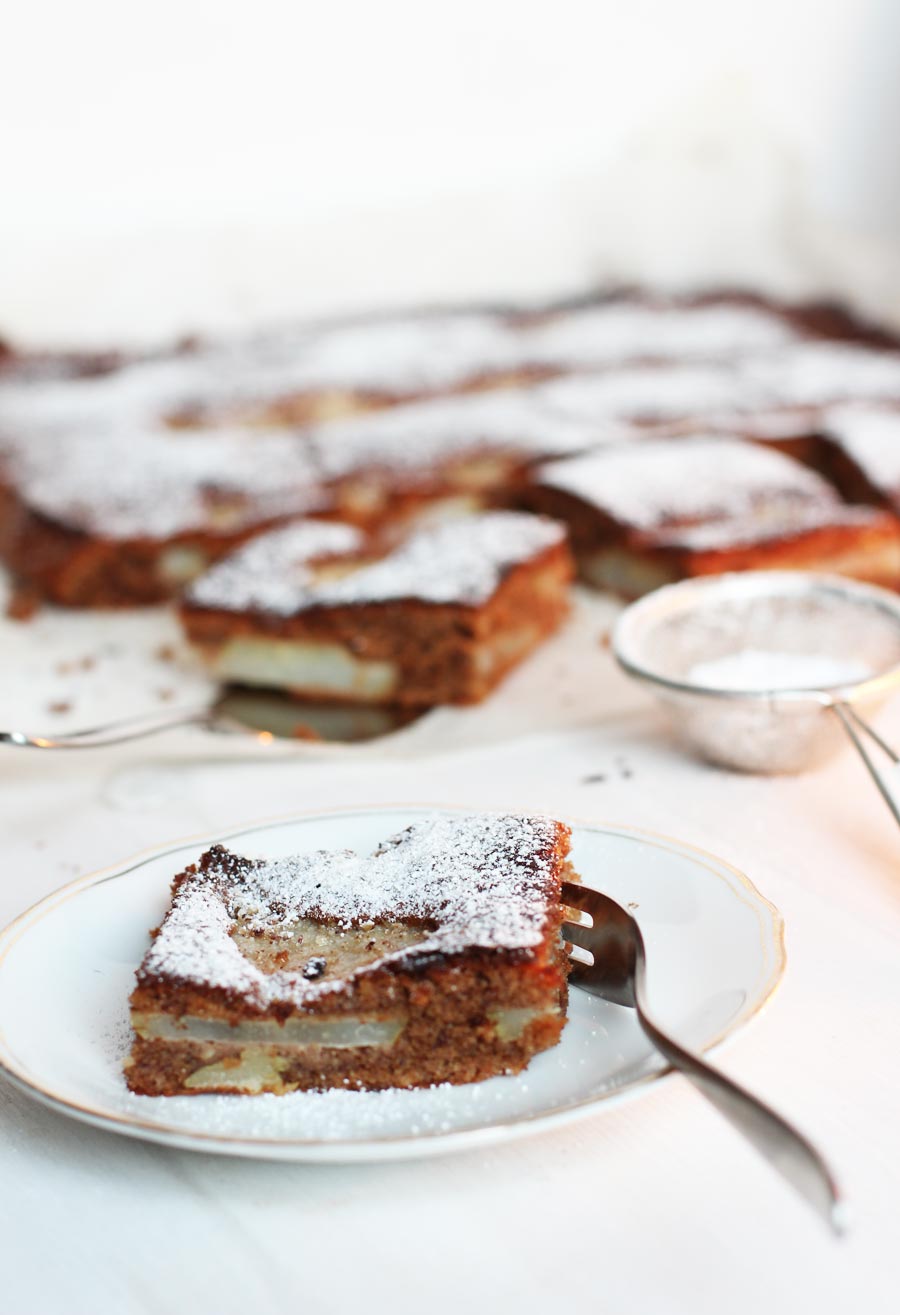 All you need is:
– 150 g nougat
– 120 g butter (at room temperature)
– 100 g brown sugar
– 1 pinch cinnnamon
– 5 eggs
– 1 pinch of salt
– 80 g flour
– 1 tsp baking powder
– 80 grated hazelnuts
– 3 pears
– some chopped hazelnuts for decoration
– dusting sugar for decoration
Preheat the oven to 180° C. Melt the nougat with the butter, sugar and cinnamon in a metal bowl over a water bath. Let them melt slowly. Meanwhile beat the whole eggs with the salt with a mixer until creamy. Add the melted nougat mixture and combine well. Mix the flour, baking powder and grated hazelnuts and add it to the egg-nougat-mixture.
Cut the pears into slices. Five the sponge on a baking tray (lined with baking paper) and top the dough with the pears. Before putting it into the oven sprinkle the chopped hazelnuts on top. Bake for 30 mins.
After taking it out of the oven, sieve dusting sugar and top and let it cool.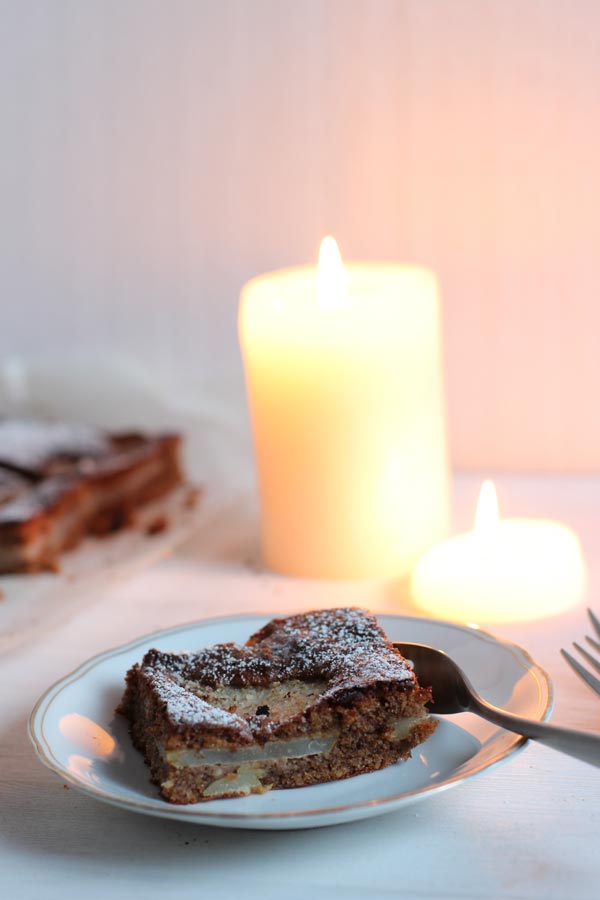 Do you let yourself dictate by the weather? Do you have something that you like to do when it's either sunny or cold/foggy? Do tell!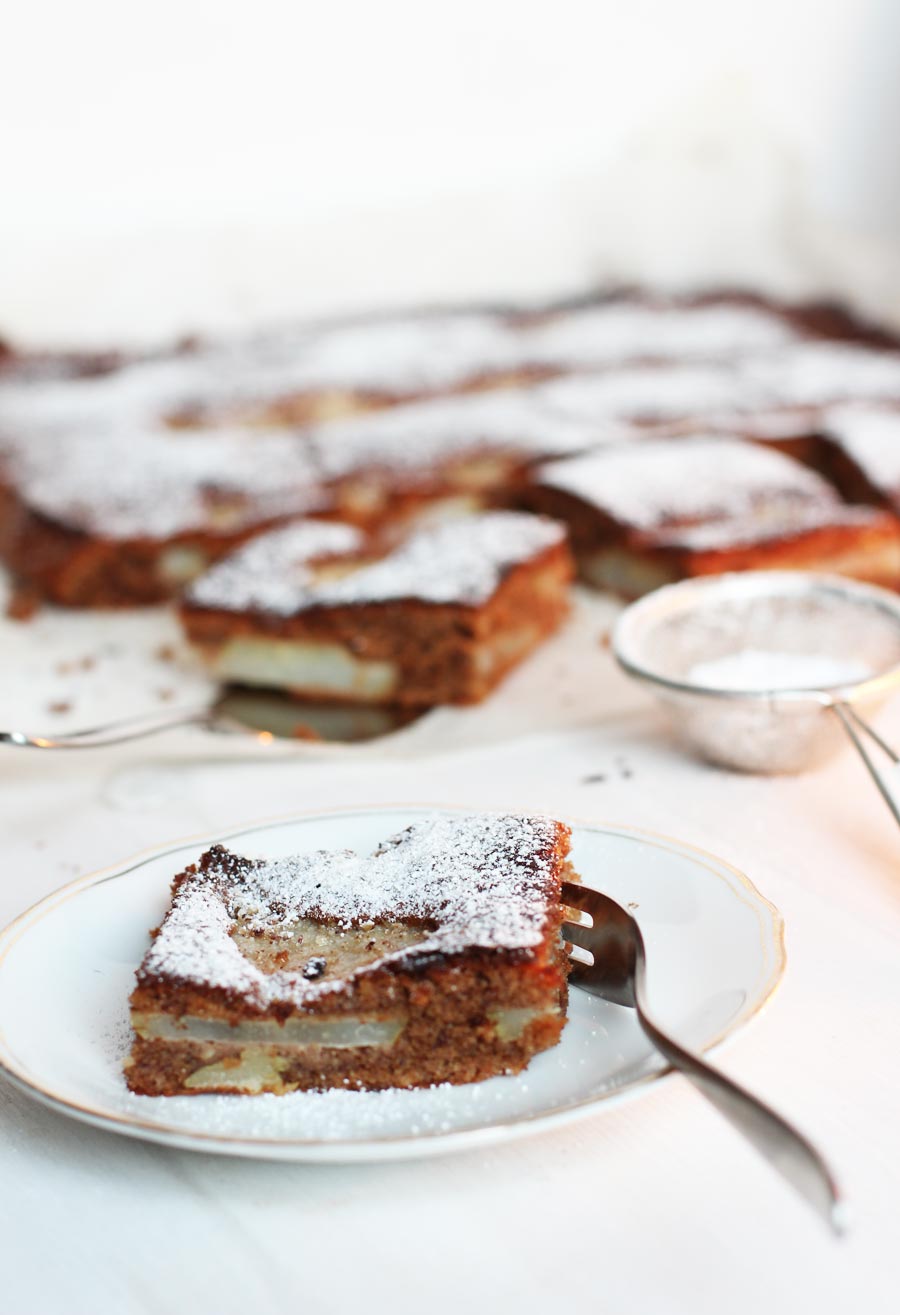 Now. Carry on!