Remember when I told you that I made strawberry chutney which became my favorite preserving recipe ever?! The one that I thought is the most disgusting and disappointing thing that I ever made. Yeah, that one. I thought you'd remember! Well luckily I didn't throw it out. I still praise that day that I had the guts to re-try it. Now that I tried it with cheese, I try to find new creative ways to incorporate it in meals.
For this recipe I used it for a chicken-sandwich and it was so good. Sooo good! I hope you made some chutney when I told you so.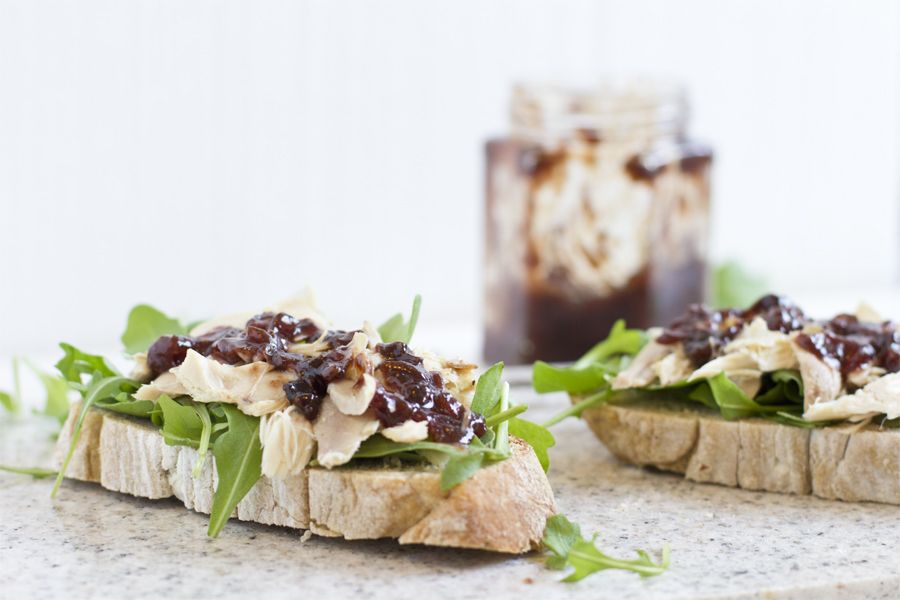 All you need is:
– strawberry chutney
– ruccola
– chicken (mine was already grilled)
– fresh bread
Grill your chicken with just salt and pepper if you don't have left-over chicken like me. Put it aside and let it cool. Cut pieces of the bread (about 1 1/2 cm thick). Rip the chicken into stripes. Drape the ruccola on the bread, add the chicken and top it with the strawberry chutney. Voilá! That's it already!
This is like the best summer dinner that I can imagine: quickly made and fresh and light.
This fresh summer chicken strawberry chutney sandwich is now on heavy rotation. I could eat it every day. Just some chocolate for dessert and I'm a happy panda.
What's your favorite summer dinner recipe? I would love to hear your ideas… Anything that I can mix up my diet before I only eat this all summer long (at least the rest of it).
Now. Carry on!