On a hot and sunny evening I abused my sister to take pictures with me in the park. What's better than a model who would do anything for an ice-cream?! Actually she bought the ice-cream herself but we ate it together and who cares who paid?!
The light was so perfect that I took about 50 pictures. Don't worry I don't annoy you with all of them but I do have to show off some. My sister is very pretty, you know, and it would be a shame to not publish these pictures.
Also I made a clutch that I'm very happy about. However this time we're doing it differently: First I show you the result (this means this beautiful black and silver fake leather clutch) and in 2 days I post the tutorial. Ha!
Another 2-post-project without 2 projects. I'm such a tease. I think I get the hang of blogging (or teasing).
Well without further ado here's my beautiful sister with the new leather clutch.
If you think now: wait a minute, this is not the sister that I know from here. Well. You're right. I have more than one sister. I'm sure they all appear slowly, slowly on this blog.
This is actually a snap-shot. Doesn't she look like a real photo model? Maybe next time I pay for the ice-cream.
She chose the clothes herself  – very fitting to the clutch, don't you think?
And here again a detail shot of the clutch. Tutorial will come in 2 days.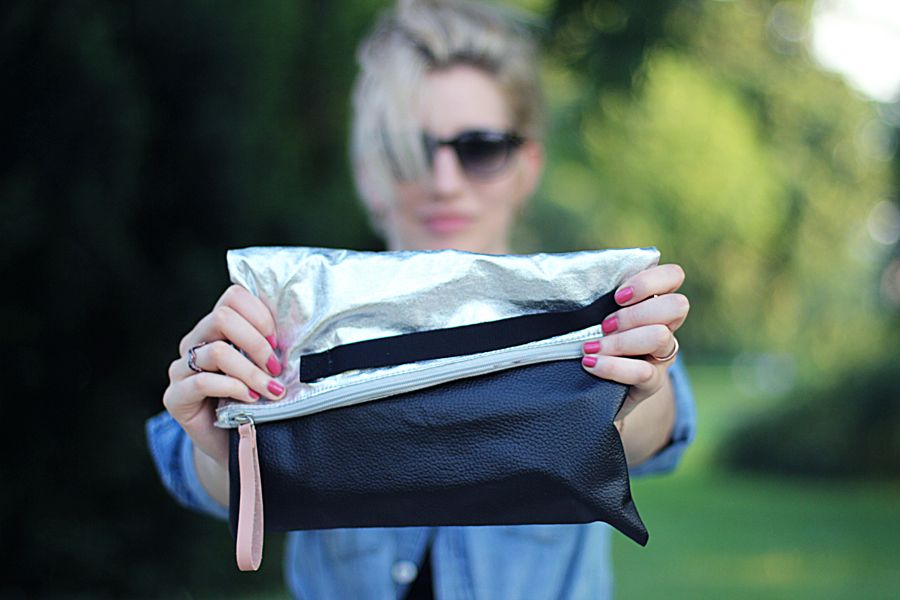 Now. Carry on!