As you might have read on Facebook: I was in Amsterdam. Four days of bliss. I wanted to visit this city for years now. It's always been a big dream of mine and now that I've been I have to say I wasn't disappointed. (What can easily happen since I waited for years and idealizing something doesn't make it easier.)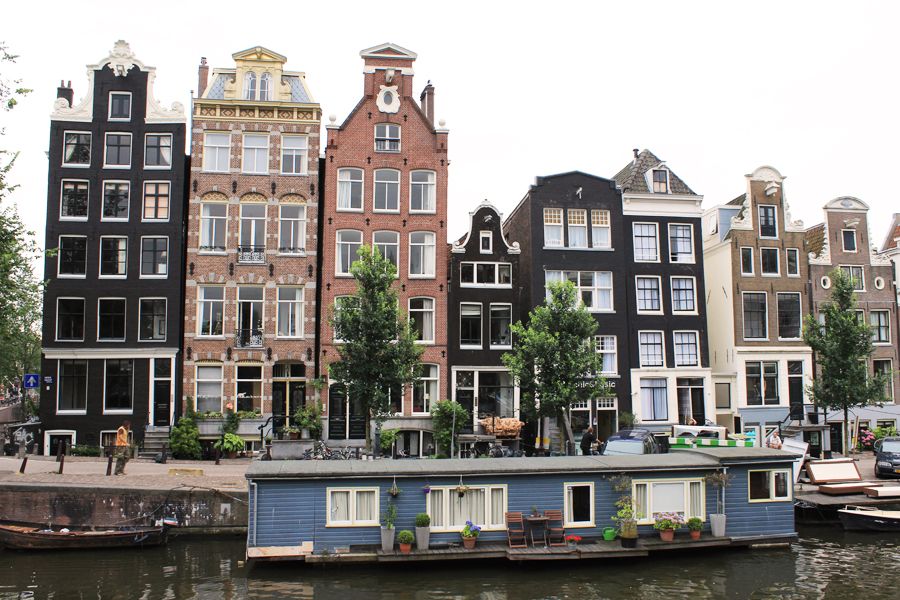 We were also quite lucky with the weather though: we arrived on Wednesday night and it rained only Thursday morning a little and in the night from Saturday to Sunday. The weather was so polite that it stopped raining on Sunday as soon as we wanted to leave the apartment. Very considerate. Much like the dutch people. You just stand there lost and they approach you and ask if they can help. So unbelievable polite. Especially if you live in a city where it's considered "funny" when people (especially waiters) are rude.
I bought this book a few weeks ago (you might spotted it here already). I really do want to visit more cities over weekend trips. It's a great read and I almost did everything they suggested, unfortunately it's a bit unhandy to take with you. I took pictures of the pages but ended up using Stay.com to navigate around the city. It's a really fantastic app and I can only recommend it for every city trip. You can download the map of a city to use offline and it suggests you great places. You can even create your own personal guide beforehand.
What also struck me was not only the beautiful canals that I totally adore but also how green the city is. The grow flowers and plants in the most unlikely places.
Even if they don't have real plants, they take fake flowers.
And the food. Don't get me started. So good. Luckily I was riding a bike with all the appeltaart, scones and ice-cream I ate. At one point my boyfriend asked me if I'm not going to eat anything healthy anymore. Not if I can avoid it. Just kidding. I just eat what I want.
On the first day we discovered the Centrum of Amsterdam by foot. We probably walked around 20 km and in the evening we went to NSDM at Amsterdam-Noord. You can reach this area by ferry (what's for free!). The old industrial harbour is turned into a fun entertainment area without loosing the rustic charm. If you take the right ferry and don't get lost you can walk there from the Eye Cinematic Museum in about 20 mins. It took us 1 1/2 hours and I already got very hangry (it was late and I've been walking all day). Luckily I found some blackberries along the way or I might have just died of hunger. It was really close. When we finally reached IJ Kantine they could have served me everything and I would have happily eaten it. But they didn't they served me amazing food and with the sunset over the harbour it was a perfect ending for a great day.
The next day we finally rented bikes (Star bikes are the cheapest if you stay for a weekend) and rode them along the bay up north to Broek in Waterland. It's a very picturesque little village and we have been told that this is the original Holland. This is the oldest land that has been conquered from the sea. Did you know that the canals and windmills serve the only purpose to keep the land dry and the sea away? Most of the Netherlands lie beneath sea level so they are in constant struggle to keep their land. If you stay for more than 2 days I really recommend going up north.
On Saturday we started the day with visiting the Noordermarkt. It's a great combination of food and flea market. If I only had no luggage restriction on the plane… probably better for my budget that I did. (Also the many design  and clothing stores as well as the interior design shops made it hard for me. But I was strong. So proud of myself. This was a tough one.) We ate lunch at Baut, a pop-up restaurant that will close in 2014. Go over while you still have the chance.
Also visit the Centrum at night once. It's so romantic and magical to see the lights reflect in the Graachten and the big windows illuminated (great for interior design stalker enthusiasts like me).
On Sunday we ate breakfast at Vinnie's Deli. It's a shame that we found this place only on our last day. Such a hipster café that I felt right at home. Really try the homemade granola when you're there.
We only visited one museum: the Tropenmuseum. It's really worth if you want to learn more about the areas of the world that the dutch colonized. Do calculate 3 hours though. We got already tired after 1 1/2 hours and saw only the top floor.
If ever anybody would ask me if I want to work (for them) in Amsterdam, I would say "yes" right away. That's how much I liked the city. I'll definitely come back. One day. Have you ever been to Amsterdam? Or do you plan to go? If you need more tips, write me an e-mail. This post only covers a minimum of what I saw and did.
Let me end with an image of the view from where we stayed. I miss it already.
Now. Carry on!