I'm a big fan of the blog Ikea Hackers. It's just so inspiring what people come up with to make their furniture more personal or to fit their specific need, don't you think? And also because it gives me the chance to look into other people's homes. Do you know the website "So leb ich"? It's a german platform for people who like to display their homes. I could spend hours there. I'm also the one who peaks into every room and asks for a tour when I visit people the first time. It's just you can tell a lot about them by just going through their stuff looking at how they make it their home. Well anyway, back to the original purpose of this post: I did an ikea hack myself. If you can even call this a hack. Well I do and who wants to argue with me? Yeah, thought so. (By now I also used a lamp from ikea to make a great upcycling project if you'd like to see more.)
I think every body has a storage system like this at home. It's like the Billy. I had mine now for – let me think – 7 years. Oh my. I painted one of the drawers red(-ish) back then to make it more fitting to the desk it sat on. But know it gets a make-over and definitely more purpose in life.
Those arrows are actually stitched. Yes, stitched. I like to combine unusual techniques with new materials. It's like: surprise (and I like surprises, well the good ones at least, the ones that involve presents or chocolate or trips)!
All you need is:
– an ikea mini drawer chest
– the legs from a stool
– yarn
– chalk
– a needle
– 4 screws
– the smallest drill bit you can find
– a power drill
I found the legs of the stool actually on a garbage dump. If you ever wondered who takes things out of the garbage. There. Judge me if you like. If I can use it, I take it. Here is a close-up picture of the drill – see how small it is?!
But now how to make the arrows on the sides:
1. Draw with the chalk arrows on the mini chest. The chalk gives you the opportunity to draft and delete as you go along.
2. Take the drawers out of the chest and drill holes in the ends of each line and in the joints of the arrow.
3. Then you just need to stitch the lines. I made a little knot so it doesn't pull through and wrapped the ends of the yarn around one of the lines in the back to fix it afterwards.
4. Attach the stool legs to the bottom of the mini chest with the 4 screws. Make sure that the screws don't go through the wood or you won't be able to insert the drawers afterwards.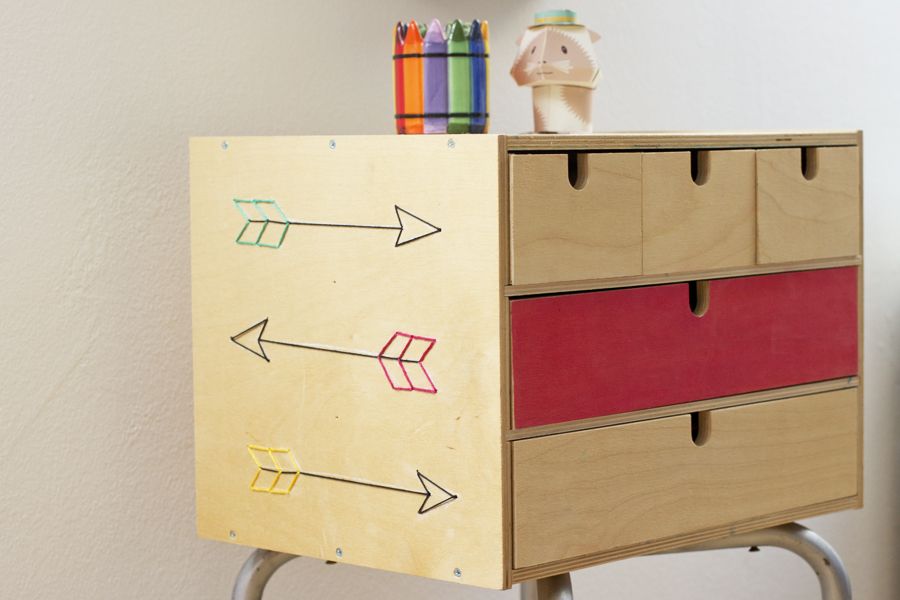 And voilá! Look what I made! I mini chest that can stand alone with cute little arrows. I grew so fond of embroidering wood, that I created a few more projects. Like here. I'm already thinking about making more. Any idea that you'd like to share?
What do you think? Do you consider this an ikea hack?
Now. Carry on!