Remember when I told you that it was my boyfriend's birthday and that I made apple & oats muffins for him? They weren't the only baking I did and frankly I chose this muffin recipe because it sounded and – in comparison with other cakes – is pretty healthy. But it wouldn't be me if I didn't made another – much richer and not as healthy – cake as well. I chose this brownie recipe by Nadin from Die Glücklichmacherei. I changed it a little to fit my pantry and my taste but the basis is from her.
And guess which cake was eaten first?! Yep. Chocolate always wins. But don't worry both sweets were gone by the end of the day.
Ingredients
200 g dark chocolate
175 g butter
150 g brown sugar
130 g plain flour
3 eggs
100 g hazelnuts
50 g sugar
1 tsp fleur de sel (salt)
Instructions
Preheat the oven to 170° C.
Line a baking tray with baking paper.
Put the hazelnuts into a pan (without grease) and roast for a few minutes. Add the 50 g of sugar, let it caramelize and combine with the hazelnuts.
When it's golden brown, pour it onto the baking tray and sprinkle fleur de sel on top (a few pinches).
Chop the chocolate into pieces.
Melt the butter with the chocolate and brown sugar on medium heat.
Put the warm mixture aside and add the flour.
Add the eggs one by one and combine well.
Chop the hazelnuts into pieces and add to the brownie mixture.
Line a baking pan of about the size of 25 x 25 cm with baking paper.
Pour the cake mixture into the baking tray and add a few more sprinkles of salt on top.
Bake for 30 mins.
Let it cool down and enjoy!
https://look-what-i-made.com/2018/10/05/salted-caramel-brownies/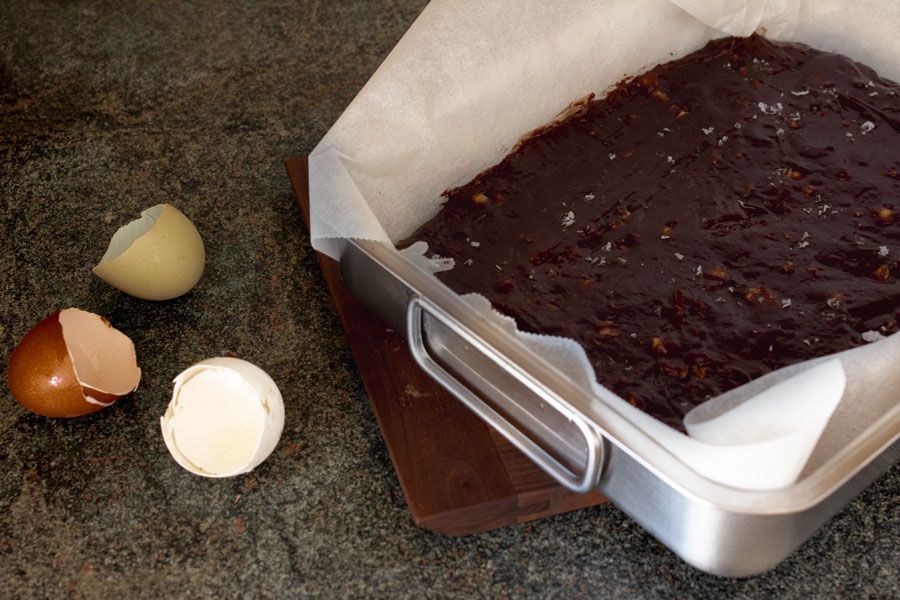 It might be odd to add so much salt to a cake but trust me: it's super delicious and although there's quite a bit of sugar and caramelized hazelnut in the cake – it's not that sweet and tastes really fantastic!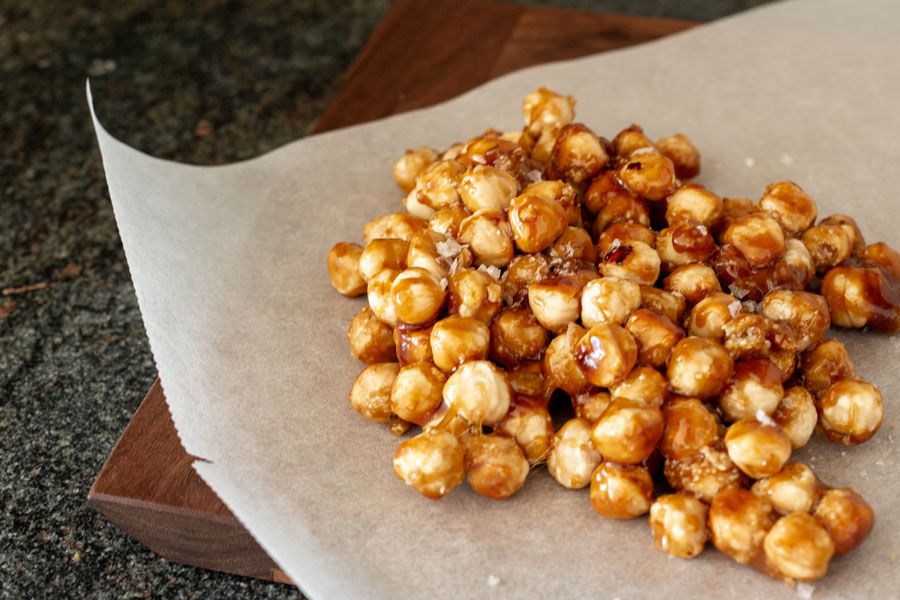 If you hesitate caramelizing yet: I can ease your sorrows: it's really easy if you follow this step and get the baking tray to let it cool ready before you start. Also: use a wooden spoon to get the caramel out of the pan. The caramel can be easily washed off the wood once you're done with warm water.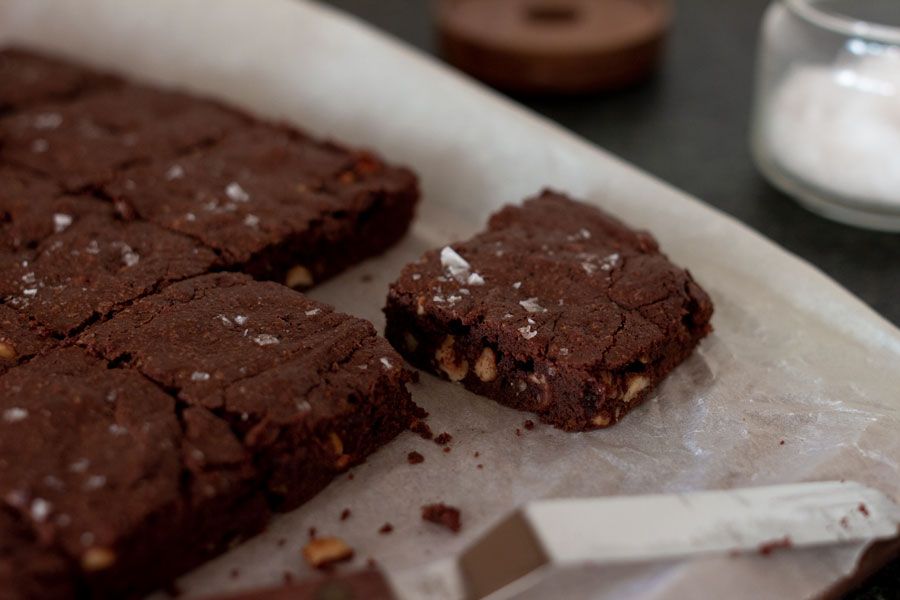 Also one more thing: sometimes – when only cake can help to fix a day – this is the right recipe to make. You can thank me later.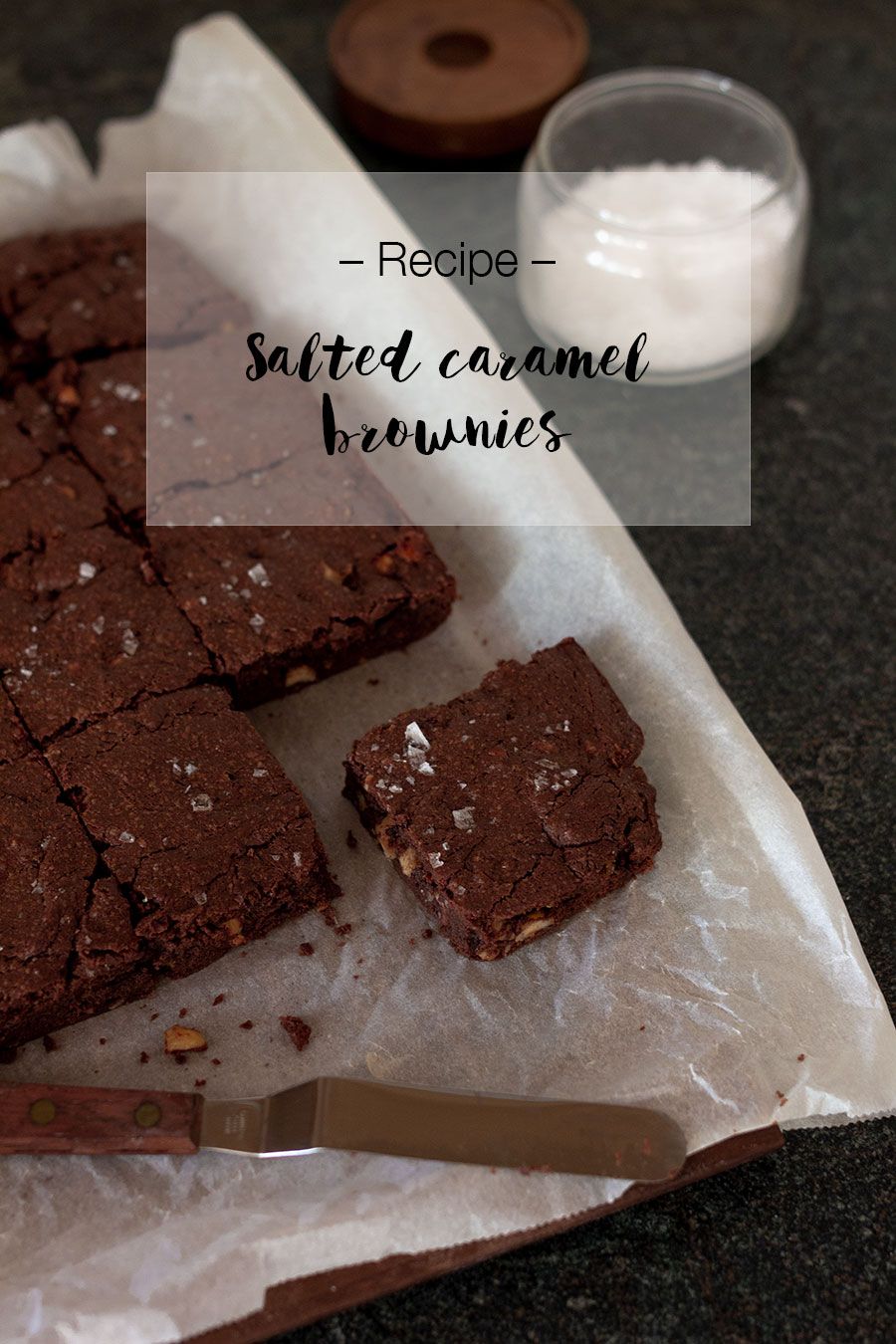 Now. Carry on!