Since I made this rose hip jam, I'm a huge fan! I didn't know it tastes that good until now that I have several jars at home. Sometimes the results of my endeavors are a surprise – even for me.
After I made the jam, I knew I wanted to make croissants filled with this slightly tart and sour but still sweet jam. But I knew from school – or the cooking classes to be precise – that making my puff pastry is tricky and takes hours (and I didn't just want to buy any). Boy, was I wrong. I found this fantastic recipe of quick puff pastry that takes about 1,5 h to make (with 1 h resting time).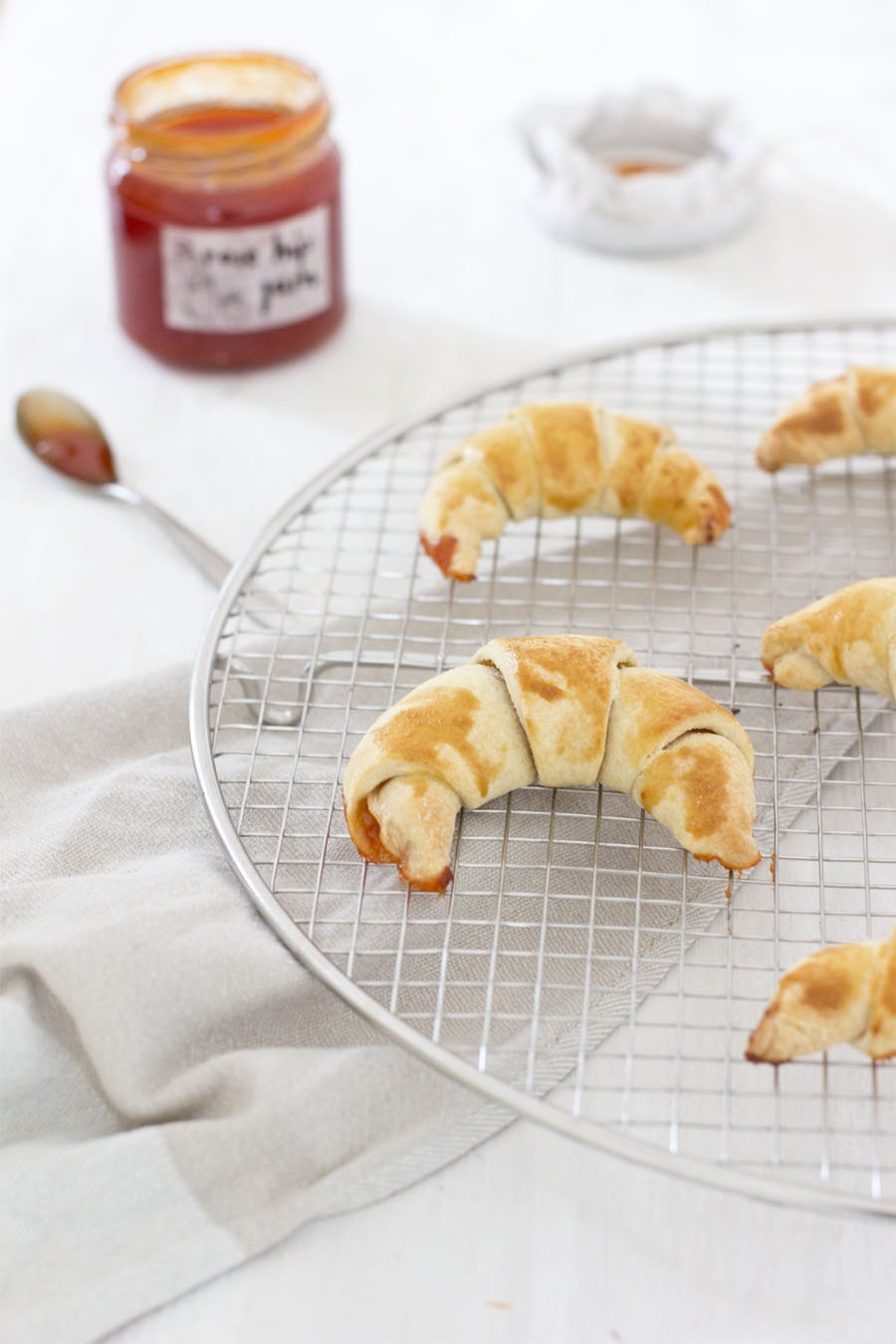 And the rose hip croissants I made are superb. Really. I ate one still warm and ate two more right away. And I had to stop myself there because I could have eaten the whole batch of 15!
Ingredients
220 g flour
100 g butter (cold from the fridge)
140 ml cold water
1 tsp salt
1 tsp sugar
rose hip jam
1 egg (beaten)
Instructions
Knead the flour, salt, sugar and water with your hands or a mixer. Don't worry if the dough looks and feels a bit dry.
Cut the cold butter into cubes and add it to the dough.
Knead it a little more just to combine it a litte (you should still see the squares in the dough - see one of the pictures below for reference).
Put it into the fridge for 30 mins.
Take the dough out and roll it with a rolling pin to the thickness of 5 mm.
Fold it into thirds like a letter into a envelope.
Roll it out again into a square.
Fold the sides into the middle and fold it into half (it should be a quarter of its size) and roll it out again.
Repeat folding into thirds and quarters 5 times.
The dough should be smooth and you shouldn't be able to see any pieces of butter.
Pop it back into the fridge for another 30 mins.
Preheat the oven to 160° C.
Roll the dough into the thickness of 5 mm.
Cut into triangles (which should look like pennants).
Add a tsp of rose hip jam to the broader side and roll it in.
Put the croissants on a baking tray lined with baking paper and bake it in the oven for 17 mins.
Serve slightly warm and enjoy!
https://look-what-i-made.com/2016/10/26/rose-hip-croissants/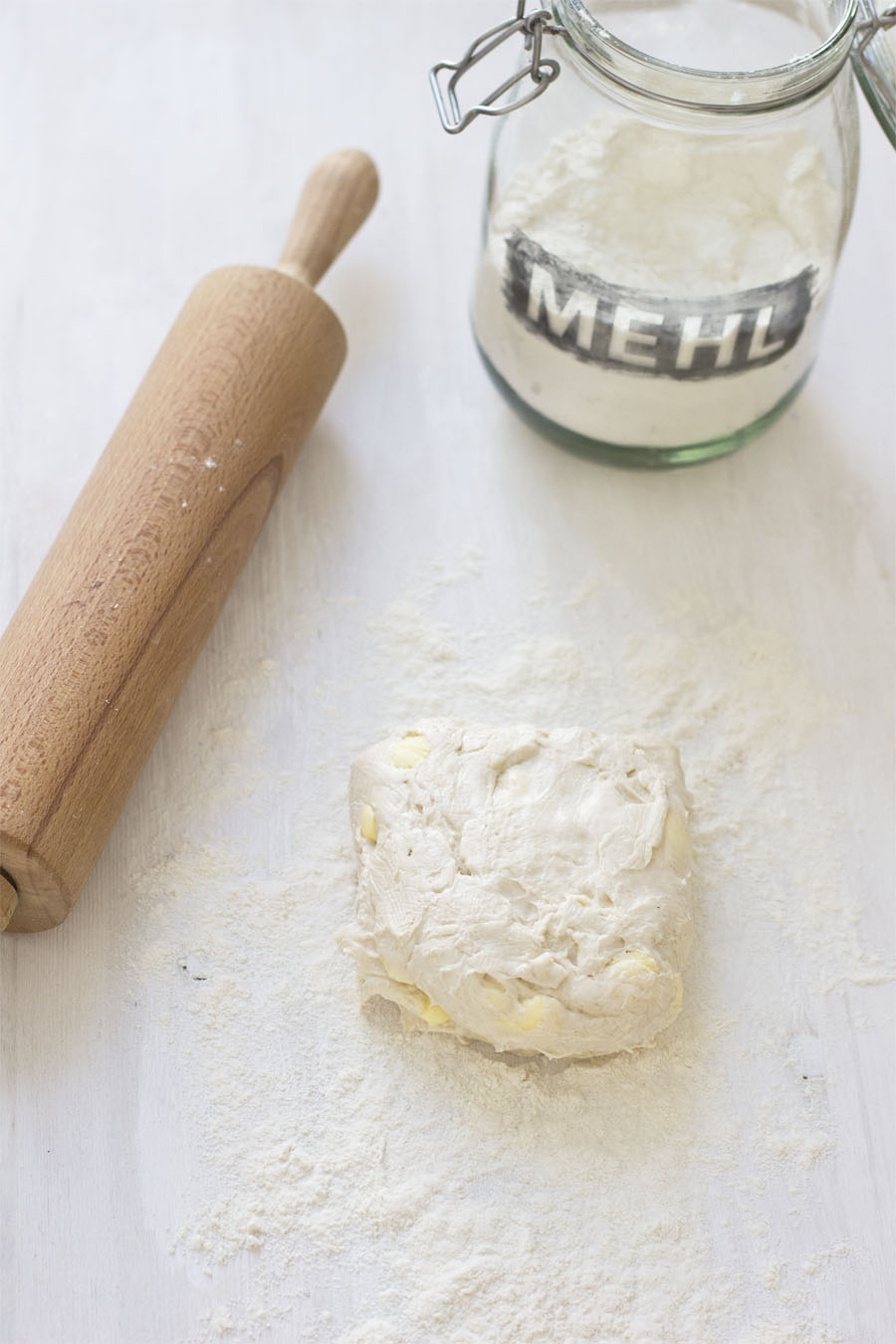 In the picture above you see how the dough looks like before rolling and folding.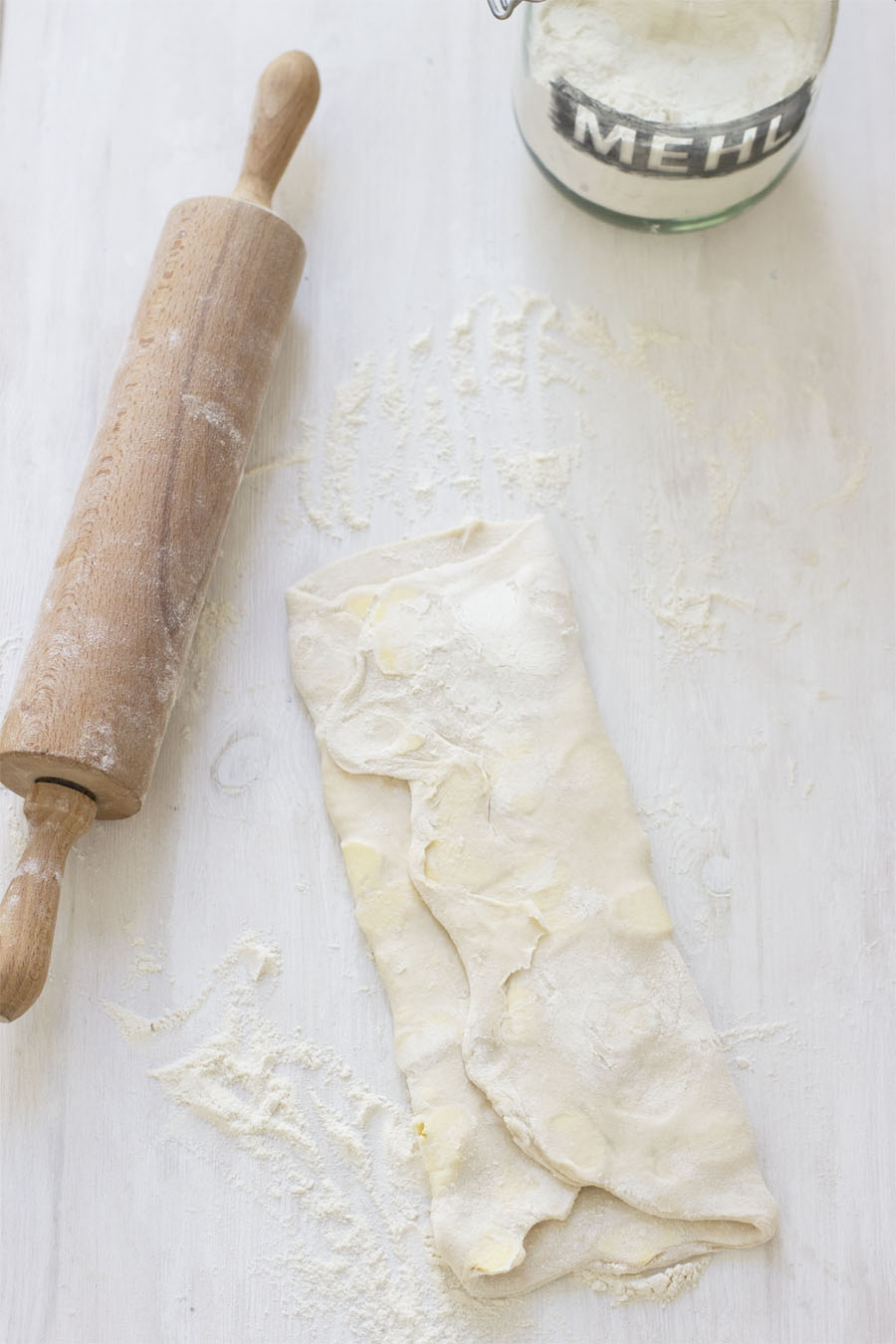 This image above shows you how I folded it into thirds – roll it out after this step.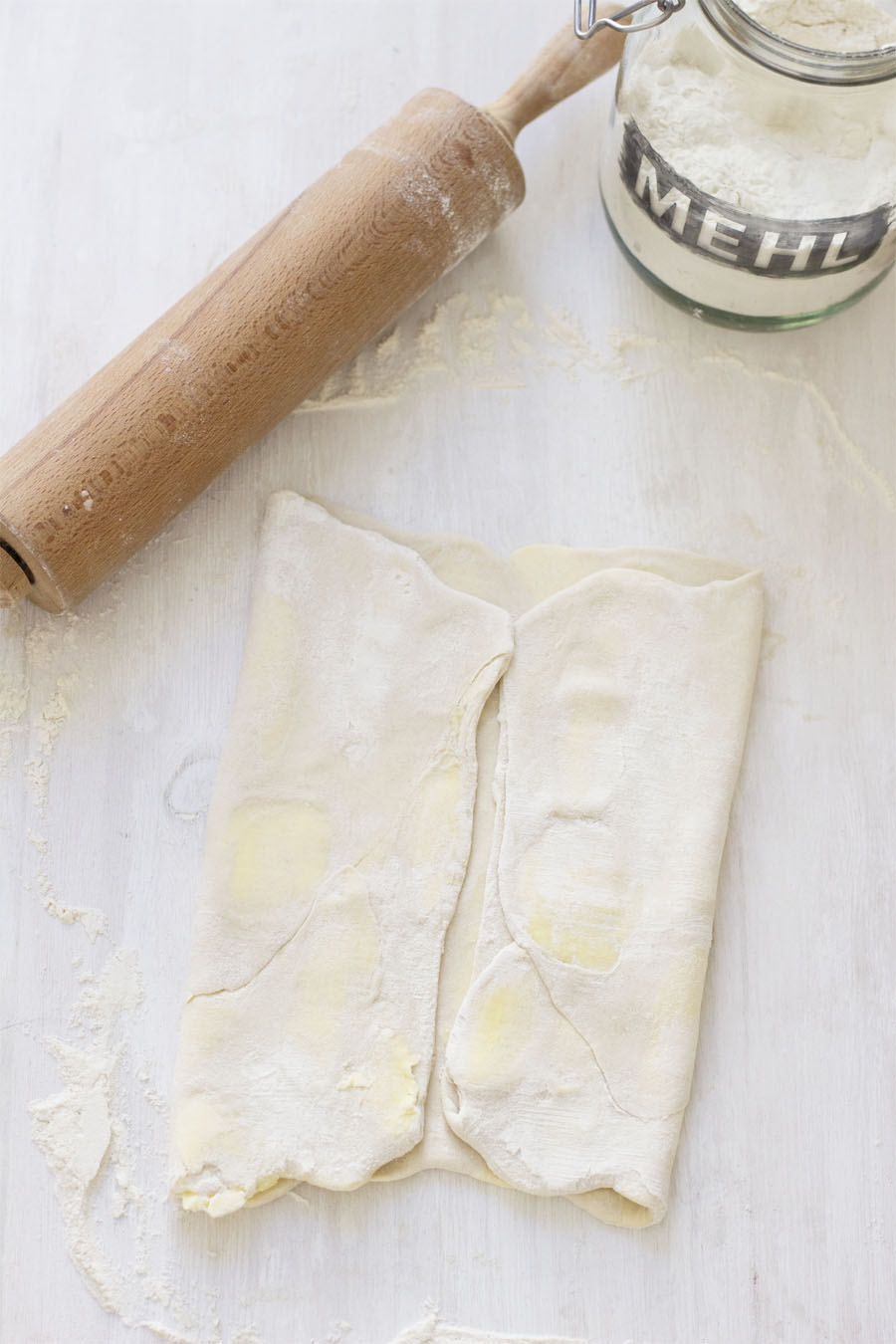 This is how I folded the dough into quarters, fold it into half one more time and roll it out.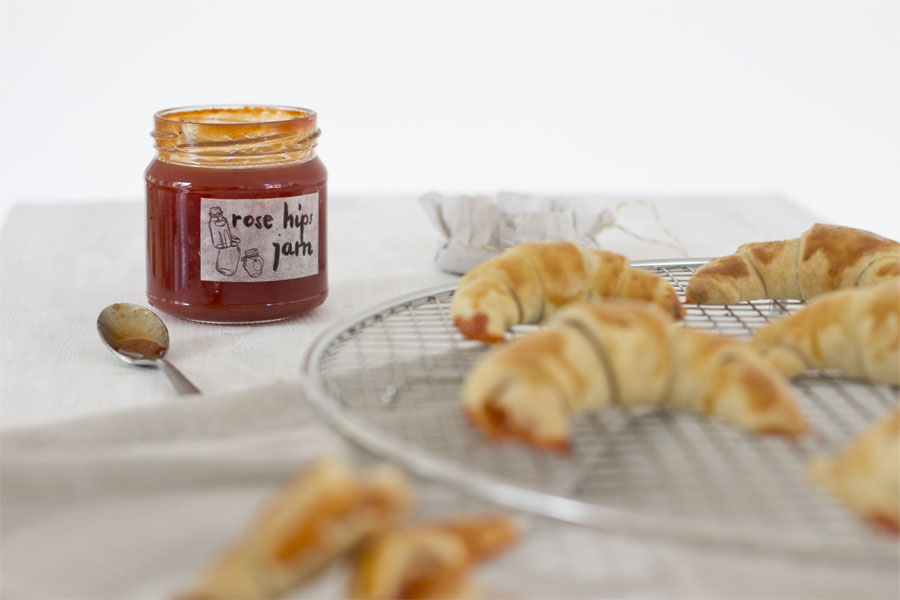 You can use this recipe for puff pastry for savory dishes as well – either way it's super delicious!
One of the best things about puff pastry is that you can easily freeze it – either the dough, once you finished rolling and folding, or the finished croissant. To defrost you have to slowly defrost the unfinished dough over night at room temperature but you can just pop the baked croissants in the oven for 100 degrees for 10 mins to defrost and you have the perfect treat.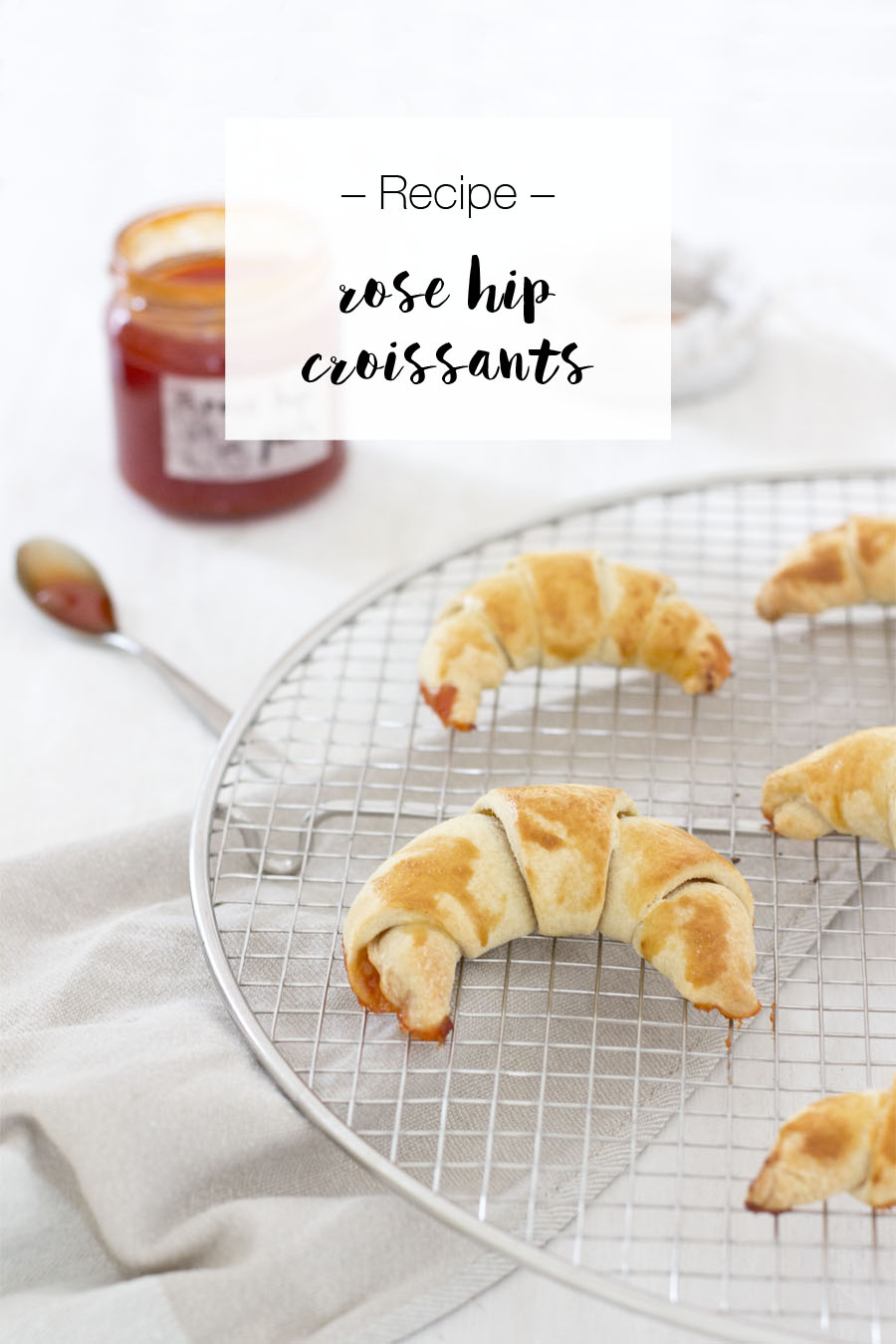 Now. Carry on!