I have a strong affinity to Switzerland. Not only because I'm the biggest fan of Ovomaltine – and Swiss chocolate. I also grew up close to the border to Switzerland. Now that I live in Vienna, I don't visit as often but I celebrate this great land and its product where I can. I eat, for example, 2 Ovomaltine chocolate bars at work. But that's not enough: I eat a Swiss inspired breakfast to get ready for a day's work and you should too!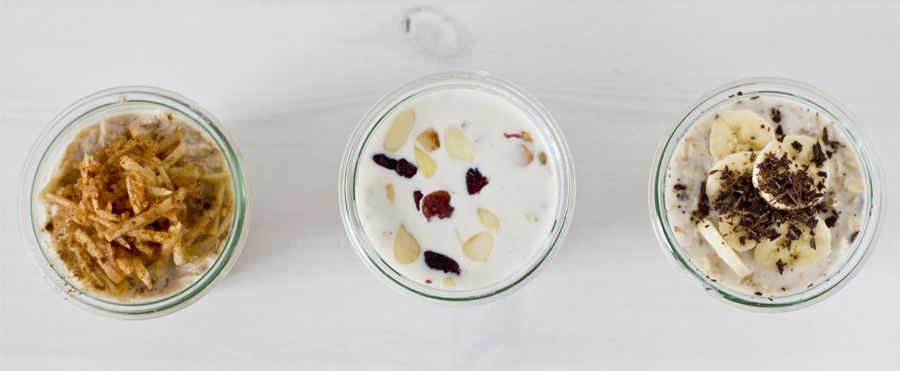 This breakfast is called Bircher Muesli and really healthy and easy to make. I tried 3 different kinds (with my own recipe) and they are all so good! Variety it is!
All you need for the basis:
– 4 Tbsp rolled oats
– 1/2 cup milk
– 1 Tbsp greek yoghurt
Put all the ingredients in a jar and let it soak in the fridge over night.
Apple cinnamon Muesli
All you need is:
– 1 time the basis (see above)
– 1 Apple
– 1 pinch of cinnamon
Grate the apple and mix the fruit with the cinnamon into the Bircher Muesli basis.
The best way to start a day!
Banana chocolate Muesli
All you need is:
– 1 time the basis (see above)
– 1 banana
– 10 g of dark chocolate
Cut half the banana in slices and mash the other half. Grate the chocolate and mix it with the mashed banana. Combine with the Muesli basis and put the cut banana slices on top.
Enjoy!
Cranberry almond Muesli
All you need is:
– 1 time the basis (see above)
– a handful cranberries
– 10 g of almond slices
Roast the almond slices in a pan until they darken a little. Mix the cranberries and almonds with the Muesli basis.
A full load energy in a small jar!
Are you a breakfast-person? What do you eat?
Now. Carry on!