*Sponsored by OTTOinSITE
At the moment there is one topic that cannot be avoided. It seems to influence all conversations, the newspapers are full of it and there is no way around it in online communication: Easter decorations. Yes, that is not quite true. I admit that. But how nice would it be if this were the predominant main topic in the media?
Since we are currently spending a lot of time at home (and I'm not pressuring you to make "the best out of a pandemic" because – let's face it – that's just stupid), we can use this time to make ourselves an Easter decoration like the one I designed for OTTOinSITE. Get our minds of the current news and keep our hands occupied. The guests will be shown around virtually this year, but your own family or yourself will always enjoy beautiful Easter decorations!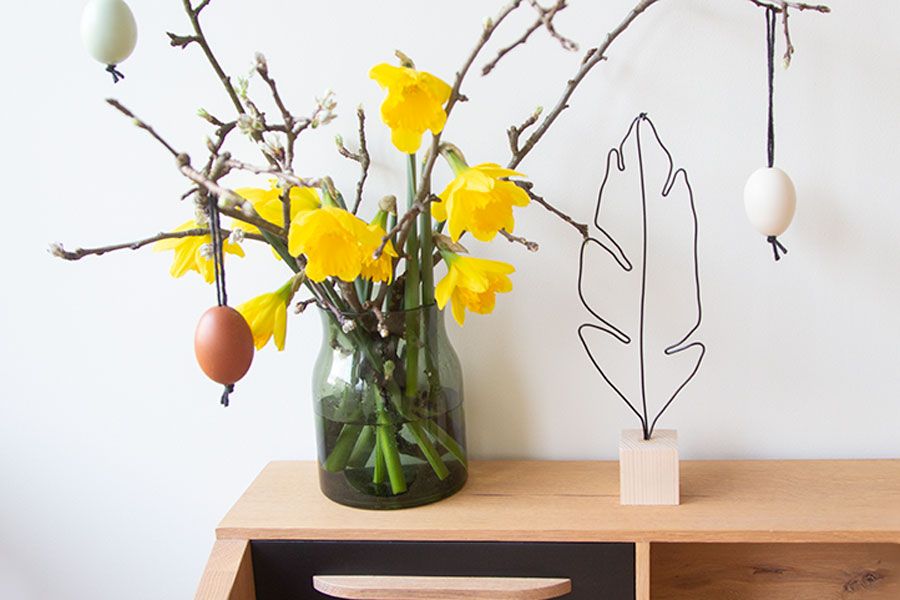 You can find the list of supplies, a video tutorial for the Feather out of Wire. You'll even find a template that makes it easy to form the feather.
Since March has been crazy workwise – which was a total blessing since it kept me from worrying too much about the Coronavirus – I've been quite absent. Here and on social media. Expect this to change. I want to give you a few tutorials to make at home, give you ideas and inspiration and maybe we might be able to organize a co-working craft party. Zoom is the new meetup! Let's see.
In the meantime, you can browse through the archive with Easter DIYs and recipes. There are a few in there that I still pull out and put on display or re-create. Get inspired!
Now. Carry on!