Back in Vienna, my boyfriend and I used to love to invite people over for dinner. We both love cooking and for the two of us we cook well but never too fancy. So when friends came over we went wild and made – at least – a 3-course-meal. This resulted with very full bellies and satisfied friends but hardly ever in an invitation for dinner at our friend's places. They kept excusing themselves with "we are still practicing a good dinner" or "we could never make something as fancy" or even "sorry, I can't cook". Which is stupid. It's about time spent well and not eating fancy. I do love simple food just as much.
This argument never helped though.
Fast forward to today: I made a new friend in climbing who's a foodie (Hi, David!). A vegan foodie which makes him the craziest of them all. He talked about those great vegan burgers he makes and we invited ourselves he invited us over. So I had a new problem: When a new friend of yours invites you to dinner and he's a 100% vegan, it can be a challenge to bring dessert.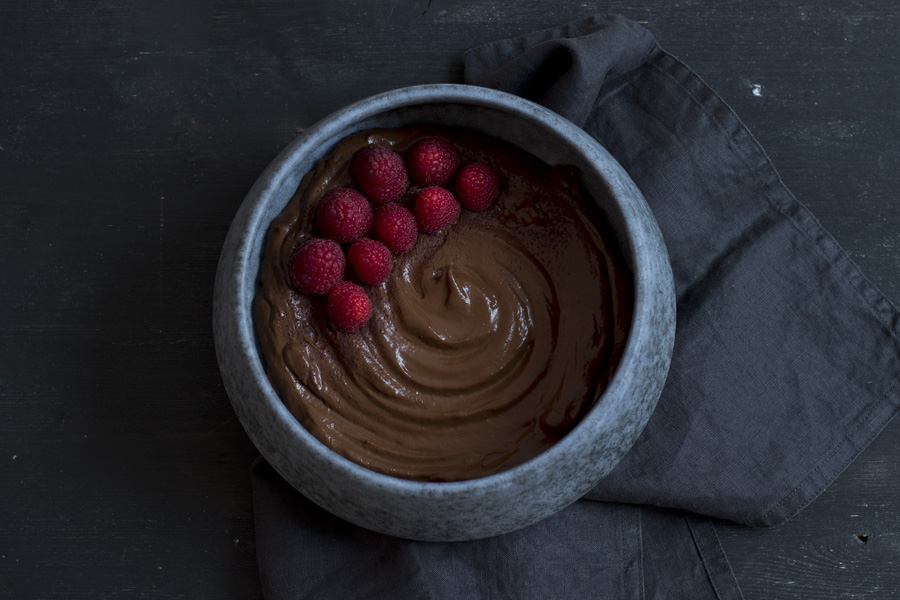 Then I remembered this great vegan ice-cream I made out of avocados. Which is basically a vegan chocolate mousse  – but frozen. So I thought, I just polish this up a little and bring that to the feast. Oh and I can tell you: it was a hit! My host added a few sprinkles of raw chocolate nibs which made it even better, so I give you the recipe to the full treat:
Ingredients

2 avocados
2 Tbsp agave nectar
1/2 (overripe) banana
2 Tbsp baking cacao
3 Tbsp water
10 g raw chocolate nibs
raspberries for decoration

Instructions

Peel the avocados and put them into a blender with all other ingredients (expect the chocolate nibs and raspberries)
Blend until it comes a smooth consistency. If it doesn't blend well, add a little bit more water.
Taste as you might need to add a little bit more agave nectar (if the banana isn't very ripe).
Mix in the chocolate nibs by hand.
Serve with fresh raspberries and enjoy!

https://look-what-i-made.com/2018/02/16/vegan-chocolate-mousse/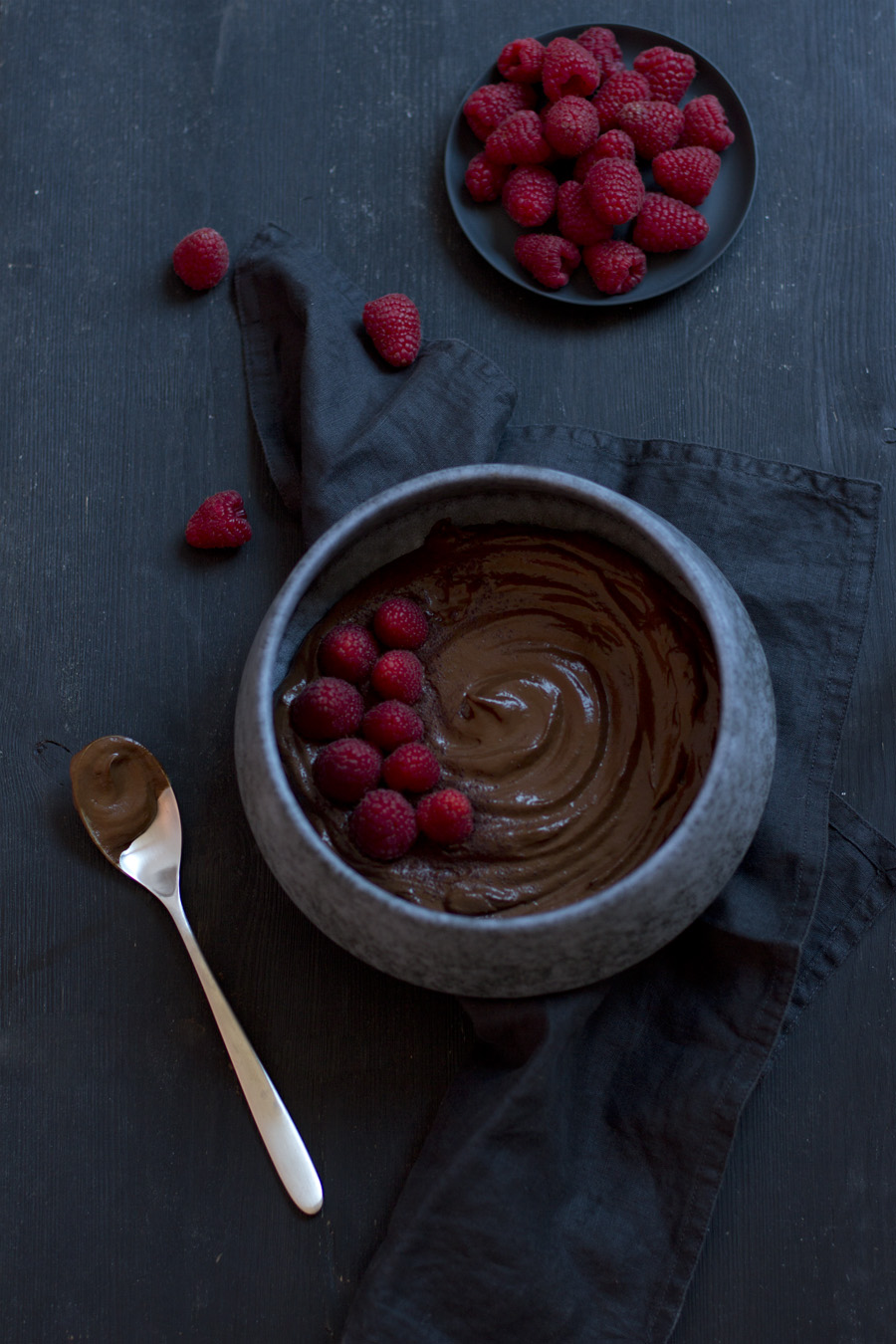 If I only had avocados at home, right now I would just make this vegan chocolate mousse as a healthy alternative to regular pudding. As you've seen here, you can also freeze it in popsicle containers and serve as ice-cream. So delicious!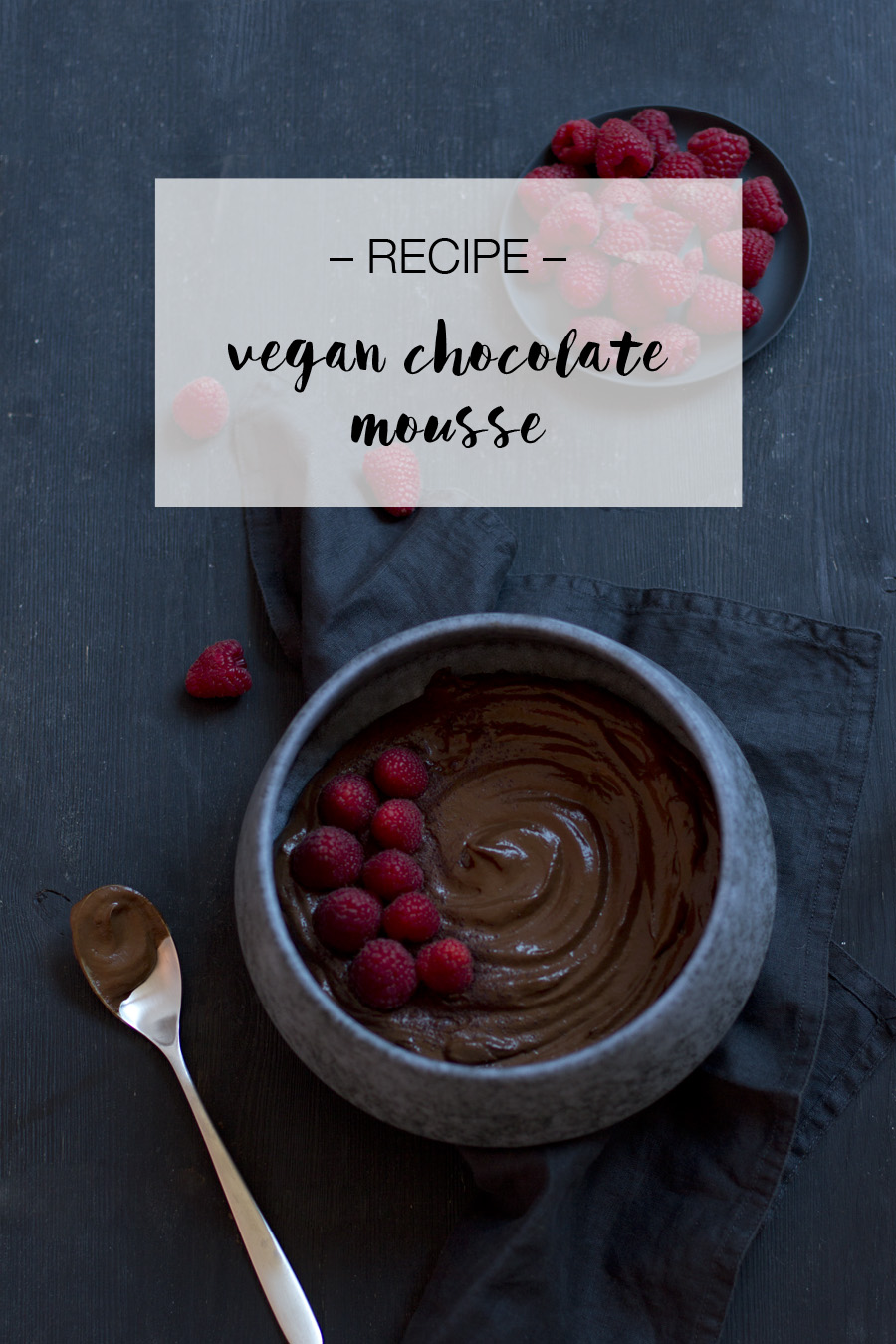 Have you ever made a vegan dessert? If so, what was it? There's still an invitation pending from our side and I'm the one responsible for dessert. Let me know in the comments!
Now. Carry on!