Halloween almost sneaked upon me without me noticing. Almost. This only possible because Halloween isn't such a big deal in Austria. To say it's a deal at all is already a stretch. I can't remember one night to the current day where children actually rang my bell to get some treats. This doesn't keep me from buying sweets and then eating them all by myself. Every excuse to buy chocolate is alright for me. I also used to plan Halloween dinners some years ago. With scary colored food and spooky decoration of course. However my boyfriend didn't like artificially colored meals – even if I showed him how save food coloring is. So I guess that's when I stopped with this tradition. Now I feel like picking it up again. However it's much too short notice to actually plan and execute a whole dinner, so I thought long and hard for 5 mins and came up with a brilliant idea: Halloween High Tea. Is that a thing? Well, it is now.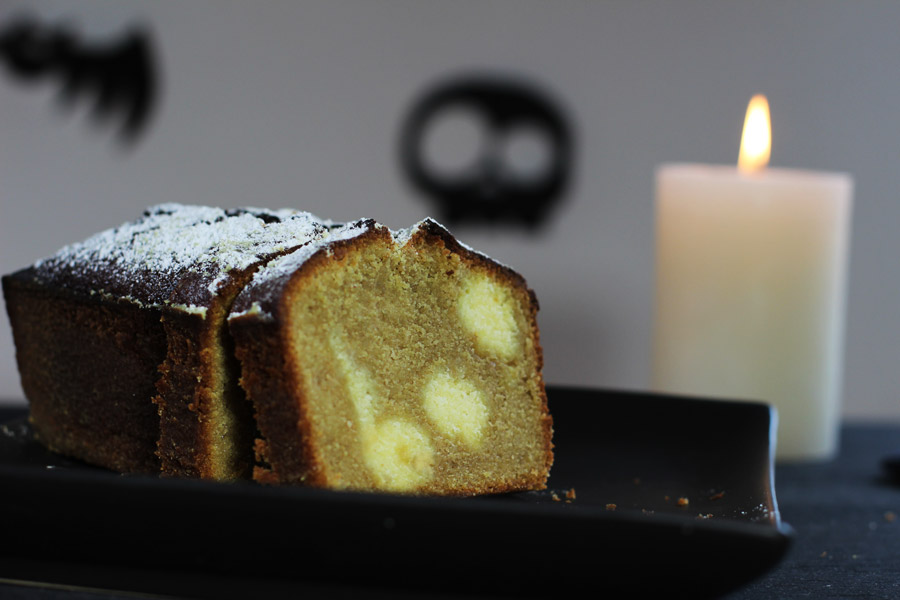 For this surprise inside Halloween cake recipe I colored the sponge with pumpkin seed oil. So it's even "safe" in my boyfriends opinion. And the pumpkin seed oil is seasonal and adds a great nutty flavor.
All you need is:
– 120 g butter (at room temperature)
– 250 g sugar
– 2 eggs
– a pinch of salt
– 250 ml buttermilk
– 250 g flour
– 1 tsp baking powder
– 2 Tbsp cacao powder
– 2 Tbsp pumpkin seed oil
Preheat the oven to 175° C. Beat the butter with sugar in a bowl until soft and creamy. Add the eggs and salt and mix until well combined. Now add one part buttermilk and one part flour and baking powder and mix gradually into the butter-egg-mixture.
Grease a loaf baking form with a little bit of oil and add about 7 Tbsp of the mixture (the loaf should full at the bottom and about 2 cm high). Now bake this mixture for about 15 mins or until the sponge is set. Take it out of the oven and let it cool a little.
Meanwhile add the cacao powder and pumpkin seed oil to the rest of the mixture and combine well.
Take the sponge that's already baked and cut out many b and o. Grease the loaf again and add a little of the green mixture at the bottom. Place the bs in line on one side and top it off with more cake mixture. Place the os on the other side, so that you get the word boo when you cut through the cake. Add the rest of the mixture on the top. Bake in the oven for about 45 mins.
After letting it cool, you're ready to surprise your guests. Make sure to cut the cake in the kitchen to make sure that you can see the word "boo" and place it on the plates right at the table for the greatest effect.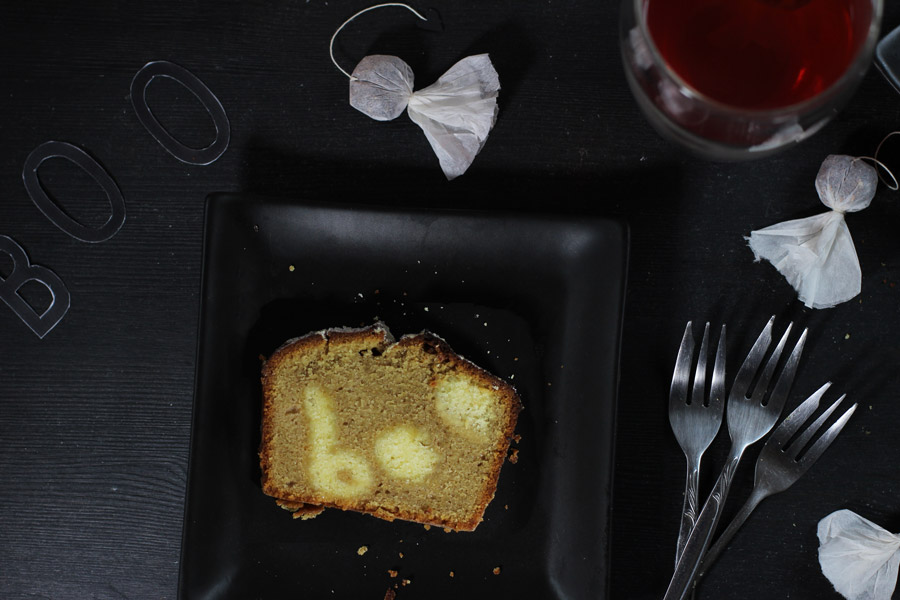 Unfortunately the pumpkin seed oil didn't color the cake as intense as I hoped so it has more of a greenish, brown color.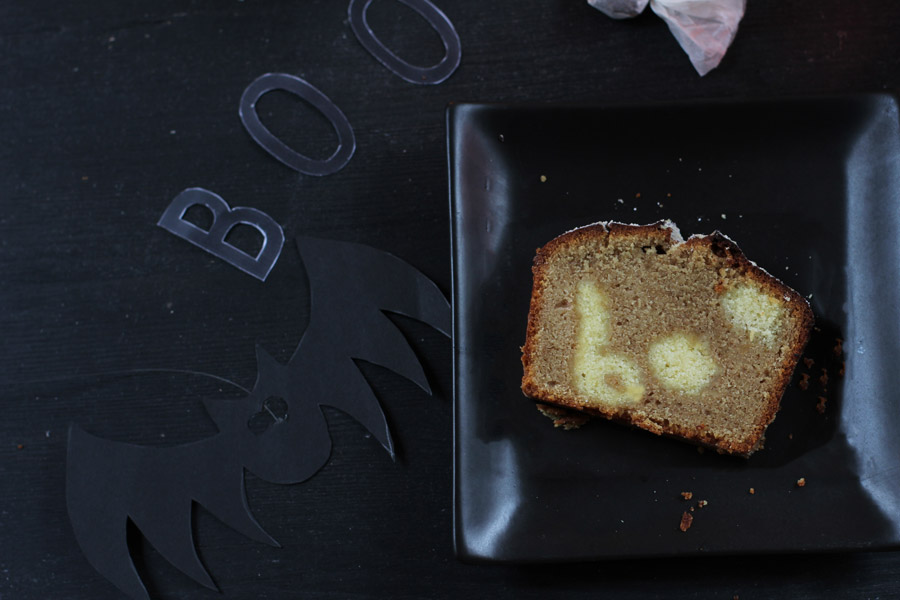 Looks even more scary if you ask me. Like the cake's gone bad. However I can assure you it tastes great. The right cake for some spooky High Tea.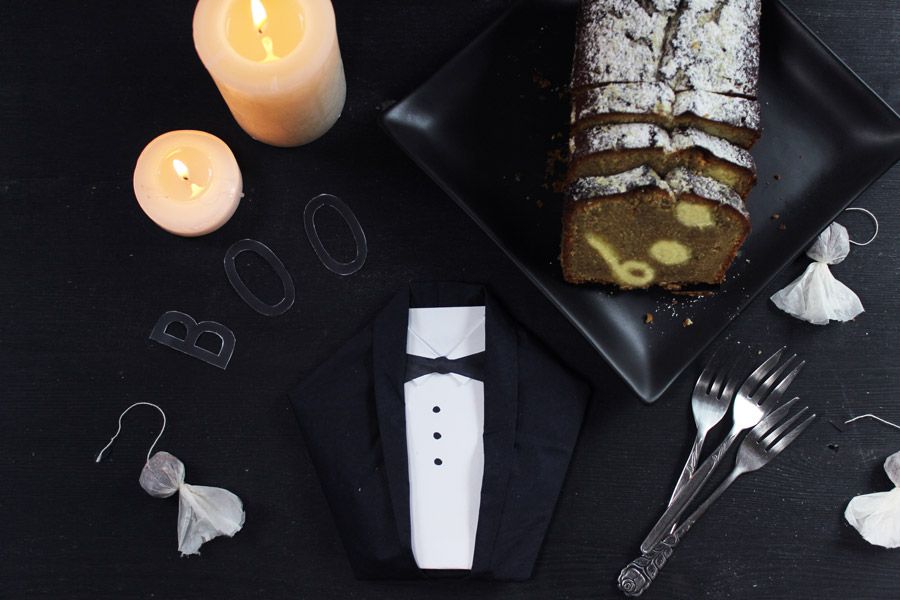 Isn't that smoking napkin fold the perfect addition to any Halloween inspired table? I found the tutorial up on youtube and there's the cutest old man explaining the steps. It's done in a few minutes:
Tomorrow I'll show you how to make your tea spooky. So stay tuned.
What are your plans for Halloween? Do you celebrate at all?
Now. Carry on!