Yesterday I was out and about. Partying if you will. Reminded me why I don't love going out so much but hanging with friends or going to private parties. There are just too many weird people out there. It's fun for a night but then? I go home and I'm glad that I don't have to be out there looking for what the night might bring. Normally it brings nothing but some good stories to tell. That's something, right? These stories will make me the hero at the next private party.
When I got home at 3 a.m. I was so hungry that I made me some of these. So good and no bad conscious about eating in the middle of the night and having problems sleeping. I slept like a baby – or a toddler because babies don't actually sleep well. This is a stupid saying.
Well anyway there was not much I did today but sleep in, had breakfast, go out to eat ice-cream and have a (non-alcoholic) drink with my sister and something light for dinner. Like this fantastic strawberry Mozzarella salad. And do you know what's best about it? The dressing. Because I made it with my homemade strawberry infused vinegar.
All you need is:
– a handful of strawberries
– 400 ml white wine vinegar
Wash the strawberries and cut them into half. Put them into a jar and add the vinegar. Close the lid tightly and let it sit for 1-2 weeks.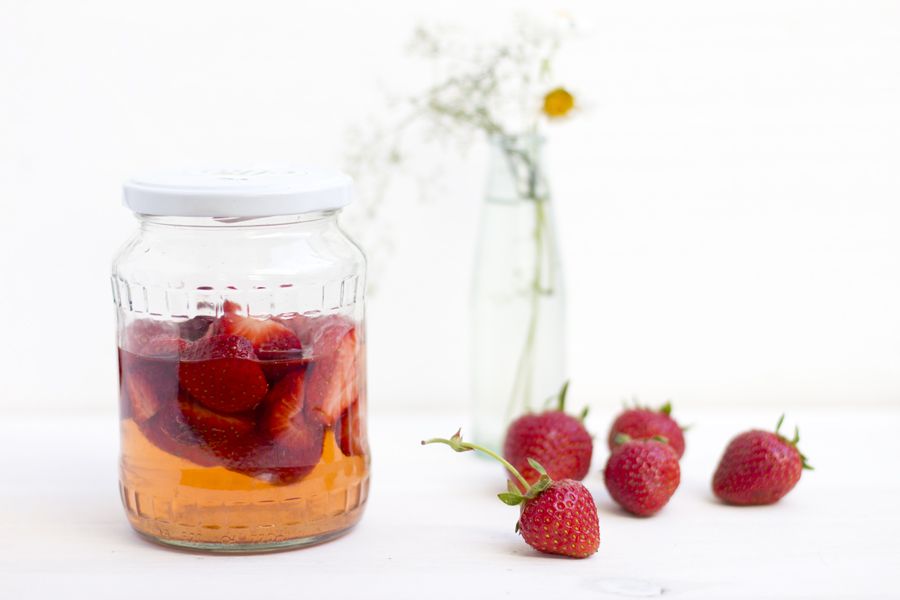 Then sieve it through a sieve and fill it in bottles.
For the salad:
– a mixed salad (with rucola and lambs lettuce is the best)
– a handful of fresh strawberries
– buffalo Mozzarella
Rip the Mozzarella into pieces and cut the strawberries. Mix it with the salad and make a dressing with the strawberry infused vinegar, salt, pepper and olive oil.
Tomorrow I have something great for you: a drink. So stay tuned.
But now. Carry on!