Sorry for being so quiet lately. That's not me. All my friends can assure you that: I'm normally not the quiet type. I just didn't feel like blogging the past week. It's not that I didn't make stuff. Or that I didn't take pictures. I just find it hard to get motivated to sit down for 2 hours and edit the pictures and write something. It's weird sometimes. However I'm back. Yeah! Did you miss me? I guess not. Anyway. Don't rub it in my face. I have to – at least – think that I'm important to you. Yes. That's better. I have a treat for you, you know. Something special to make up for the lack of posts: it's strawberry week! (No, I'm not having my period, thank you for your concerns.) I made so many recipes with strawberry the last week that I will share them throughout the whole week with you. That means 5 posts. All about strawberries. Yes, I spoil you. You deserve it.
First we start with a dessert. Not any dessert! It's a Make-In-10-Mins-And-Impress-Your-Guest-Dessert. Something special. It's the recipe for semolina pudding made from scratch with a strawberry compote. It literally only takes 10 mins to make and you can let it rest, while you make your main course. I need more recipes like that.
All you need for 4 servings is:
– 250 ml milk
– 1 Tbsp Vanille sugar
– 1 Tbsp brown sugar
– 1 Tbsp corn starch
– 2 Tbsp semolina
– 3 handful strawberries
– 1 Tbsp dusting sugar
Put 4 Tbsp of the cold milk aside and heat the rest of the milk in a pot with the Vanille and brown sugar. Stir the corn starch into the cold milk. Add the semolina into the hot milk and stir well. Slowly add the starch milk into the hot milk while stirring well. Let it come to the boil and put it into little cups. Put it into the fridge and let it cool for 30 mins.
Meanwhile wash the strawberries and cut them into pieces. Add the dusting sugar and stir well. Put it aside. The sugar will draw liquid out of the strawberries and it will become like a compote. So good!
Turn the cup with the hardened semolina pudding on a plate and add the strawberry compote. Voilá! One of the fastest and easiest desserts I ever made!
Did you notice that the strawberry compote looks like one huge strawberry?
I actually made 4 of these. And I ate them all. On the same night. Well, I was all alone and that's just what I do. I watch series and eat dessert. It was just too delicious to stop eating after one serving.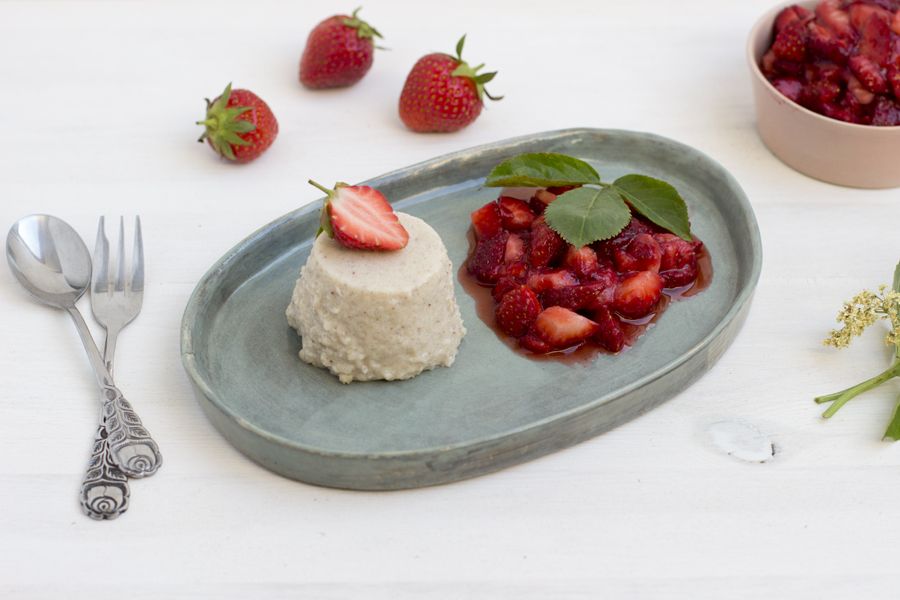 Now. Carry on!