When you walk through the woods around Vienna at the moment it smells like garlic. It's great. The woodland is covered in a green rug. It's like magic. It has already around 22 ° C. Every tree and bush seems to bloom. I love spring. Especially when it this nice.
I also love my new recipe: wild garlic butter – with handmade butter. So easy and soooo good! Give it a try!
All you need is:
– 250 ml cream
– 1 tsp salt
– 10 Tbsp chopped bear leek
Beat the cream until it starts to get flaky. Add the salt and bear leek and mix and mix and mix. It takes a long time, so don't get confused. You're there, when there starts to form a green liquid. Sieve the butter flakes from the water and put it on a baking paper. Form a roll and it's done. You can serve it right away on a piece of bread with some wild eatable flowers like violets and some sea salt.
The butter is quite soft right away. It will harden a little more in the fridge – but still be very good.
I put a little butter now in every thing that I cook (every savory dish of course, silly!). A hint of garlic makes everything better.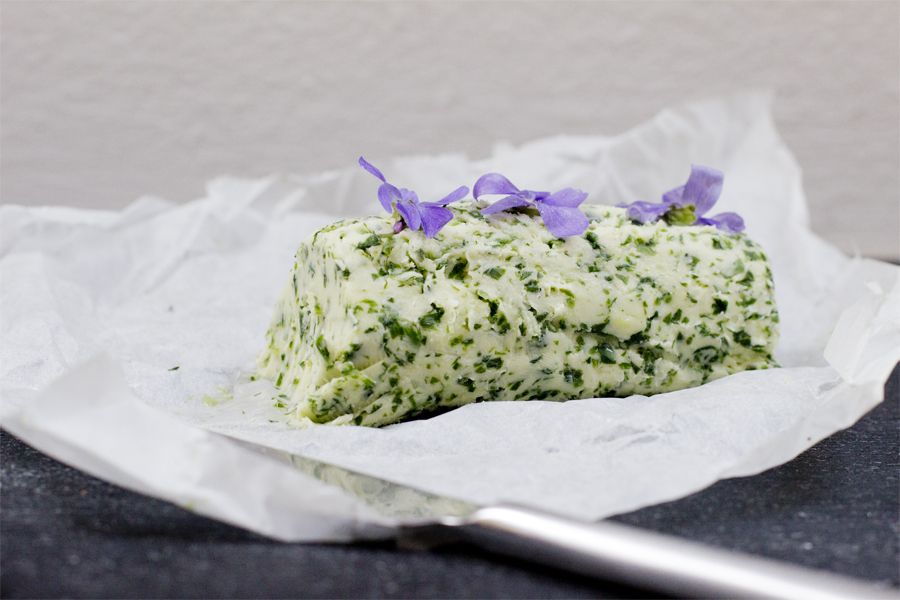 This simple bread with butter is the best though. How can something this simple be such a treat?! It's amazing. Sorry, I couldn't wait: I took a bite.
Now. Carry on!