It's been so hot and sunny in Austria lately. 14 days non-stop heat. I think it rained once during the night in this two weeks but that could have also been a dream. Who knows. Now I've been waiting too long for summer, I'm not complaining about the heat. That would just feel wrong but what feels totally right is to fight the heat with some homemade ice-cream. After my breakfast popsicle adventure I was bound to come back to make more popsicles. The mold I bought was already worth the money!
This time I wanted to make something with peaches. After I did some research about peach recipes in general and peach ice-cream in particular, I came up with the following recipe. Don't they look delicious?! They are even easier to lick thanks to the cream and eggs. They melt in your mouth. Literally. Well, it's ice-cream, so what did you think?!
All you need is
– 4 ripe peaches
– 3 Tbsp vanille sugar
– 1 Tbsp honey
– 1 branch rosemary
– 2 eggs
– 200 g cream
– pinch of salt
The special ingredient here is the rosemary. It surprisingly enhances the taste of peaches. Really interesting. Try it!
Peel the peaches and cut them into bigger pieces. Put 1 Tbsp of vanille suagr in a pan and heat until the sugar turns golden. Don't worry if it sticks to the pan it will dissolve as soon as you add the peaches. Stir the caramell and peaches well and add the honey and rosemary. Stir and let it simmer for 10 mins. Put the hot peaches into a mixer and blend well. Add the pinch of salt (I used fleur de sel. The best salt for sweets. Seriously, buy some if you have the chance. It's a bit less salty and a little sweet.). Put it into a bowl and let it cool in the freezer.
Beat the egg whites and the cream separately with a tablespoon Vanille sugar. Also beat the egg yolk. Combine all three bowls slowly and add the cooled peach puree and combine thoroughly but slowly. Put it into a popsicle forms and/or a bigger bowl with a lid and put it into the freezer.
Now look what I made: a peachy ice-cream popsicle.
The peach puree adds a nice colour difference at the top and an intense taste when you start. Please try this recipe. It's as easy at it's delicious. I promise.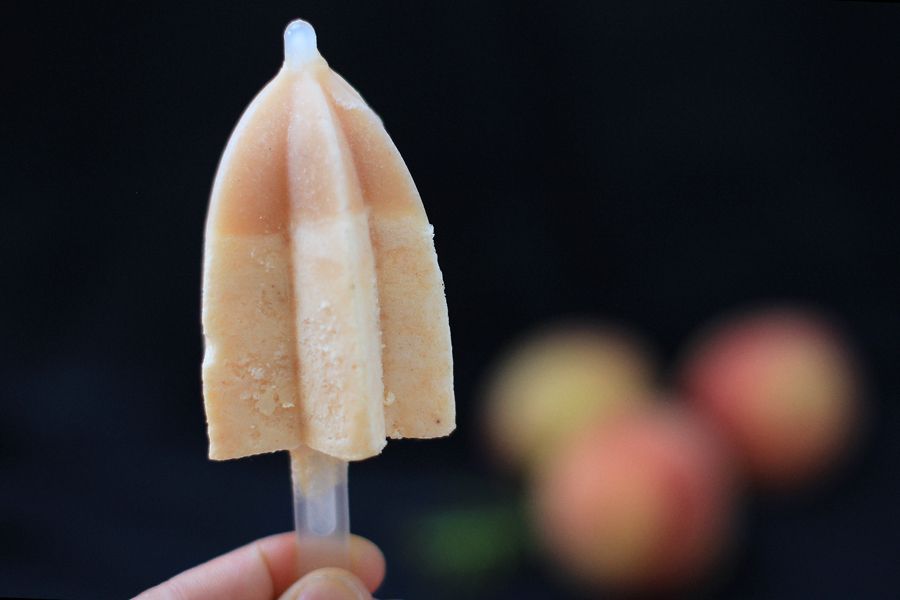 Now. Carry on!