As promised here is part tow of my 2-post-project. I hope you have been practicing chevron patterns and all your friends have now friendship bracelets. Today I'm gonna show you what you can make with your new skill than trap your friends into liking you.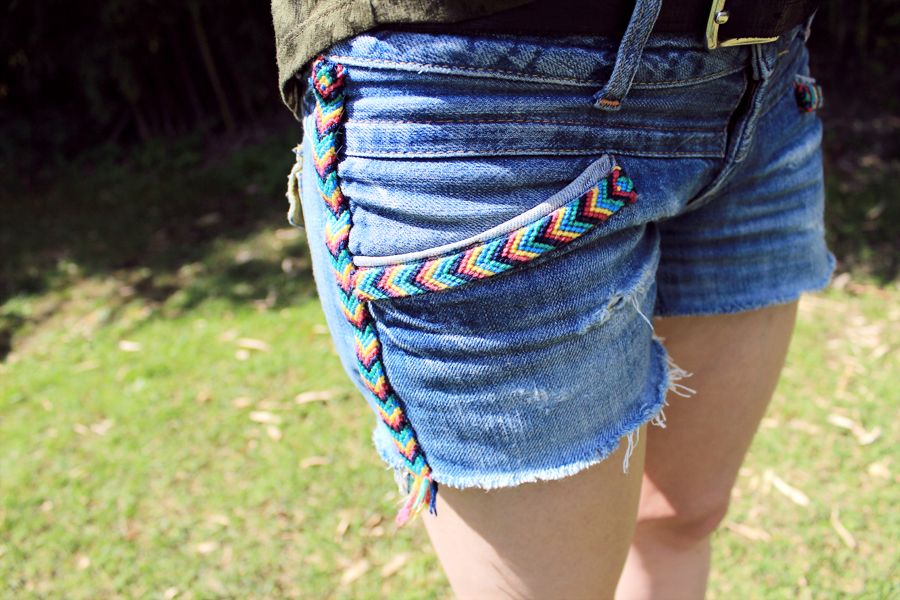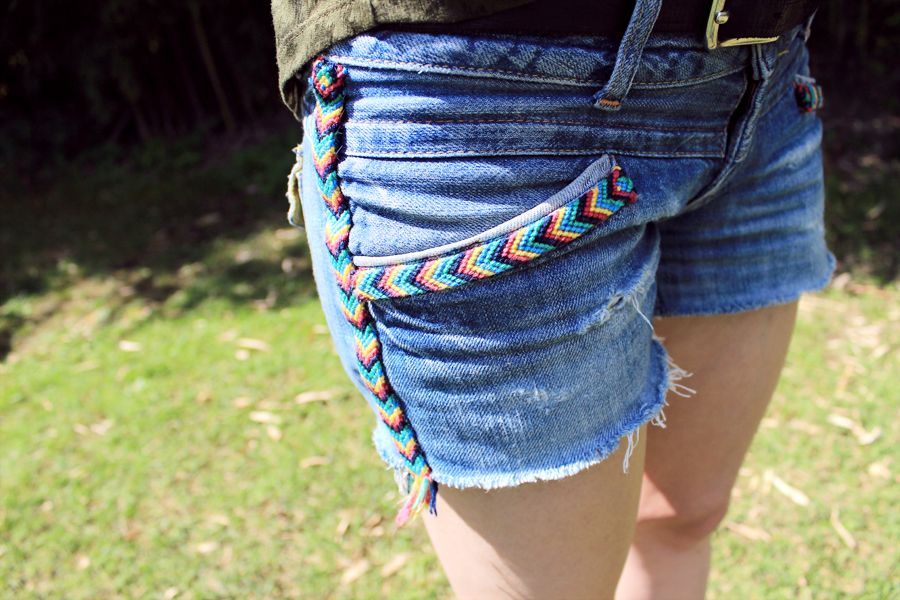 Well, look what I made with those chevron friendship bracelet! A Azteke inspired cut-off jeans shorts. And the best thing: no sewing required. I used textile glue to attach the bracelets to the shorts. Genious , right? I don't know how I could live all this years without knowing about the amazingness of this glue. This would have saved me so much time and nerves especially for my ipad sleeve. Unbelievable. Why did you keep it a secret? That's not nice of you. Cheeky! Sorry. I was about to talk about my new jeans shorts.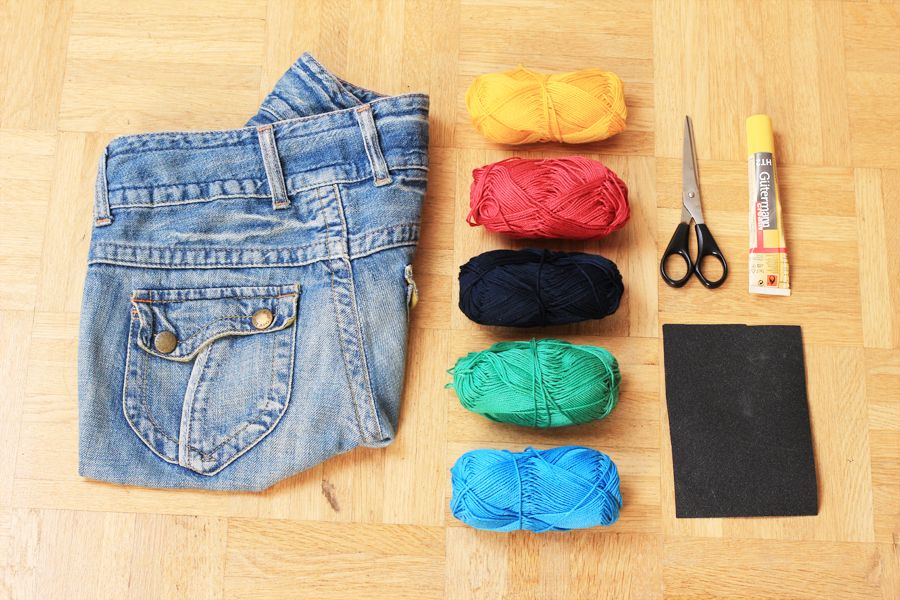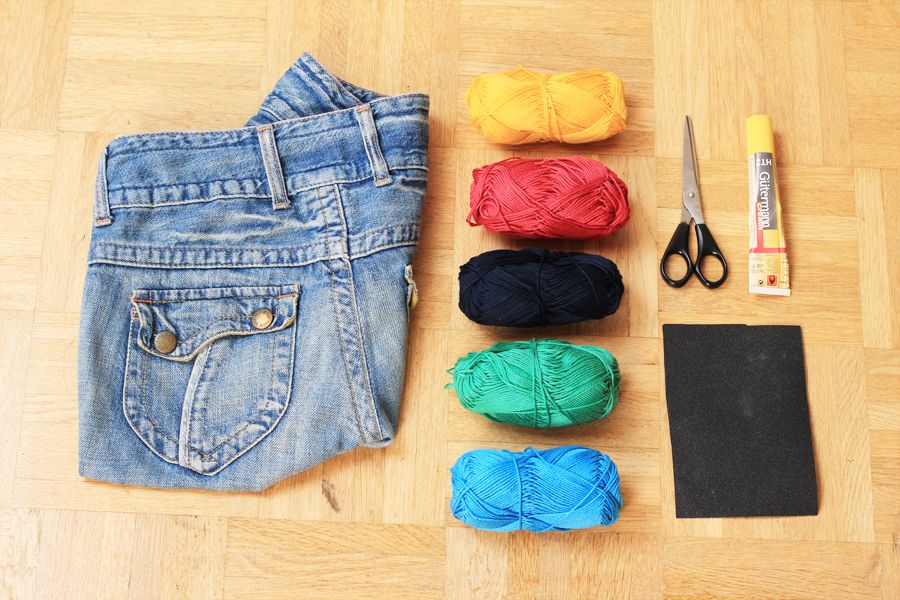 All you need is:
– colourful yarn
– a pair of jeans
– textile glue
– sand paper
– a piece of chalk (not on picture because optional)
Did you ever cut jeans into shorts before? I have and it went terrible wrong. because I just cut where I thought the right length is and it was to long. I cut again and they turned out to be so short that I could have never worn them publicly. So I came up with a system to this this time.
1. I cut the jeans at about mid-tight-length and put them on.
2. I fold the hem up to the length that looks right and take the chalk (you probably already wondered what that is for). Now I colour the fold of the jeans shorts with the chalk.
3. I take off the short and turn them around so the inside is on the outside and make the thin chalk line a bit more visible. There! You have a great line to cut along.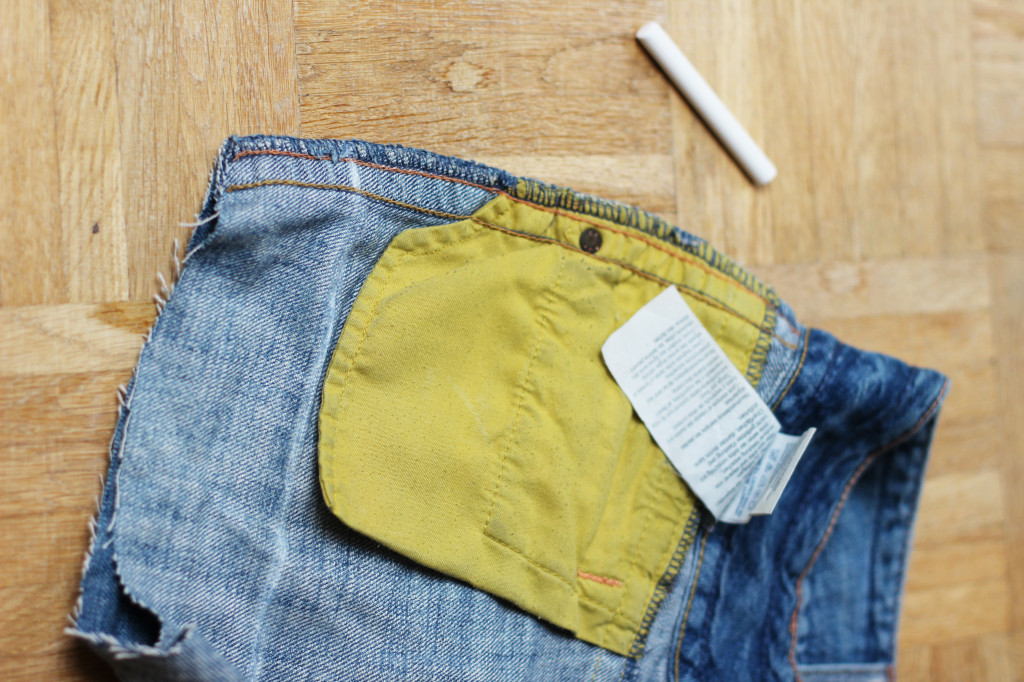 Then you need to knot two chevron friendship bracelet at the length of the sides of your shorts. (Tutorial here.) I also added two bracelets to the pockets to make the add-on a bit more visible. I also raveled out the ends of the bracelet at the end of the pant leg. Then you just need to stick them to your shorts with the textile glue.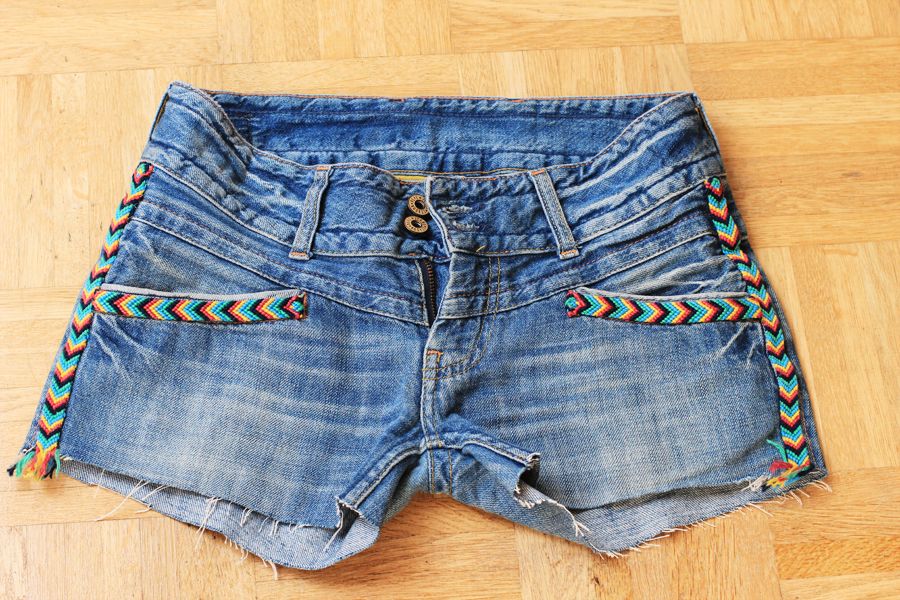 In the last step you take the sand paper and rough up a few spots on the shorts. Mine have a quite nice coloured fabric for the pockets and I wanted them to shine through.
Voilá. It is fulfilled!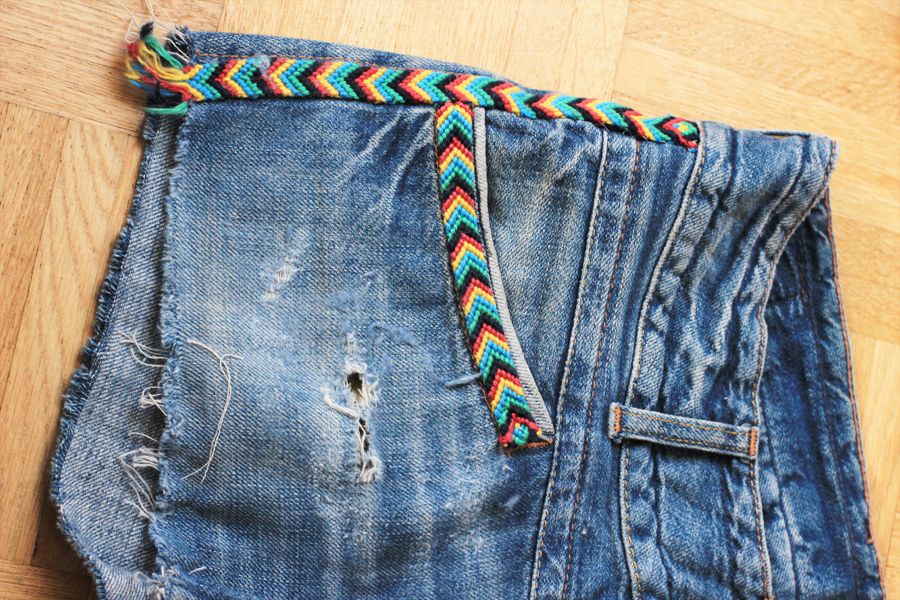 Look what I made: a jeans shorts that I can sport on holidays! I'm currently at Lake Garda. We're doing a roadtrip and will move on the day after tomorrow since it will start to rain here. I took this picture at a botanical garden a little south of the lake.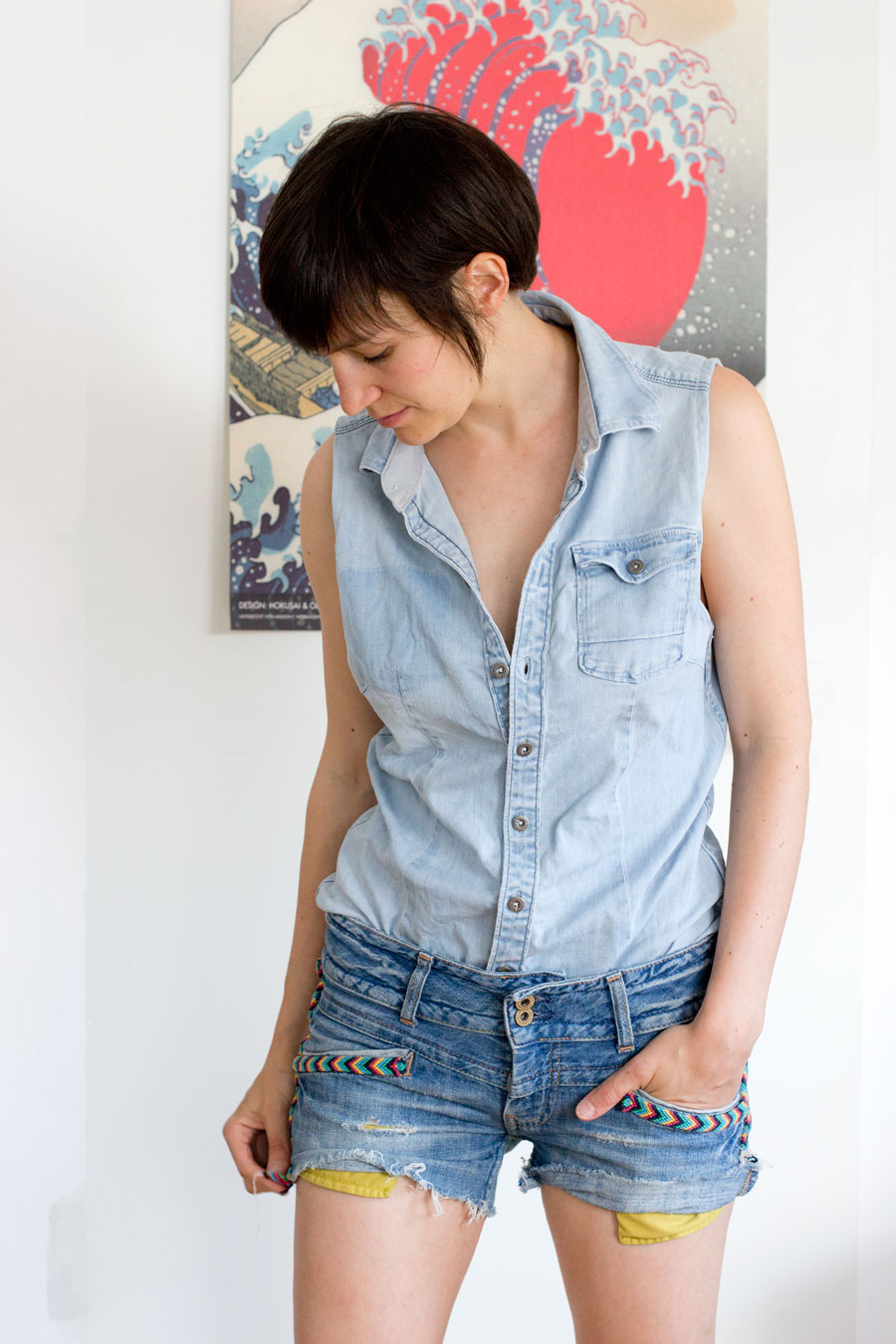 This blouse is also a DIY of mine: when I turned a jeans long-sleeve blouse into this sleeveless summer shirt.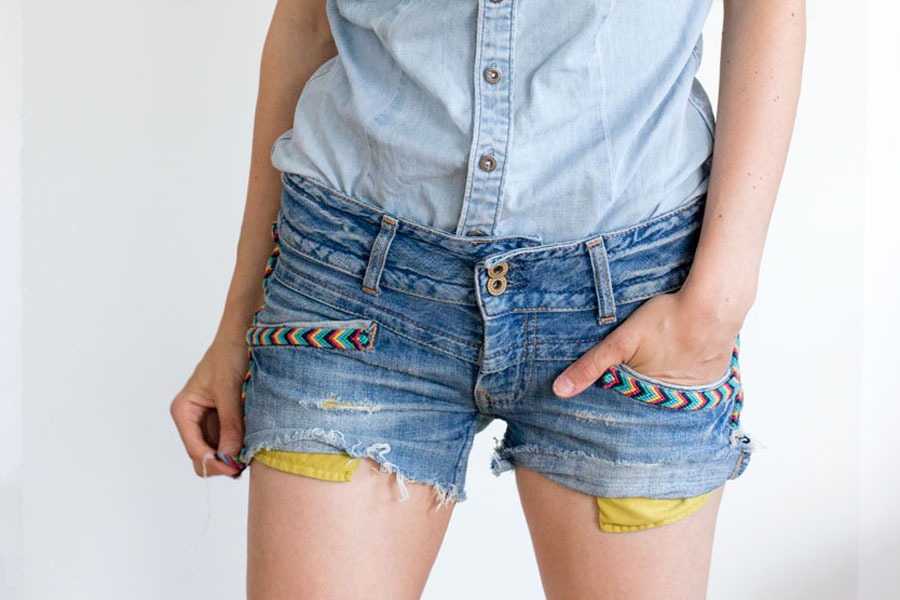 Now. Carry on!