Today is the last day of my little series called "Strawberry fields forever". I hope you enjoyed it. Although I had most of the recipes planned and shot before this week it was quite a hassle to post every day. That's quite challenging. So I'm not going to do that anytime soon – unless a great opportunity (which means a muse is kissing me) presents itself and I feel inspired and motivated at the same time. You never know. For today I do some live blogging. What that is you don't ask? Well, I made and shot and wrote the post right here right now. Normally there are hours, days, sometimes even weeks between an idea and the final blog post. But this time I'm actually eating the first strawberry choux pastry while I'm typing this. And let me tell you: they are good. Really good!
All you need is:
– 250 ml water
– 1 Tbsp sugar
– 65 g butter
– a pinch of salt
– 125 g flour
– 3 eggs
– 200 g cream
– 1 Tbsp sugar
– a handful of strawberries
For this easy strawberry choux pastry recipe preheat the oven to 200 ° C. Bring the water with the sugar, salt and butter to the boil in a pot. Put it off the stove and sieve in the flour. Put it back on the stove and stir until the dough separates itself easily from the bottom of the pot. Put it aside and into a bowl to cool. Once it's about handwarm add one egg after another and stir them in with a hand mixer. Put the choux pastry into a piping bag and make little roses on a baking tray lined with baking paper. Put them into the oven and bake for about 20 – 30 mins (until golden brown). Take them out and let them cool completely.
Meanwhile beat the cream with the tablespoon sugar until stiff. Cut the strawberries into little pieces and combine those two. Cut the choux pastry into half and add the strawberry cream into the middle. Voilá! Look what a beautiful dessert I made!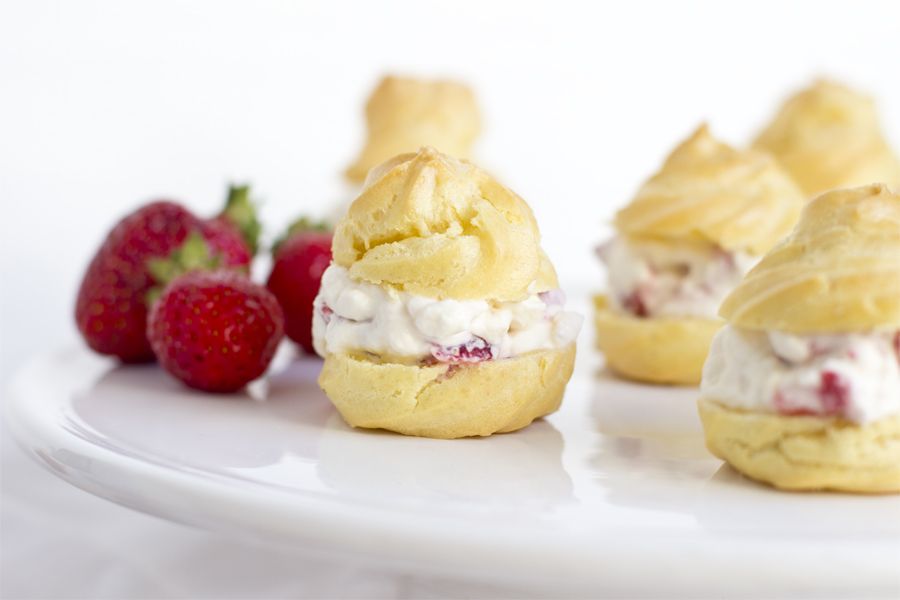 I haven't made choux pastry in a long time. I just realized that it was 1 1/2 years ago which surprised even me. I used to make them when I was a teenager quite a lot.
Choux pastry and hot lemon juice. That's how I impressed the boys. At least I tried. Let me tell you teenage boys are not impressed by your baking skills. Not even a little.
At least that has changed. I can impress my boyfriend. Impressed might be the wrong word. Let's call it delight him. At least when I clean the kitchen afterwards as well… this reminds me. I really need to get tidy before he gets back home now.
So in this case. Carry on!