Something terrible happened: I didn't post my office lunch blogpost yesterday. Well that's not terrible, I guess you didn't even notice but what is horrible: I had everything ready – blogpost written, picture taken, recipe tested and approved and then? When I wanted to edit the photos… They were gone. Deleted. And the worst thing about it is that it's all my fault. I can't even blame anybody else.
Because I didn't want to make the same thing the next day again, I share now something different with you. (The whole purpose of this series for me is to get creative and try new and different stuff, repeating a recipe the next day would defeat the whole purpose.)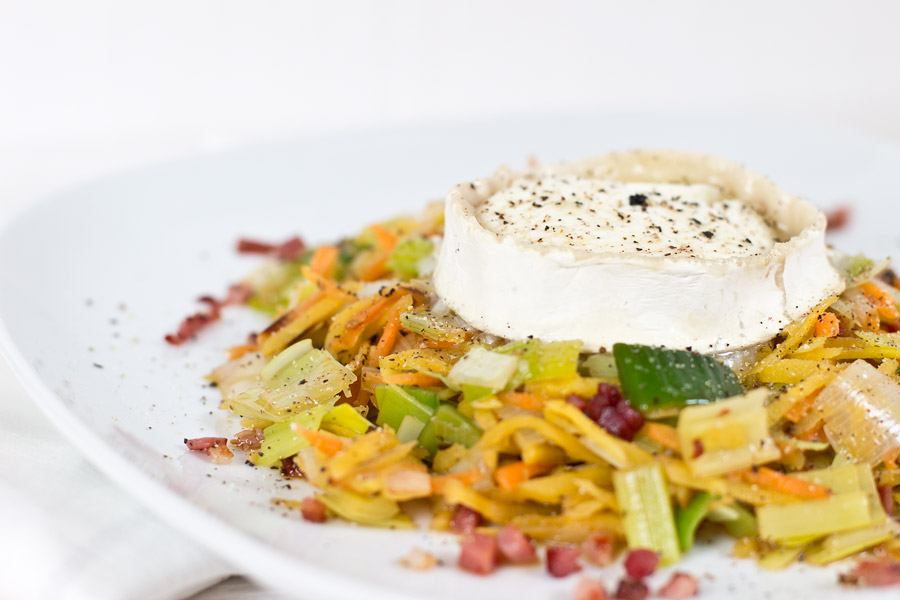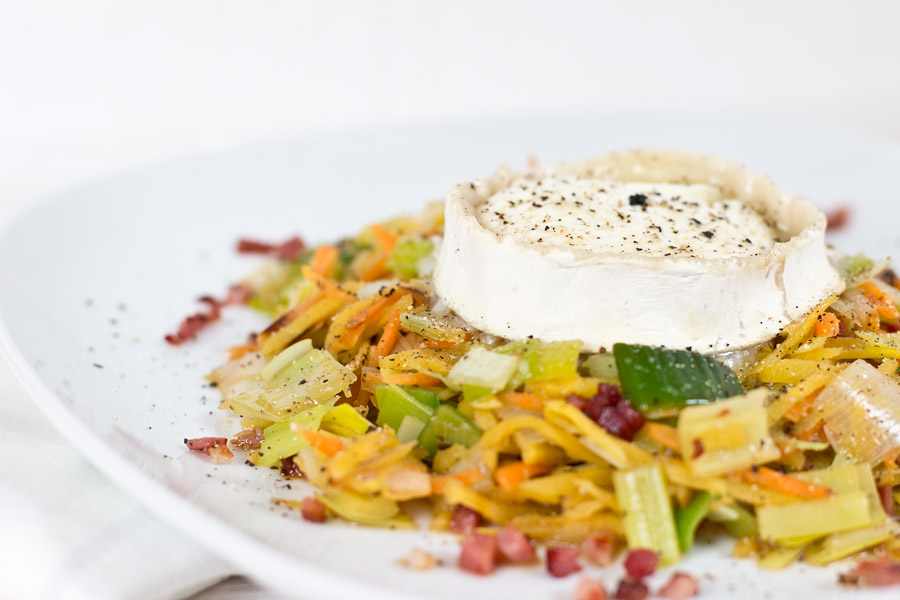 So here's my fast and not less delicious leek and goat cheese dish.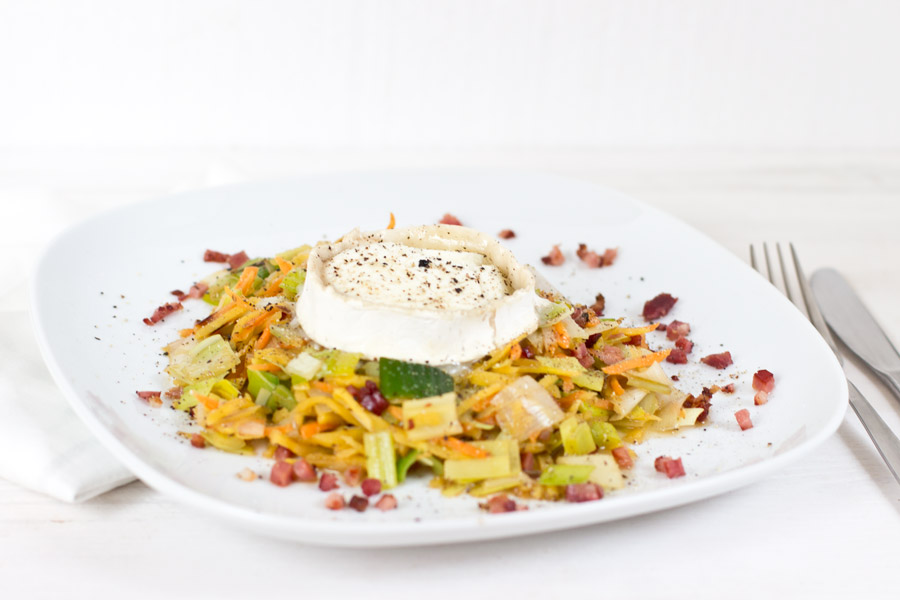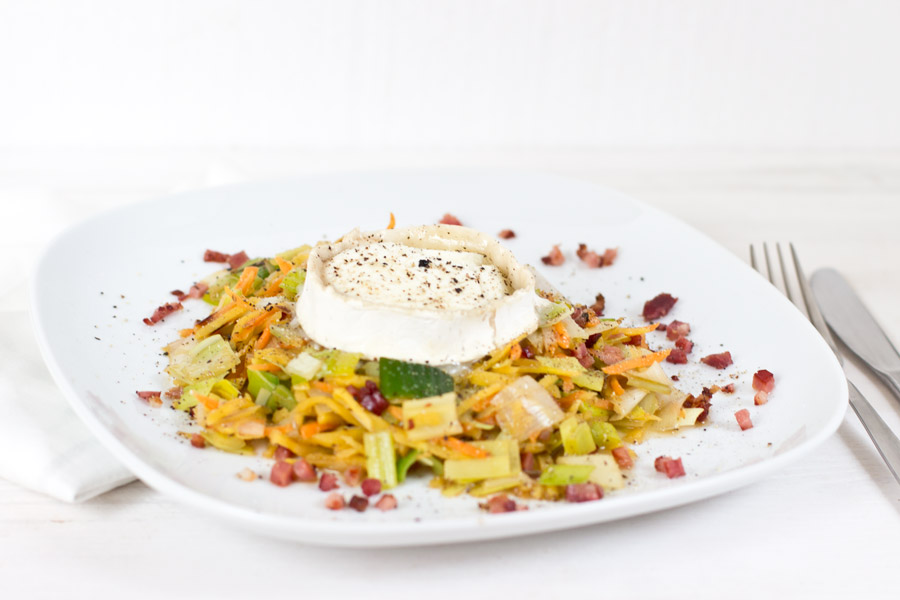 All you need is:
– a piece leek (about 15 cm long)
– 3 Tbsp chopped bacon (optional)
– 2 small carrots (orange and yellow)
– 1 tsp butter
– 4 Tbsp soup
– a piece of goat cheese
– 1/2 tsp honey
– 1 tsp lemon juice
Preheat the oven to 200 ° C and put the goat cheese on a top shelf on a baking tray lined with baking paper. (you can also use a microwave or a pan). Put the bacon into a pan and roast until crunchy. Meanwhile cut the leek into pieces and grate the carrots.
Put the bacon on a plate and add the butter, leek and carrots into the same pan. Roast until the leek gets a little brown and add the soup. Cook for 5 mins. Put the bacon back into the pan and stir well.
Combine the honey with the lemon juice in a cup.
Take a plate and put the cooked vegetables in the middle and the roasted goat cheese on top. Drizzle the dish with the honey lemon dressing and serve right away.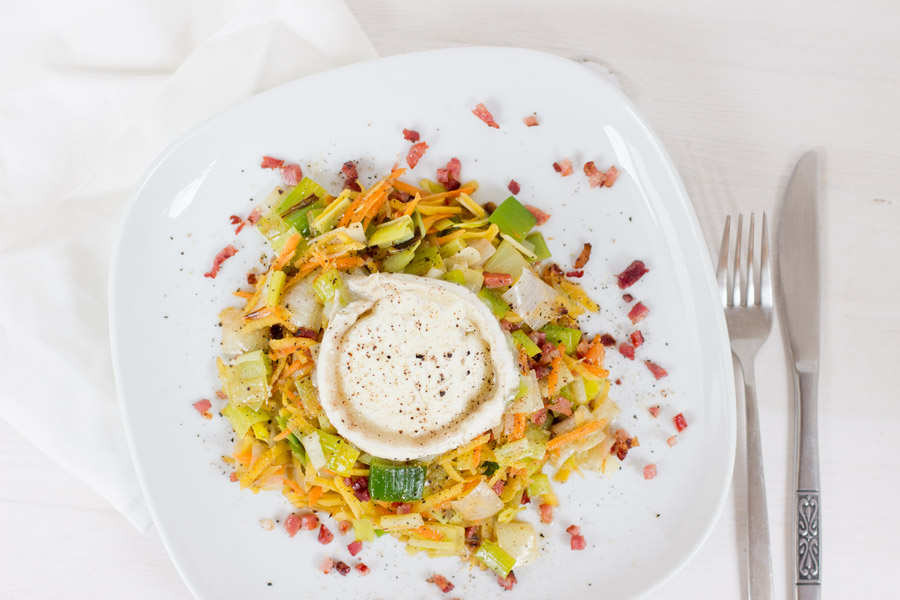 I actually made this dish for Monika, a dear friend of mine when she visited me a while ago. I left the bacon out of it and because she's lactose intolerant I used oil instead of the butter. We had so much fun at that lunch. So this dish reminds me of that day. Great times. I hope she'll visit soon again.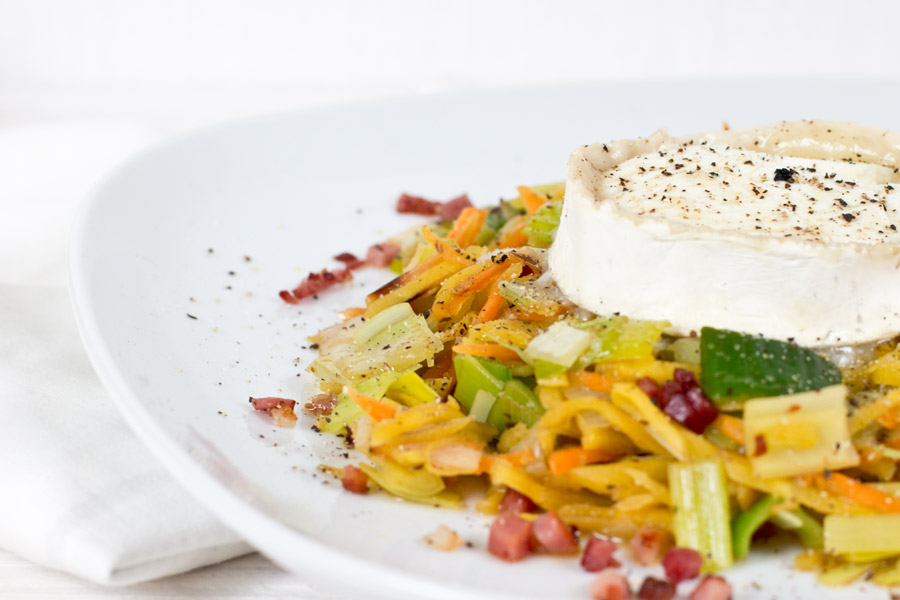 If you want to know more about this office lunch series, I'll explain all about it here. Next week there won't be an office lunch post since it's Christmas and that would just be silly and the week after that I'm on holiday because New Year's Eve is coming up. But I'll see you the week after that. Next year that is.
Now. Carry on!