What a day! I was on fire and created and baked and cooked and crafted. I made 3 posts for this little blog. It's just so great when I can come home after work and still have time to create and take pictures – all in one evening! I love summer. Or more spring when it's bright and sunny until like half past 9 am. That's when I put the camera away.
This cupcakes I want to show you here are actually not from the shoot today. The things I made are not done yet. I have to select the best pictures, retouch them a little and write a post – all hard work. Ok. Not really. Or perhaps. It's just hard work that I like? Well, what is hard work then? Things I don't like? What I do like are these cupcakes though (phew, I just got back to the post before I get all philosophical and brooding.
All you need is:
– 150 g dark chocolate
– 100 g butter at room temperature
– 120 g sugar
– 150 g flour
– 1/2 tsp baking powder
– 3 large eggs
– 150 ml cream
– 1 Tbsp Vanille sugar
– 50 g dark chocolate (for decoration)
For this easy chocolate cupcake recipe preheat the oven to 180 ° C. Chop the chocolate into pieces and melt it over a water bath with 40 g butter. Don't let it get over 30 ° C! Mix the rest of the butter under the chocolate. It should become a soft, brown cream. Beat in the sugar and eggs. Sift in the flour and baking powder and combine slowly. Spoon it in a muffin tray (lined with muffin cases) and bake in the oven for 20 mins. Let it cool.
Melt the 50 g dark chocolate over a water bath (also not over 30 ° C) and make a little baking paper pipe (as I explained here). Put the chocolate in the piping bag and make little ships on baking paper. I love how they outline a origami ship. Makes me chuckle. Let it cool as well.
For the frosting beat the cream with the Vanilla sugar and pipe it on the muffins. Add a little chocolate ship on top of everyone and now look what I made!
I made the little chocolate origami ships like this chocolate topping. Aren't those ships cute?!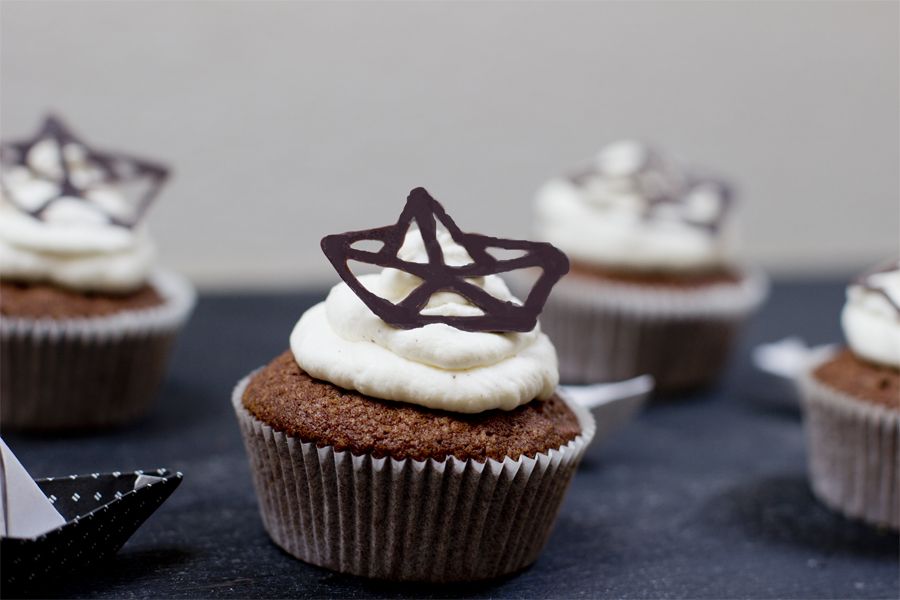 Now. Carry on!