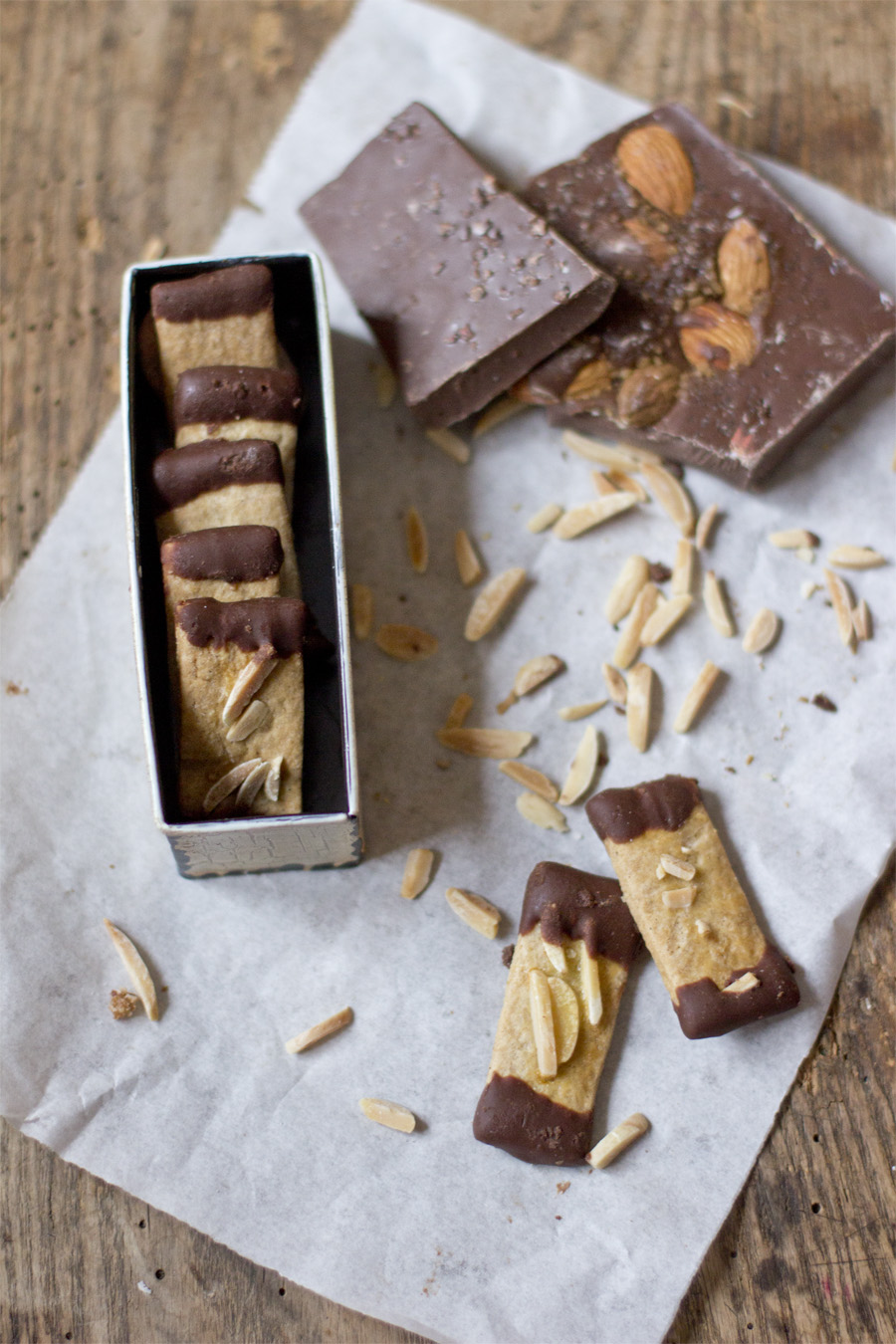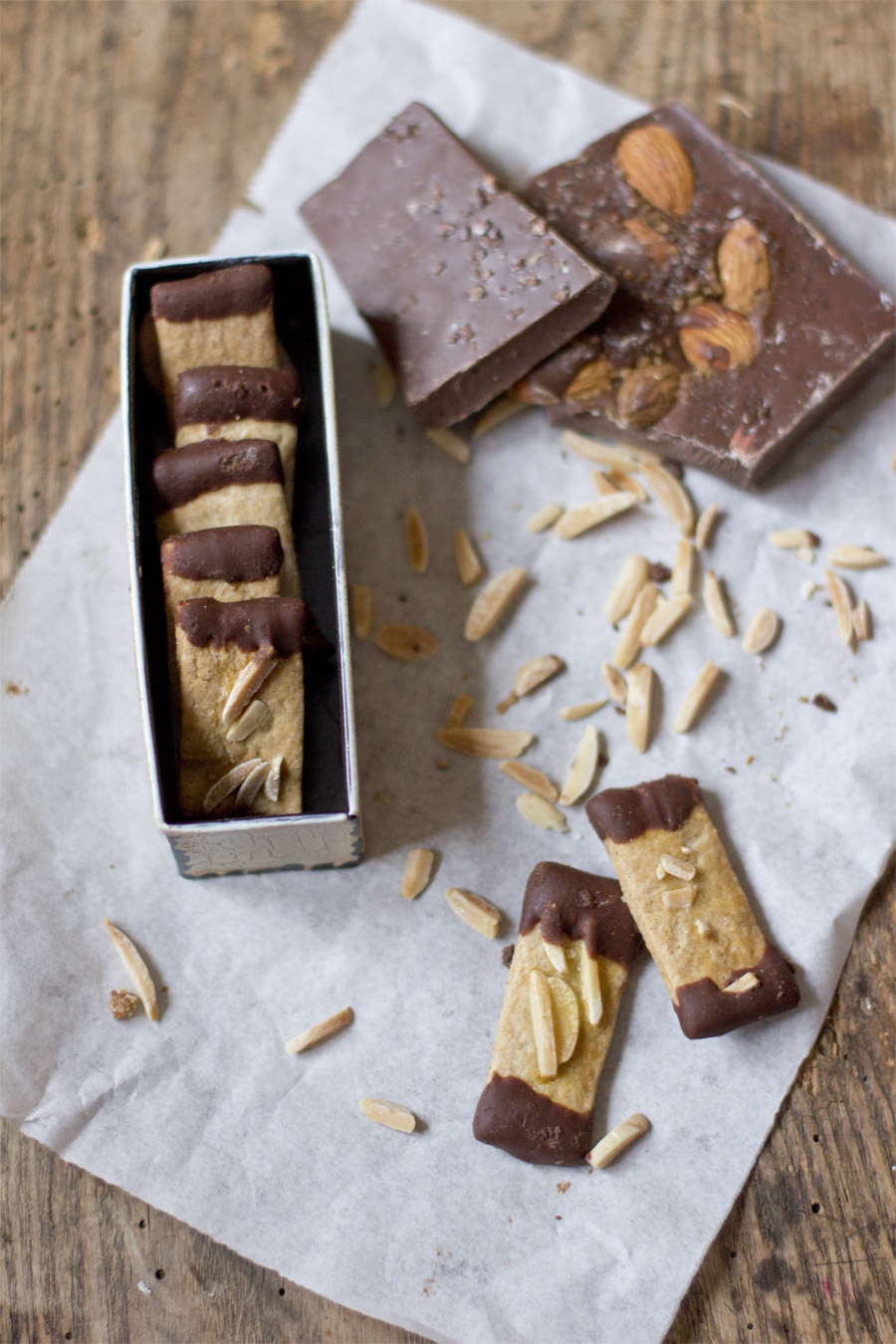 If I think about what my favorite memory about Advent is, then it would be baking Christmas cookies with my grandma and my mum. This might sound made up but we definitely did that. With five small children in the house, it was hard for my mum to deal with the mess and work, so my grandma came over with a huge basket full of great stuff like chocolate and butter and nuts and we would bake all afternoon. I couldn't wait to get home from school those days as you might can imagine (as I needed an excuse to be happy to come home though – with so many of my sisters to play with there was never a boring minute!).
We were allowed to help with everything: cutting cookies, dipping them into chocolate, eating some of the dough… However, when it was time to clean it all, we regularly disappeared and weren't seen until it was time for a (salty!) dinner. Good times!
Unfortunately those times are long gone and my boyfriend refuses to clean up after a baking craze of mine. (I think something went wrong there along the way of our relationship…) What's still remaining though are the Christmas cookie recipes from my grandma though. And today I share one with you that I still really love: almond stick cookies (Mandelstangen – as we call them in German).
Grandma's recipe for almond stick cookies
Ingredients
200 g flour
2 tsp baking powder
100 g sugar
1 Tbsp Vanille sugar
1 egg yolk
1/2 egg white
100 g butter

For the topping:

1/2 egg white to spread on top
80 g of almond sticks
150 g of dark chocolate
Instructions
Sieve the flour with the baking powder into a bowl.
Cut the cold butter into pieces and add it bit by bit with the egg yolk, egg white and Vanille sugar to the dry ingredients.
Knead fast with your hands or with a mixer (the mixture should not get too warm!).
Wrap the dough with cling film and put it into the fridge for 2 h.
Preheat the oven to 200 ° C.
Roll the dough thinly on a smooth surface and cut narrow sticks of the length of your thumb and with about 1 1/2 cm width.
Spread some egg white and sprinkle the almond sticks on top.
Bake in the oven for 10 mins.
Once they're golden brown, take them out of the oven and let them cool on a wire rack.
Meanwhile melt the chocolate in a water bath and dip each end of the sticks into the chocolate.
Let that harden and voilá! You just made my grandma proud!
http://look-what-i-made.com/2018/12/07/grandmas-recipe-almond-stick-cookies/
As a kid the challenge was to take a bite from each side that gives you chocolate and leaves the other side just with the same amount of chocolate and cookie. Never ever eat a bite without any chocolate! Ugh. (Yes, my love of chocolate was already strong then but I guess that's with all kids.)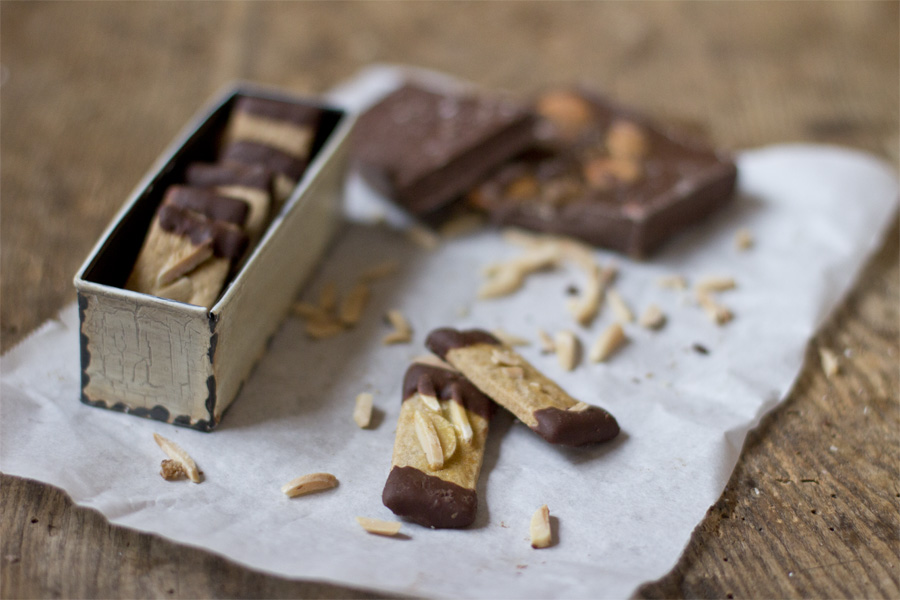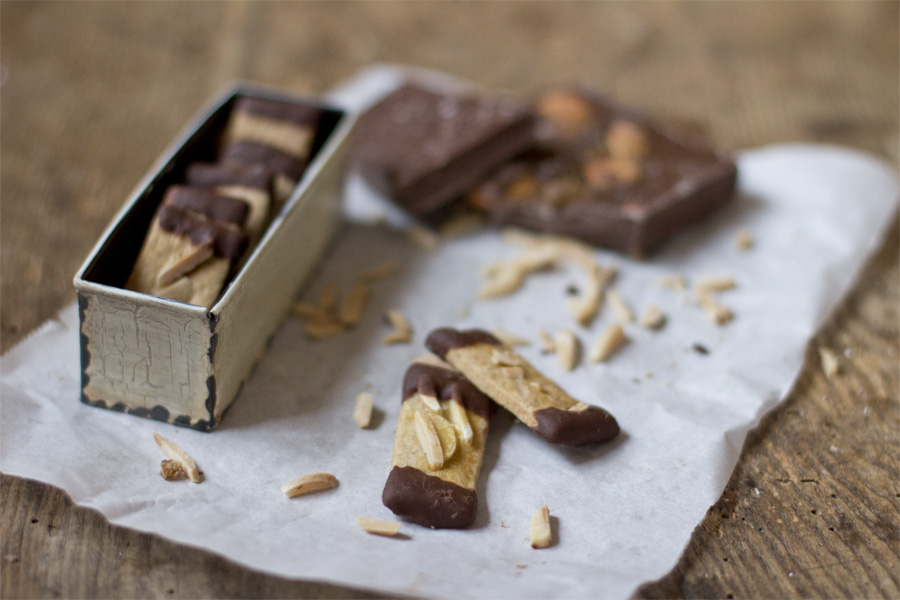 Do you also wish sometimes that you could travel back in time and actually enjoy those moments more when they happened as a kid? I was never one to wish to grow up fast but sometimes you still don't know how fast the time goes by. And as a kid it doesn't just fly by. Then you're grown up and you realize you are now the one doing the cleaning after baking cookies. That's probably what they mean when they say: don't grow up, it's a trap.
Do you have memories like that and want to walk down memory lane with me? Tell me in the comments!
Now. Carry on!