Sometimes it's funny when inspiration strikes. I was just watching TV with my boyfriend on the couch and then I had the urge to create something. I just grabbed some garden wire I had at home and formed the word "love". Then the inspiration left me again. Puff! Gone. I had no idea what I wanted to make. I just had the word "love" made out of wire and I had no idea what I wanted to make. The only thing that I knew is that I want to create something easy as home decoration.
Thank god for the internet. I just typed in "love" and "quote". The sentence I liked the most was "love is the key to happiness". Nice. Sums it up. Especially since today is the 6th anniversary of the boyfriend and me. Unfortunately he's travelling today and he won't be with me. We will celebrate later. Don't worry. He's not getting out of this one that easy!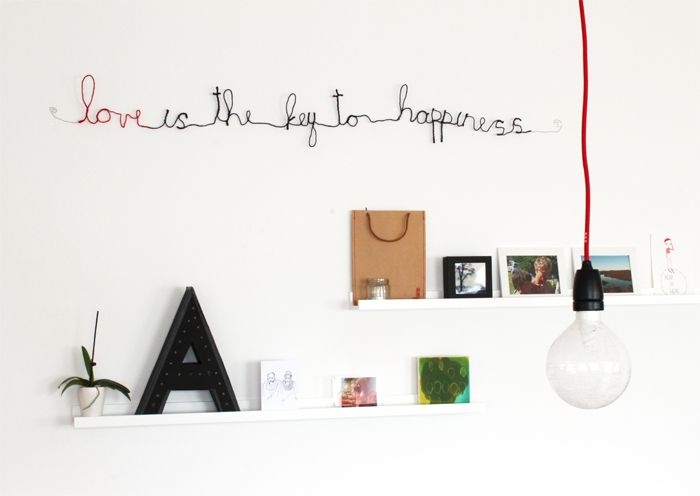 Back to the DIY: So I formed the rest of the sentence out of wire as well and it looked nice in my hands but it looked like nothing on the wall. I decided to wrap the wire with leftover wool that I got from the craft subscription service Supercraft Lab (I already told you about it in this post).
I didn't make pictures of the progress though. I just got so caught up in the process. But don't worry. I though of you and created another sentence that I took pictures off so you have an idea how to form the words out of wire.
And this is how it looks like after I wrapped it in wool:
As you can see in the next picture I still didn't give away the light up letter. I just like it so much. (Sarah, come on, get over it. You can make another one!)
Now. Carry on!