Christmas is all about the perfect mood and what creates mood better than music and light? Ha? I thought so: nothing. Well my boyfriend is responsible for the music. He is (was) a DJ and learns instruments like it's a ride on the bike. I hate him for that. It takes me hours to get my Uke to make some decent sounds! Currently he's playing Darbuka. Not the christmasy of all sounds. I might need to start to work on my belly dance.
With this horrible picture in your mind I go back to the DIY I want to explain here. Light. That's right. Although we moved in together over 2 years ago there are certain areas of our flat that are still "under construction". I'm not complaining though. I like when I can still add and work on the decoration throughout the years so it gets its own personal touch with a story behind everything.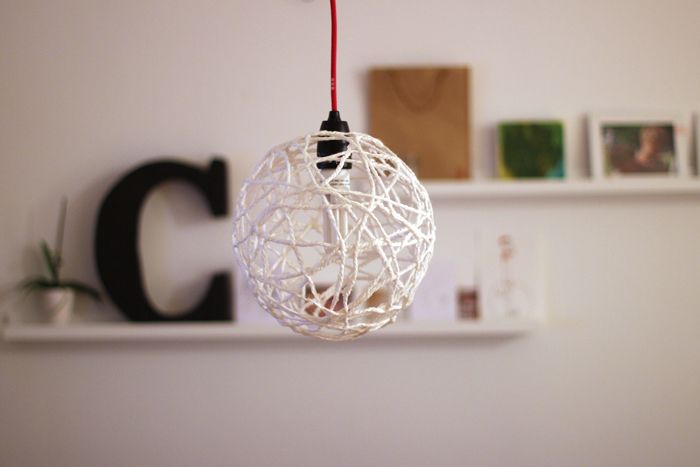 Talking about stories: the light. We had a naked light bulb hanging from the ceiling of our living room far too long. When I saw then on Pinterest these string balls I knew I wanted to make one. (Don't you think that the best thing about weddings are the DIY inspirations that result from them? Yes, I do!)
Well all you need for a DIY yarn light is:
some goo (look on the packaging how much you need)
– 60 ml water
– 60 grams cornstarch
– a large balloon
– a whisk
– whool
– sciccors
– a large bowl
– newspaper (to keep your floor clean)
– a broom stick (to hang the result to dry)
Prepare the goo like it says on the package. Put the water into a pan and stir in the corn starch while still cold. Heat the mixture and stir thoroughly until smooth. Let it cool a little and blow up the balloon in the meantime until it is the biggest it gets without loosing the round shape. Mix the cornstarch with the goo in the bowl and drop in a huge chunk of the cotton wool. Mix it with your hands (you can use gloves but it's warm and gooey and nothing can beat that feeling!) and wrap the wool around the balloon. This sounds easier than it is. The wool sometimes slips of the balloon. But I'm sure you get the hang of it. Just make sure to keep a bigger hole somewhere to screw in a light bulb later.
Then hang the wool-wrapped balloon on a broom stick and balance the broom stick on two chairs. Although I kept the balloon close to the heater it took 2 days to completely dry.
I used then a hanging lamp cord from ikea (you can get one in every country) but you can also use a fancy one. My holes in the string balls were big enough to attach the cord quite easily. If you have problems you might need this tutorial.
I didn't document the process. It was quite messy and I practiced my evil laughter while my boyfriend just shook his head. You wouldn't wanna see that. (To see pictures of the actual process click here.) Well the result is much more interesting anyway.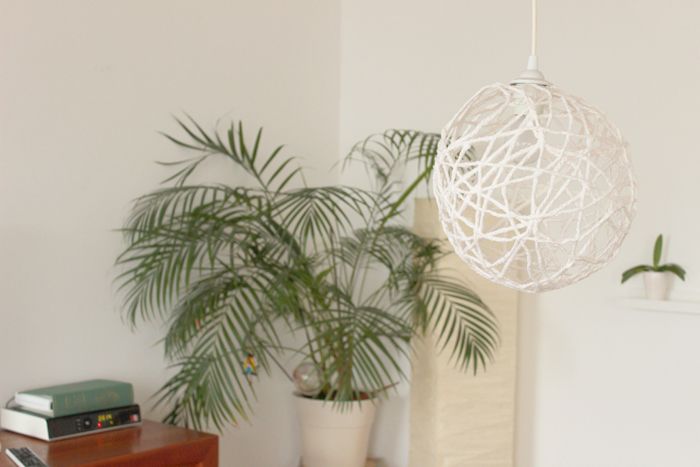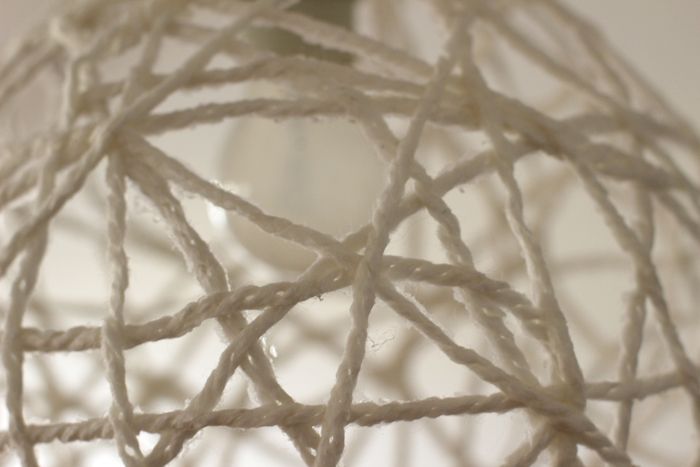 From my sister I got a red cable from NUD. The lamp looks now much nicer. What do you think?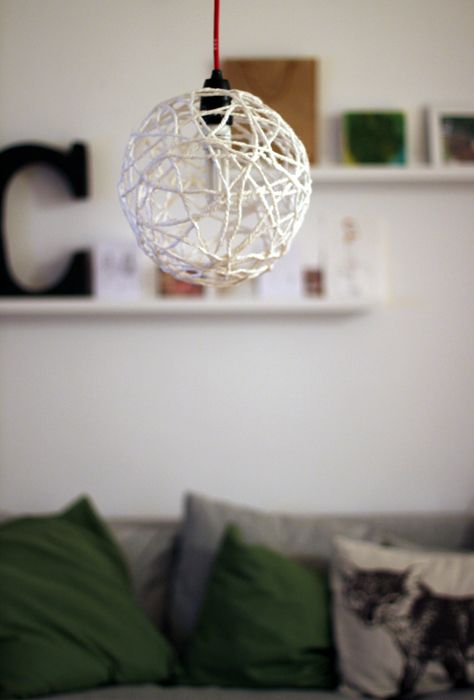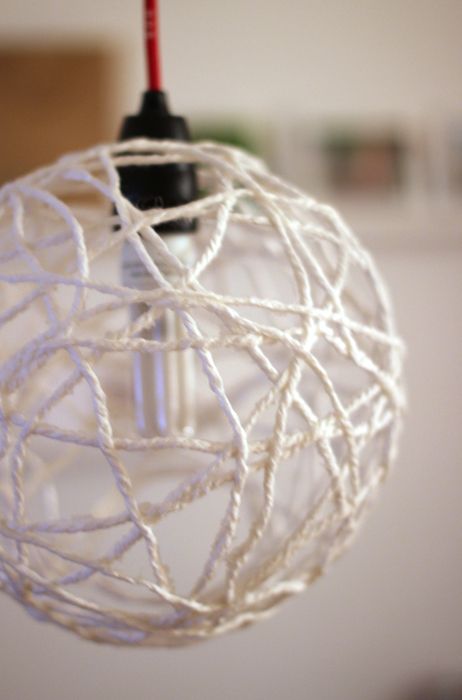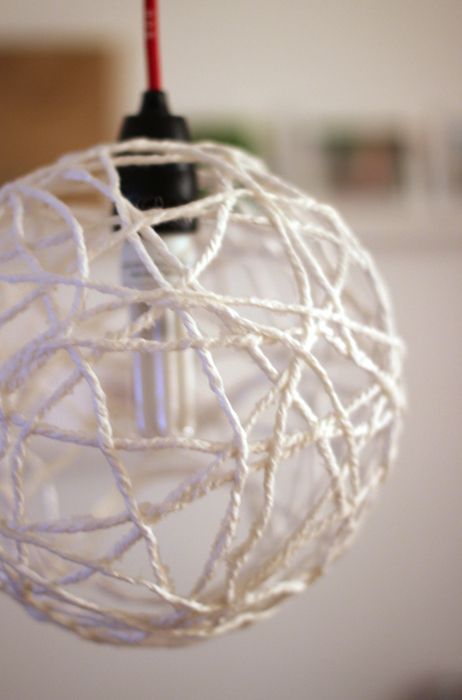 Now. Carry on.