As you might have noticed: I was on holiday the past 10 days. I wanted to plan ahead but life got in the way and I thought: if you wan't to be precious you have to make yourself rare. Now I'm golden. In terms of value.
Anyways now I'm back working (today is the first day) and I already made some delicious and healthy (home) office lunch. After this holiday I'm so eager to get back to work, I just know that this is the right job for me. Breaks are important though and as I'm halfway through my to-do-list I thought I say hi to you and share this recipe of red cabbage coleslaw with pistachios with you.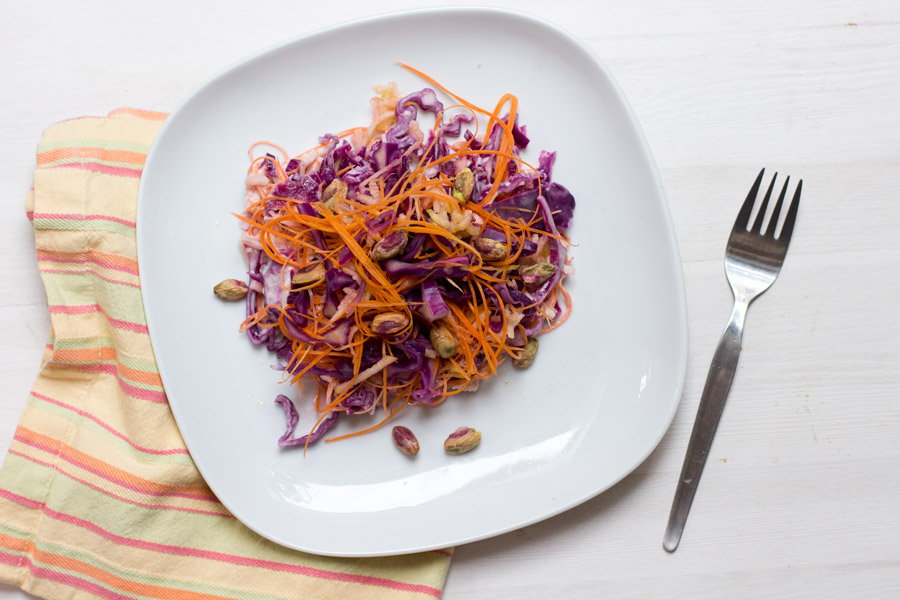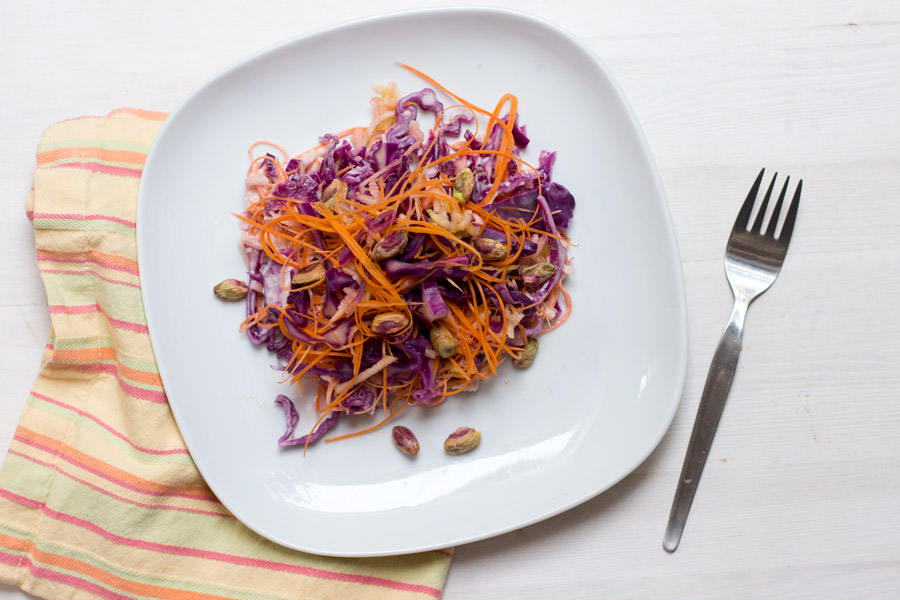 All you need is:
– a piece of cabbage (about the size of your hand)
– a carrot
– a small apple
– 15 pistachios (I really counted mine, crazy, right?)
– 1 heaped Tbsp of sour cream
– a little salt and pepper
– 2 Tbsp vinegar
– 1 tsp olive oil
Cook some water in a water kettle and cut the red cabbage into stripes. Now put it in a bowl and pour the hot water over the cabbage. Meanwhile grate the carrot and apple. I had this great shaver that makes this picturesque carrot spaghetti but you can just grate them. Put the sour cream, salt, pepper, vinegar and oil into a cup and stir well. Drain the cabbage and mix with the apple, carrot and vinaigrette. Put the pistachios on top right before serving.
It's best to make the day before (and let it soak in the fridge) but also really delicious if you eat it right away (like I did).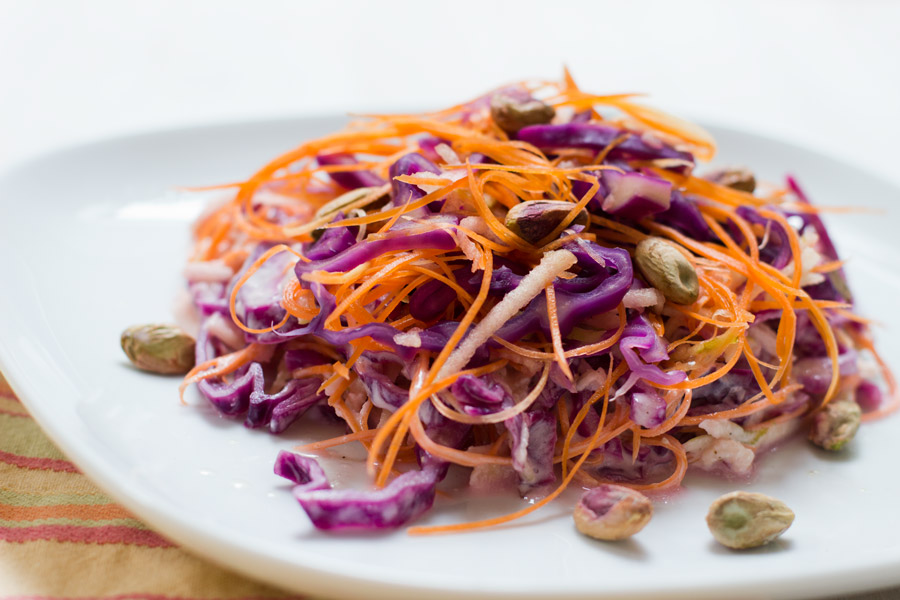 I'm really smitten with the colors of this dish. Doesn't this coleslaw look amazing?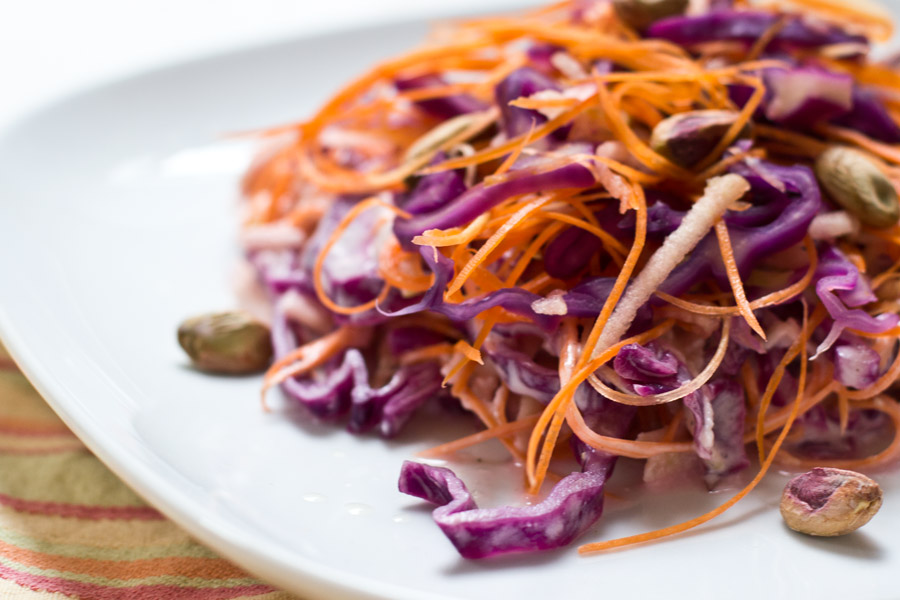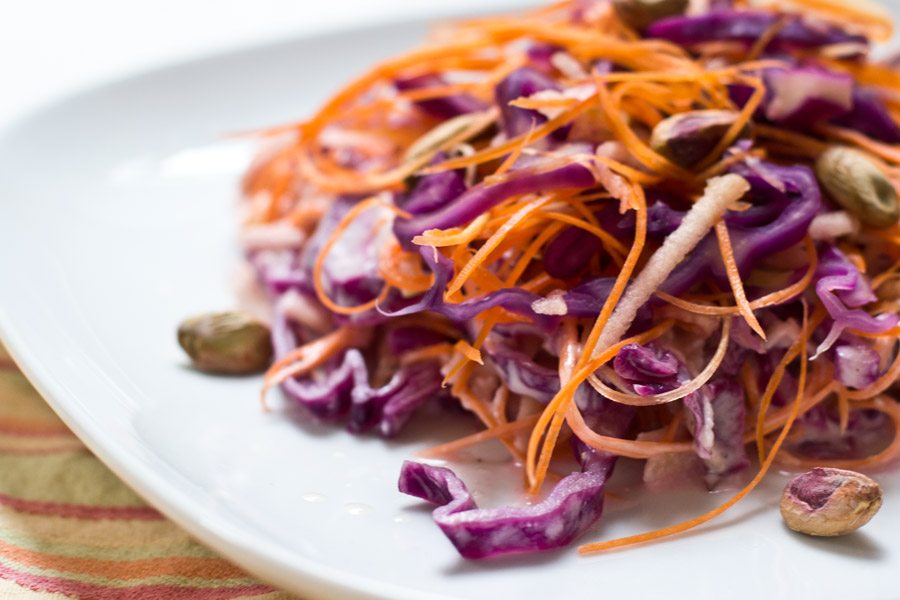 While I type this, I've eaten the whole salad. Not really a complete break but now I'm ready to tackle my to-do-list again.
Now. Carry on!