I made a huge mistake. And I'm normally not the first one that likes to admit to that. You might have noticed in my previous post. I try to see the best in everything and then it's not a mistake but a lesson learned, a way explored or a challenge taken.
But this time it is a mistake. And it's still going on. I promised myself not to eat sweets and chocolate during the whole month of February. I thought I was wise and clever choosing February but I'm already a week into my "challenge" and I hate it. For those of you who don't know me: I eat chocolate every day. I'm never the one who says no to dessert. My breakfast is almost always sweet.
Don't get me wrong. This is not a "I want to loose weight"-diet. And if you are as sympathetic as my boyfriend and ask yourself where the motivation comes from then, I can tell you: I do like to challenge myself. Tell me I can't do it and be sure to see me try immediately. (No, you can't tell me I can't jump of a bridge and see me do it. I'm not that stubborn – or stupid, stupid!) Like when people told me I can't be quiet for an hour and they started begging me to speak again after half an hour. Ha! That taught them. Or not.
Well back to the purpose of this post: now all I can think about are cakes, cupcakes and chocolate. I can still bake though and I can still watch people eat the stuff I make. Not creepy at all.
So this is the time when I stumbled upon a recipe on Sweetapolita for a Peanut Butter Chocolate Cake. And I made it. And it looked good.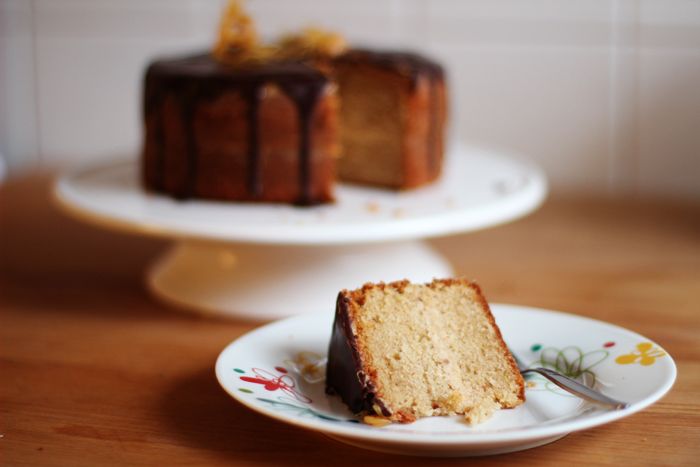 What you need:
350 g all-purpose flour
3 teaspoons baking powder
1 teaspoon baking soda
150 g soft butter
100 g crunchy peanut butter
350 g (caster) sugar
4 large eggs, lightly beaten
1 teaspoon vanilla extract
250 ml buttermilk
Preheat the oven to 180°C..
Beat the butter with peanut butter and sugar in the bowl of a stand mixer until really pale and light–at least 3-4 minutes. Gradually add the beaten eggs to the creamed butter in 4 or 5 additions, mixing well between each addition and scraping down the bowl from time to time. Add the vanilla and mix to incorporate.
Gradually add the sifted flour, baking powder and baking soda to the cake mixture alternately with the buttermilk. Mix until smooth. Put the mixture in your baking tin and bake on the middle shelf of the preheated oven for about 40 minutes or until a skewer inserted into the  middle comes out clean. Let the cake cool for 3-4 minutes, then turn onto a wire rack to cool completely.
peanut butter frosting
200 g cream cheese
50 g soft butter
75 g peanut butter
1 teaspoon vanilla extract
4 tablespoons maple syrup
To make the peanut butter frosting, beat the cream cheese until smooth. Add the butter, peanut butter, vanilla and maple syrup and beat again until creamy.
Cut the cake into 3 layers and add the cream in the middle as well as on top of the cake.
Chocolate ganache:
100 g of bittersweet chocolate
40 g soft butter
Melt the chocolate (don't let it get over 30 ° C though!) and add the butter. Pour the ganache over your cake.
Voilá!
Now. Carry on!